This peppermint essential oil foot soak is the perfect excuse for your mom to sit down and the perfect addition to a spa package, and it won't be stressful to make either.
Mother's Day is just around the corner, meaning that in a few weeks, children everywhere will be madly scrambling to make something for their mama. Fear not! Here's one thing that's simple and affordable to make, but is just what a lady who's always running around needs!
RELATED POST: Dive into a Different Card Idea for Mother's Day
Gather Your Ingredients
First, there are only a few ingredients absolutely required and some are optional. Most of these you can find at a Wal-mart or Target, but if you can't find what you need there, a craft store will fill in the rest.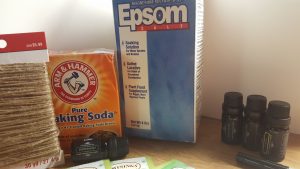 The only required ingredients are Epsom Salts, Baking Soda, and essential oils (which I recommend Peppermint both for its relaxing scent, but for it's antibacterial and antifungal properties which make it especially nice for feet, but you can use whatever scent you'd like).
Additionally, add the peppermint tea for a more rich appearance and additional strength in the soak. For visual appeal, I topped my jarred soak with a fresh peppermint sprig, but that's entirely optional.
For decorating, gifting, and storing your soak; you'll need a container at a minimum. You may also want some ribbon or twine with or without a label to mark what it is and dress it up a little.
2. Mix Your Base
Mix up the Epsom Salts and the Baking Soda, using three parts salts to each part of Baking Soda. Combine these two ingredients well before adding in the other elements to ensure that you've gotten them well-mixed and broken any chunks of Baking Soda.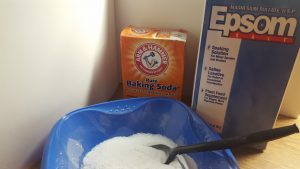 Once those are mixed, add in your peppermint tea leaves (which should be pure, 100% peppermint dried) and your oils. I prefer a stronger scent so that I can experience still even if my feet are way down below me, so I use around 10-12 drops of peppermint essential oil and 4-6 drops of a complimenting smell (Eucalyptus, Lemon, or Lavender are options).
If you're making a whole spa gift package, consider making multiple jars of soak in two different soaks. A good combo is Peppermint-Eucalyptus for relaxation, a Lavender for sleep, and a Citrus mix for energy. That way your mom can pick what her feet need on each particular day.
Mix well to combine all the oils into the soak, and then you're ready to package it!
3. Package It Up
Spoon the mixture into a jar or bucket. If you're gifting, try to find a cuter container, otherwise, any airtight container will keep the soak. I found the bottles I used in the images at Michael's, but for more unique options, explore your local thrift store for a lost gem.
4. Decorate
If you're gifting, this is the time to class up your handmade gift. Use whatever you'd like, but twine and a wooden label fit well with the simplicity of the soak!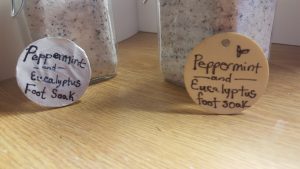 For my wooden labels, I tried two approaches. One, I wrote directly onto the wood and left it bare. The other I used Mod Podge to seal in the paper label to the charm and then painted the edges and back in a soft white.
Experiment, like I did, to find the look you like best to decorate the bottles. The best part is, no matter what you end up doing, it will look great and perfectly imperfect- which is exactly the charm of handmade gifts. Consider your mom's personal style and make something that will fit with her bathroom or out on her counter.
Once it's been decorated, either give it to your mom as is or add it to an overall spa-themed gift basket. Make sure that they will be familiar with a foot soak, or tell them how to use (which is simple).
How to Use Peppermint Essential Oil Foot Soak
Fill a tub or large bucket with hot water (as hot as you'd like) and add ½ cup or ¾ cup of the soak. Then, sit your feet in the water for 15-20 minutes or until the water goes cold. Also, you should be sure that you either warn the recipient or know beforehand if they have any allergies that could be triggered by the essential oils you use. It is not relaxing to have an allergy flare up when you want to soak your feet.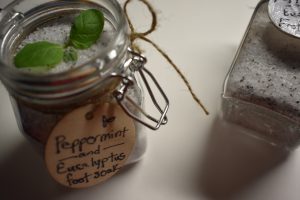 Then, you're done! Sign a card and go give your mom a break! She deserves to treat herself to peppermint essential oil foot soak! Let mom treat herself, and remind her to burn a scented candle, wax melter, or essential oil nebulizer while she kicks back to relax.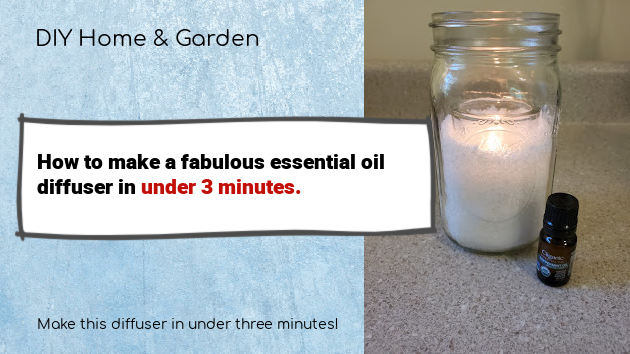 content last updated: 07.07.2021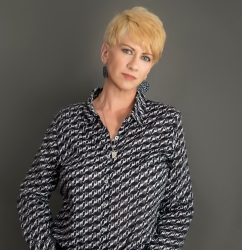 Latest posts by Deborah T
(see all)