When you're designing a kitchen, you need to get all of the cosmetic elements right. It's true that picking the right color scheme and choosing some nice worktops is important. But remember that your kitchen is a functional room. If you forget that and only focus on the aesthetics, you won't have a well-functioning kitchen. One of the most important aspects is storage. If you don't have enough storage in the kitchen, you'll end up with cluttered worktops. This could make it difficult to cook. If you're about to start redoing the kitchen, use these simple tips to maximize storage space.
RELATED POST: How to Smartly Organize Your Kitchen
Choose Cabinet Layout Carefully
When you're remodeling the kitchen, picking your cabinets is the first step. It might be a bit cheaper to go for some off the shelf units. But that's not the most effective way to use the space. You'll be limited by their sizes which is a big problem if you've got an unusually shaped kitchen. It's best to get a professional kitchen company (like this one at https://kitchensacramento.com/kitchen-remodeling/) to help you come up with a custom kitchen cabinet design that makes the best use of the space. That way, you'll be able to get as many units in as possible and max out on storage space.
After you've got the cabinets in, you can start looking at other ways to add more storage space to the kitchen.
Peg Boards
You can use any free wall space in the kitchen as storage. Just make sure it won't get in the way of anything else. If you've got a space where you can't fit a cabinet, why not put up a pegboard instead? It's a great way to add more storage and it's very cost effective, so it's perfect if you're trying to renovate your kitchen on a budget. You can hang all of your pots and pans on the wall instead of taking up valuable cupboard space with them.
Use The Top Of Cabinets
Even when the cabinets themselves are full, you can still store things on top of them. Put a few wire bins up there so it doesn't look cluttered and you can put things that you don't use that often up there. If you are going to use the tops of cabinets, just make sure that you keep it tidy.
Corral the clutter by using attractive baskets.
Shelves Above The Fridge
You'll find you have a lot of wasted space above your fridge. In fact, a lot of people end up piling old junk up there or not using it at all. You can create a nice storage space by adding cabinetry or a shelving unit up there really easily. It's the perfect place to store cookery books or plates etc. If you put some dividers in there, it's perfect for plates or cutting boards or you can leave it open and use it for larger items like pots and pans. Search online for inspiration. You will find suggestions for some great ways on how to use that space above the fridge.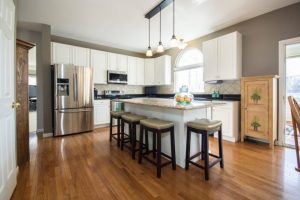 You'd be surprised just how much extra storage you can create in the kitchen by using these simple tricks. Just be careful that you don't go overboard and you still leave some open space, otherwise, the kitchen will feel crowded.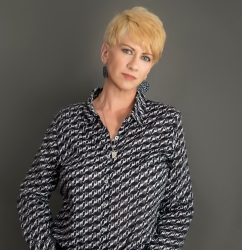 Latest posts by Deborah T
(see all)