Older adults are often the most vulnerable members of our society. In addition to being more prone to physical ailments, they also generally have a harder time getting around and taking care of themselves. This can make them more susceptible to things like home accidents and emergencies.
According to the National Safety Council, there are several things you can do to help prevent home accidents and emergencies for seniors in your household:
1 – Older Adults Need Smoke Alarms
According to the National Fire Protection Association, more than half of deaths from home fires resulted from fires in houses without functioning smoke alarms. Test smoke alarms monthly and replace them if they're not working correctly. Install smoke alarms on every level of your home and outside sleeping areas. If someone in your household is hard of hearing or uses a hearing aid, install special alarms with strobe lights.
If you have a senior citizen in your household who is unable to escape on their own in the event of a fire, consider installing an automatic home fire sprinkler system. This will help to keep the fire contained and give you more time to get out. You can also purchase escape ladders to keep in the home in case of a fire.
Prevention is the best medicine when it comes to fires. Never leave candles or cigarettes unattended, and make sure to properly dispose of the ashes. Keep flammable liquids away from heat sources, and never use the stovetop to heat your home.
2 – Have a Fall Prevention Strategy
Falls are the leading cause of fatal and non-fatal injuries for seniors age 65+. To prevent falls, make sure your home is well-lit and free of clutter. Install handrails on both sides of stairways. Secure loose rugs with double-sided tape and remove any throw rugs that you may have. Keep electrical cords out of walkways and repair any broken stairs or steps. Consider installing grab bars next to your toilet and in your shower or bathtub.
But falls can happen anytime, so you can also take extra measures to prevent them. Have them wear shoes with good traction and avoid walking in socks or stocking feet. Let them use a cane or walker if they need help with balance. And don't forget to get their vision checked regularly.
If you have a senior citizen in your household at risk of falling, make sure they have a way to contact you for help. A medical alert system can be a lifesaver. But if that is too expensive for you, you can buy them a mobile phone that they can use. The best cell phone plan for seniors includes features like big buttons and easy-to-use menus.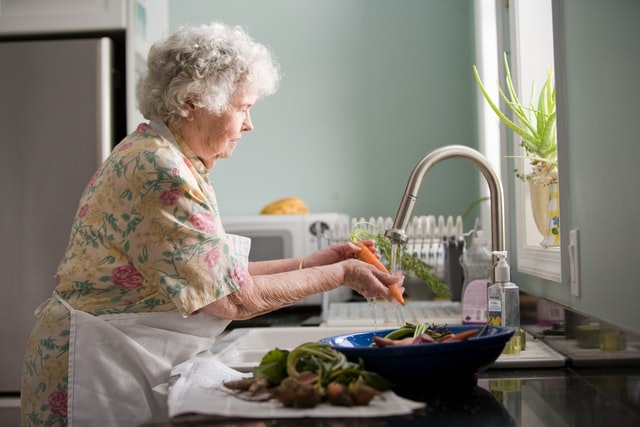 3 – Older Adults Are at Risk of Poisoning
According to the Centers for Disease Control and Prevention, one in every three poisoning deaths is caused by someone 65 and over. Keep all medications, cleaning products, and other poisonous substances out of reach to prevent poisoning. Use childproof locks on cabinets, and keep the poison control number (1-800-222-1222) handy in case of an emergency.
You can also help prevent poisoning by properly disposing of unused or expired medications. Many police and fire departments have medication take-back programs. You can also find a medication take-back location by visiting the DEA's website. They also have a National Prescription Drug Take Back Day every April.
4 – Water Heaters Can Be a Hazard You Might Overlook
When it comes to home safety, one of the most important things you can do is maintain your water heater. Check it regularly for leaks, and drain it at least once a year to remove sediment. Set the thermostat to 120 degrees to prevent scalding, and install temperature-regulating valves on all faucets.
Leaky faucets and fixtures can waste a lot of water and money, so make sure to repair them as soon as possible. You should also check your home's pipes and plumbing regularly for leaks. If you have an older home, you may want to consider replacing your pipes.
While you're at it, take a look at your home's electrical system. If you have knob-and-tube wiring, it's time to upgrade. This type of wiring is a fire hazard and is not up to code. You should also upgrade your fuse box if it's over forty years old.
The Takeaway: Older Adults Need Your Protection
By following these tips, you can help prevent home emergencies for the elderly members of your household. You want them to be safe and healthy, so take the time to make your home as safe as possible. From fires to falls, there are many hazards that can pose a threat to seniors. But by taking the proper precautions, you can help keep them safe and sound.
Latest posts by Shashika N.
(see all)