White rice is such a dietary staple, but many of us pass over making it. Why? Because it's challenging to get just the right texture. You can do it, though! You'll make the fluffiest and best white rice in the Instant Pot.
And what could be better than that?
It cooks up quickly, and the pot cleans up easily.
You will be impressed with your own wonderful results.
Making Rice in the Instant Pot
You might wonder if it's worth the time to haul the InstaPot out of the pantry just to make a batch of rice. Unequivocally. Yes!
If you've made rice in the past, you might have felt disappointed in the final results.
Rice does not always come out fork-tender and fluffy.
Some failures you might have dealt with might be rice, that is:
too dry
too sticky
tough in texture
extremely bland in flavor
burnt to the bottom of the pot
too salty
a very starchy finish
Following this easy cooking method takes away the guesswork. Indeed, you will enjoy much greater success!
Once you master this method, you will be able to enjoy eating white rice without being flavorless or unpleasing in texture.
What Can You Do with White Rice?
You may know white rice best as a staple of Asian cooking. But you can think beyond its origins and stretch your budget by using it in so many other dishes.
Think of it as a blank canvas. It's the base of many recipes. Now it's up to you to add the "colors" to the painting. Think of colorful vegetables, sumptuous meats, rich gravies, or delicious sauces. You get the idea.
Once you get this cooking method down pat, you'll want to serve up satisfying rice more often than you already do. Here are some incredibly satisfying ways you can use it:
Arancini, Italian-style lightly fried rice balls
Red beans and rice and other Cajun favorites
Topped with air-fried turkey meatballs and gravy
Stir into your favorite homemade soup instead of noodles
Make delicious stuffed peppers with rice and your favorite ground meat.
Stir-fried vegetables, in an Asian-inspired homage
Top rice with roasted beef tips and au jus
Consider these suggestions merely as jumping-off points. Squeeze the culinary creative juices, and you'll find many uses.
White Rice Nutrition
Admittedly, this grain is not the healthiest of all the foods available to you. However, when you compare making a quick batch of rice in the Instant Pot versus grabbing fries at a drive-through window, the home-cooked option wins every time.
We found the following nutritional facts for white rice on Self Nutrition Data: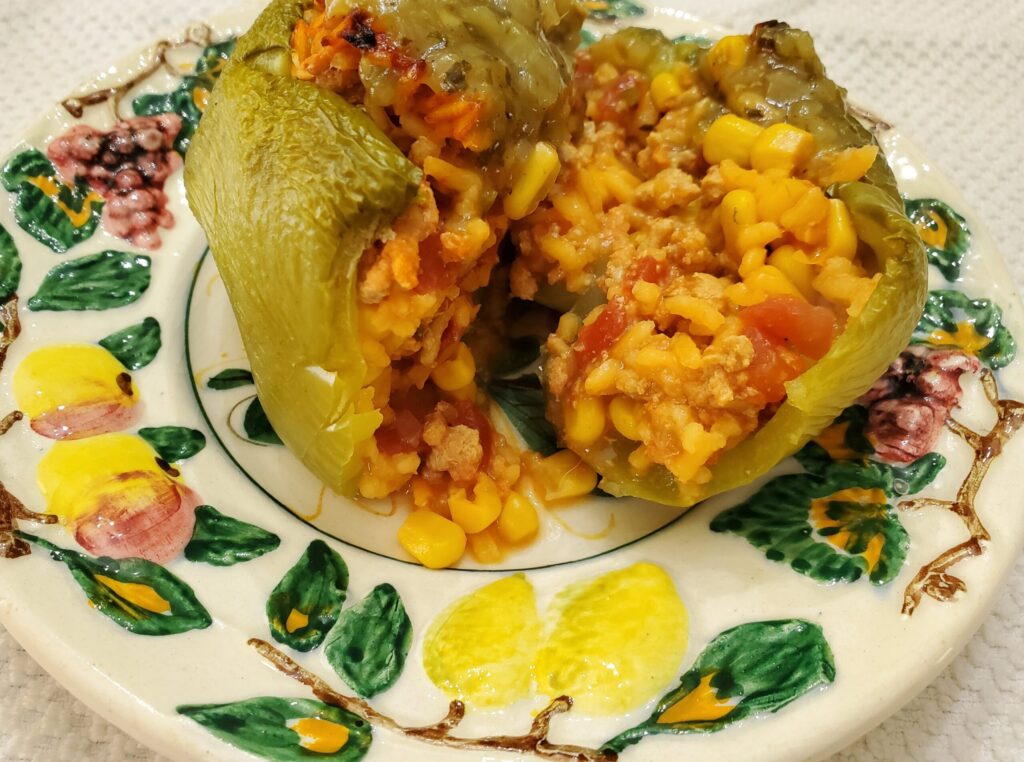 One cup of cooked, long-grain white rice
205 calories
185 calories from carbohydrates
15% of your daily allowance of carbohydrates
3% dietary fiber
Thiamin: 0.3 mg – 17%
Riboflavin: 0.0 mg – 1%
Niacin 2.3 mg – 12%
Vitamin B6: 0.1 mg – 7%
Folate: 91.6 mg – 23%
Pantothenic acid: 0.6 mg – 6%
Calcium: 15.8 mg – 2%
Iron: 1.9 mg – 11%
Magnesium: 19.0 mg – 5%
Phosphorous: 68.0 mg – 7%
Potassium: 55.3 mg – 2%
Sodium: 1.6 mg – 0%
Zinc: 0.8 mg – 5%
Copper: 0.1 mg – 5%
Manganese: 0.7 mg – 37%
Selenium: 11.9 mg – 17%
As you can see, it's not all bad news! White rice gives you healthy boosts of several key minerals. As with all things, enjoy this grain in moderation.
Supplies You Need to Make White Rice in the Instant Pot
As you can see from the materials list, this recipe requires very little prep work.
Your Instant Pot (or whatever brand of electric pressure cooker you happen to own)
Wooden spoon or a rice paddle
White rice
Water
Salt
Butter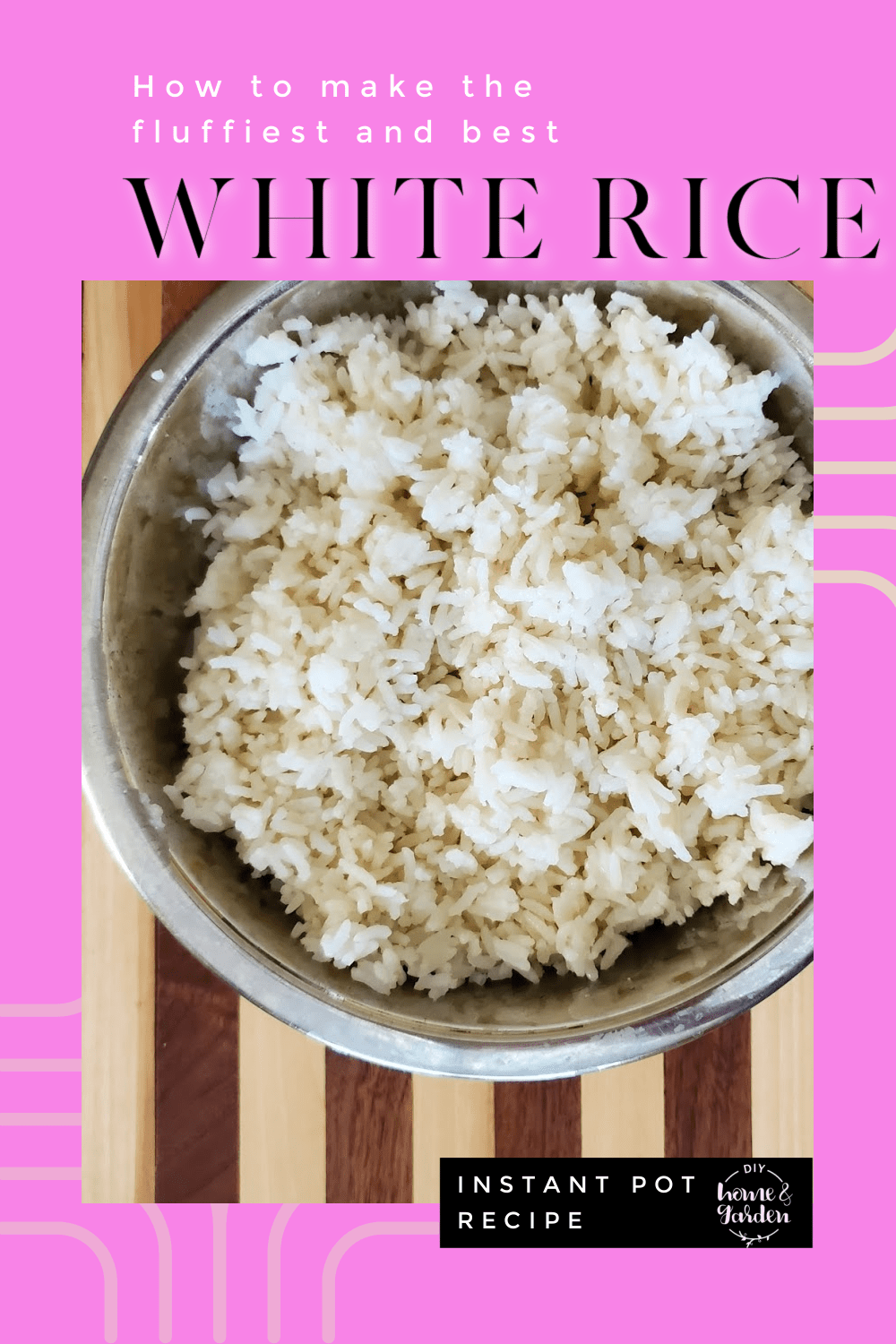 Cleaning the Starchy Residue Out of the Instant Pot after Cooking
One thing you'll notice after you cook this recipe. You will find a white, rather sticky residue left behind in the liner of your electric pressure cooker. This is normal. As the grain cooks, it releases the starches. Although this settles at the bottom, this is not burnt on or scorched.
First, you will remove the inner liner and place it in your sink to clear that up. Never place the entire pressure cooker unit in the water!
Scrape out all loose bits with a nylon kitchen scraper. Squeeze a small amount of dishwashing liquid and some hot water into the liner. Let this soak for about five minutes. You'll be able to wipe it out with a gentle scrub of a sponge.
Think of all the times you boiled over onto the stovetop when you attempted rice. Compared to that sticky clean-up, this is easy peasy!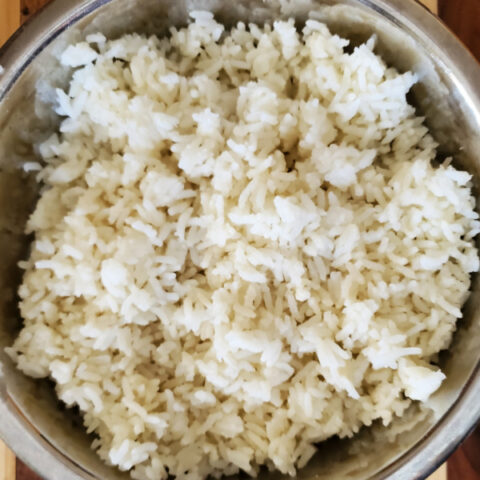 Fluffiest & Best White Rice in the Instant Pot
Additional Time:
20 minutes
15 seconds
Total Time:
27 minutes
15 seconds
You can make the fluffiest, best rice in the Instant Pot. No more struggling to get the flavor and texture just right--let your electric pressure cooker do all the work.
Ingredients
One cup of long grain white rice
2 teaspoons of salt
One cup of water
Large pat of salted butter
Instructions
Place the rice, salt, water, and butter into the inner liner of your Instant Pot (or other brand of electric pressure cooker).
Put the lid on the pressure cooker, ensure the steam valve closes, and press the "rice" button.
The pre-set cook time is four minutes on low pressure.
When the timer beeps, let the unit manually depressurize. This process takes about 10 minutes, but it will deliver the best results.
Spoon the rice into a large serving dish and fluff it with a fork.
Notes
The rice to water ratio is 1:1. If you want to make a more sizeable batch, feel free. You will need to three extra minutes of cook time if you double up this recipe.
While the total "cooking time" is only four minutes, it might take five to ten minutes for the unit to pressurize and another ten to twelve minutes to depressurize. Use the "wait time" to prep your meal or sip a cup of tea (you deserve it!)
Recommended Products
As an Amazon Associate and member of other affiliate programs, I earn from qualifying purchases.
Nutrition Information
Yield

4
Serving Size

1/2 cup
Amount Per Serving
Calories

205
The Bottom Line: You Can Make the Best White Rice in the Instant Pot
Mastering the technique of making white rice in the Instant Pot is well worth the time and effort.
Using an electric pressure cooker on the "rice" setting empowers you to enjoy food faster, with nutrients preserved. And quite frankly, you'll find the taste pleasing and the texture light and fluffy. You might never cook rice on the stovetop again.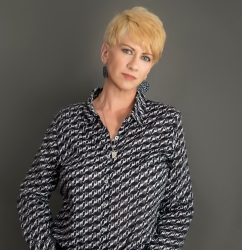 Latest posts by Deborah T
(see all)