Those who follow DIY Home & Garden know that I've been on WW formerly Weight Watchers since last March. Total loss since then is just over 70 lbs. I hit my goal weight and have been maintaining my lost pounds. More importantly, I feel much better! One challenge… I still love cooking and eating tasty food. Fortunately, these air fryer turkey meatballs taste fantastic. And even better, a nice serving of 3 costs me only 1 smart point.
Be aware. The smartpoints value varies from plan to plan on the new customized myWW program. So, that three- meatball serving breaks down as follows:
Green plan – 2 points
Blue plan – 1 point
Purple plan – 1 point
While I have done the points for you, it's a great idea to always scan your foods to ensure accuracy, especially as WW updates programs frequently.
Selecting your meat for your Air Fryer Turkey Meatballs
When you are selecting turkey at the store, scan. Scan. And scan. WW gives you amazing technology. Use it!
I find that 99% lean turkey scans for 0 points on my plan (blue). Furthermore, you'll sometimes find variances in smart point values with different brands. That's because some might add seasonings or sugar (yep, read the package and scan) to make the turkey tastier.
If you can't find 99% lean poultry, you will need to recalculate the smartpoints value of this recipe.
Or…
This is a go-to trick that saves me tons of money…
Purchase an all-white meat whole turkey breast and ask your local butcher to remove the skin and grind it for you. Then, you can rest assured that you don't have the fatty dark meat (which is what drives up the SP value on 93% lean selections) included in your poultry.
The whole breast is typically cheaper on a pound to pound comparison, so you should save some cash. You're welcome.
Serving the air fryer turkey meatballs
Now, let's be transparent. Turkey is not beef or pork. These meatballs are yummy, but they do not have the same rich flavors of those fattier meats.
They also need some moisture added to them when you serve them. They are not "dry" per se, but the texture is decidedly less moist than those made from fattier meat products.
The solution is to serve them with some kind of sauce, like a point-free tomato marinara. I make a homemade pizza sauce for zero points or a point-free vegetable marinara. I've also dipped them straight into Skinny Girl poppyseed dressing, which was super delish. You can also search the stores for salsas and sugar-free barbecue sauce that scans up a zero. The sky's the limit, these will pair with about anything that you can imagine!
Just remember that the glazes or dipping sauces might carry a point value. This recipe tells you the smartpoints value of the meatballs only, not your dipping sauce. Most dips will have some points, but they are worth the flavor boost.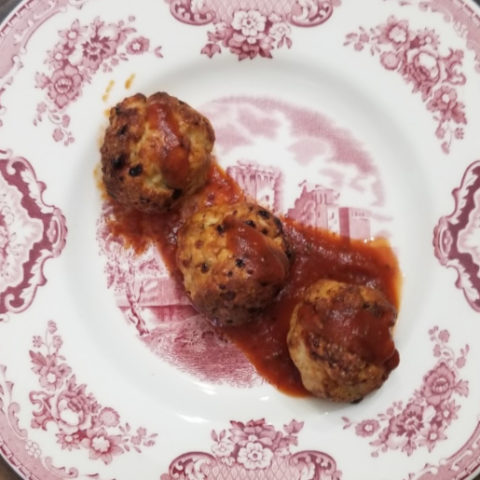 Air Fryer Turkey Meatballs (low WW points)
This recipe yields five generous 3-meatball servings...but uses minimal WW formerly WW smartpoints
Ingredients
1 pound uncooked 99% fat-free ground turkey breast
1/4 cup Italian seasoned breadcrumbs
1 egg, whisked with 1/4 cup of water
1 tsp. Mrs. Dash Herb and Garlic Seasoning
Pam Olive Oil pump spray (3 pumps)
Instructions
Put the ground turkey into a large mixing bowl.
Add the breadcrumbs, seasoning, and egg (whisked up with 1/4 cup of water). Mix all together until well-incorporated.
Form 15 meatballs and place them in a single layer in your air fryer.
Pump 3 sprays of Pam pump, ensuring you apply in a brushing motion to get a little bit of olive oil on each meatball.
Air fry for 12 minutes at 400 degrees.
Serve with your choice of low points sauce or salsa.
Notes
Ensure that your turkey meatballs reach an internal temperature of 165 degrees at the end of the air fryer cycle. If the thermometer does not indicate that temperature, add back to the heat for 2 minutes.
Nutrition Information
Yield

5
Serving Size

1
Amount Per Serving
Calories

202
Total Fat

7g
Saturated Fat

1g
Trans Fat

0g
Unsaturated Fat

5g
Cholesterol

102mg
Sodium

227mg
Carbohydrates

5g
Fiber

0g
Sugar

0g
Protein

31g
All information and tools presented and written within this site are intended for informational purposes only. I am not a certified nutritionist and any nutritional information on diyhomegarden.blog should only be used as a general guideline. This information is provided as a courtesy and there is no guarantee that the information will be completely accurate. The nutritional labels are a product of online calculator apps. Even though I try to provide accurate nutritional information to the best of my ability, these figures should still be considered estimates. If you believe you have a medical condition, food allergies, or other concerns, please consult a doctor.
Air Fryer Turkey Meatballs…Quick and Easy to Fix
These turkey meatballs cook up quickly in your air fryer. While the recipe is simple, you can certainly add your personal favorite spices and seasonings to adjust them to your taste. While some people complain that turkey is bland or boring, I challenge you to look at it instead as a blank culinary canvas–ready for you to add your unique flair.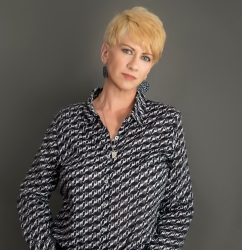 Latest posts by Deborah T
(see all)