There is no denying the impact that huge renovation projects on your home can significantly impact the value of your home. However, for many homeowners, the cost of undertaking these jobs can run into the thousands and isn't an option. And if you are planning to prepare your home for sale, you might not see the value of getting this work done for someone else to benefit from your hard work and expense.
In many cases, major renovation works can increase the sale price; you have to ask yourself if the outlay is worth the return?
That doesn't mean you cannot make small changes to your home if you plan to sell up. On the contrary, you can make many small changes that are fairly inexpensive and can positively affect the price you can receive for your property.
5 Ways to Prep Your Home for Sale
Selling your home is an enormous undertaking. But you can get the most for your money if you make your home more appealing. Do these five things before putting your home up for sale.
1 – Curb Appeal
The curb appeal of your home can have a direct impact on how potential buyers view your home. So take yourself outside of your property line and assess how your home looks and what impression it could be giving to the house coming to view it. Address any landscaping that could do with a bit of TLC and fix anything damaged, such as paving, fences, and gates. If you have fencing around your property, one that is damaged, it could be worth getting a Fence Contractor quote to find or replace unsuitable fencing. People value their privacy and having a solid fence that affords them can make all the difference when selling your property.
2 – Paint
A fresh lick of paint can have a huge impact on the interior and exterior of your home. Rather than covering up any imperfection, use paint to brighten and freshen up rooms. Stick to neutral colors to really bring out the light and space in each room and allow buyers to visualize how the room would look in their preferred style and with their own furniture in.
3 – New Fixtures
Think switch plates; cupboard handles, door handles, light switches, and so on. these are little things in the home we hardly pay much attention to, but these details can have a big impact on how your home looks to outsiders and gives a new fresh look for relatively little when compared to replacing cupboards and doors, etc.
4 – Window Dressings
An easy update to make is to dress up your windows. Consider updating or changing your current window dressings, be it with blinds, shutters, floor-length curtains, etc. You can pick up these items easily in most stores or online, and they can be changed easily with little to no DIY skills or experience, but they can really change the look and feel of a room which is super important when it comes to showing off your home in the best light.
5 – Power Wash Your Home
Either buy or hire a power wash machine or hire an expert company to do it for you. But cleaning the outside of your house and any surrounding land, driveways, or buildings can really freshen up your home and help to restore it to its former glory. Power washing isn't suitable for all materials, so it is important to check if the materials used for your home can sustain this type of cleaning.
Clean external walls, the roof, guttering, patios, etc., to really bring your home back to life and make it more appealing.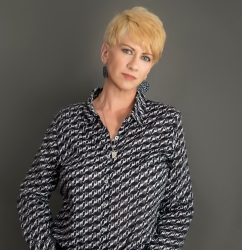 Latest posts by Deborah T
(see all)