Adding eco-friendly elements to your home can add value in a modern-day world. You can improve the exterior easily. This can be done with some green decorations. You must first look at the elements that are already there. Then you can make additions.
Doors and windows are the first things to consider. You may want to look at Renewal by Andersen window replacement. This will first upgrade the home with better quality, more energy-efficient alternatives than older units.
Then, you can look at other garden decor elements, like these.
3 Eco-Conscious Garden Elements
Consider these greener design details
A green wall
A green wall is an undeniable asset for your home whether from an aesthetic point of view but also from an ecological point of view. The latter purifies the air by filtering fine dust and carbon dioxide by transforming it into oxygen. In addition, it will be very well matched to your garden and the natural side of your environment will only be strengthened. Temperature reduction: One of the great advantages of the plant wall is its ability to absorb heat. Indeed, it absorbs about 50% of sunlight. This has the effect of reducing the indoor heat of your home and therefore allows your air conditioning to operate at lower rpm to allow you to make significant energy savings in the long term!
Noise reduction: A green wall also has a role in reducing surrounding noise. It can generate a sound absorption of about 40% higher than that of a classic façade and therefore allows you to be quieter at home and even in the busiest neighborhoods.
Increase in the lifespan of your walls and facades: The plants that make up the green wall protect the façade from bad weather such as rain, wind, and temperature variations. This will also bring added value to your building.
Natural coconut fiber doormat
As you move into the house, you can create an eco-conscious environment. As eco-responsible persons, it is our duty to make efforts in terms of our impact on the environment. One of the best behaviors a consumer can have to preserve his ecosystem is to make the right choices when shopping. If you are an environmentally conscious person, then coconut fiber doormats are for you.
Each small action counts. You may be wondering how a doormat can affect our planet. The truth is quite simple. Each purchase of a doormat created from natural materials allows the craftsmen who produce them to survive and greatly reduces our dependence on industrial doormats whose production processes are a disaster for the environment. It can be made of a practical and resistant product. In addition to its ecological character, the coconut fiber doormat is ideal for outdoor use.
It is composed of resistant, durable natural materials and is therefore usable in the very long term while being effective in retaining dirt outside your home. It is also simple to clean, so you can use it easily on your patios or garden terrace areas. Doormats also ensure that people don't enter your home or any space without having wiped their feet.
Gardening with plants and flower pots
Having a garden full of life and colors is a pleasure for the eyes but it is also beneficial for our well-being. For many people, gardening is a way to express their creativity. However, sometimes inspiration is lacking. Here are some tips to help you put life in your green space. This option seems silly but remains effective to say the least. Indeed, it makes it easy to decorate your garden with different colors with plant pots. There are all varieties and sizes. Pick plants and flowers and also pots that suit you.
Do they need a lot of attention? Do you prefer flowers that bloom without needing much care? You can easily move and interchange them at any time without the need to constantly unearth your plantations. Because of this, it is very simple to decorate your space as you see fit, according to your mood of the moment. It also makes it possible to arrange some pots that you will deem better suited indoors than outdoors and vice versa.
The Bottom Line on Using on Eco-Conscious Design Elements for Your Yard
In conclusion, there are many methods that make it possible to develop your own little green paradise. You can create a home inside and out that is eco-friendly and also cost-effective. In the long run, you can save money and help the planet simultaneously. It's time for you to learn to respect your environment easily and effectively. You can inspire those around you. All you need to do is to let your imagination express itself and you will be amazed to see the result!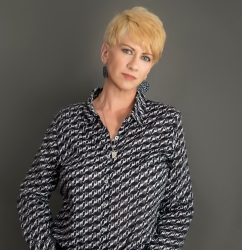 Latest posts by Deborah T
(see all)