Nothing puts a big smile on the face of a homeowner like knowing they have great curb appeal. Most people think that having a beautiful exterior means shelling out a lot of cash. But you can improve your curb appeal without breaking the bank. Here are some delightful tips to help you out.
5 Ways to Improve Your Curb Appeal and Make a Great First Impression
Consider these steps to make a welcoming first impression on your visitors.
1 – Create a welcoming entrance
A welcoming entrance can be easily achieved by first deciding if you want to replace your door or just update it. Now you have to make sure that the new door matches the character and style you want to portray. Consider giving it a bold color if your home could use some vibrancy. You may want to go with glass if you want your home to have more natural light. Another thing that you can get creative with is your house number. You may choose to change the design, place it on the door or somewhere else. Other things you can change are door handles and add a cool knocker. Don't forget to make the most of the space at the entrance of your home. Get a nice doormat that complements the look you want and if possible, add large vases with beautiful plants on each side of the door.
2 – Use modern windows
Modern windows serve multiple functions, and aside from improving your curb appeal, they reduce your energy expenses. It is beneficial to use modern windows that complement the architectural style of your home. For those who have security concerns about large windows, making it easier for outsiders to see inside the home, you could simply use thick curtains. But if you want to use large windows without curtains and still want to feel secure, arrange a residential window tint installation. It will keep people from looking for a while, allowing you to enjoy the view outside. It will also allow natural light inside your home and act as extra insulation.
3 – Add some landscaping features
If you have a home with some space in the front, you should seriously consider doing some landscaping. Grow some nice grass, and keep it neat. You could also add some really cool flower pots and trim the shrubs. If you are really going for it, you can add a tree swing or create a stone walk.
4 – Update lighting
Who said that curb appeal had to be forgotten once the sun goes down? You can still be the envy of the street in the evening if you update your lighting. The exterior lighting of your house should cover the front entrance, the garage, and the pathway. This will immediately add a warm and homely feel to your home. Make sure you pick out the right style of lighting to complement and highlight the front door and entrance.
5 – Paint
An old and trusted way to improve your curb appeal is by simply painting. Consider giving the front of your home a different color. You may want to make a statement by going with a bold color or just keep it looking fresh with a white-washed façade. You can also decide to experiment by combining both concepts and have something unique.
Improving your curb appeal should not be expensive; follow these simple tips, and have your home front looking attractive.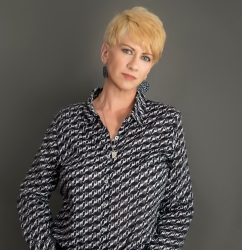 Latest posts by Deborah T
(see all)