Purchasing a portable first aid kit to keep in your car or gym bag can be costly. Not to mention, it's frustrating to know that you could purchase all the items separately for less money–but you want the convenient carrier.
Instead of buying a first aid kit, why not make your own?
You can upcycle a short stack Pringles® can. All you need to do is the inside of the tube clean with warm water and dish soap to remove the oils after you eat the potato chips. Then, a few crafting tools and get started.
These little guys are sturdy, and the lid keeps everything nice and organized. When the can gets "beat up," I make a new one, check the expiration date on the products, and restock as needed. I keep them in multiple locations where I might need to access a bandage or disinfectant.
One for inside each car
The barn (we get lots of bug bites and small scrapes)
Inside the carry basket of our four-wheeler
My friends who drive their grandchildren or children to soccer, dance class, or other activities love to keep one of these in the gear bag, as well. I'm past the age of young kids, but that's great advice!
What to Pack in Your Portable First Aid Kit
Each one can supply all I might need to take care of minor cuts and scrapes or insect bites on the go.
I made relatively basic first aid kits for my use.
I included these things:
Individually wrapped antibacterial hand wipes, so I can clean a superficial wound.
Hand sanitizer
Benadryl® anti-inflammatory cream
Antibiotic cream
Tweezers (for removing ticks or splinters)
Bandages
After I took the photo you see, I found insect repellent wipes at the local big box store and tucked a few of those inside, as well. I prefer natural essential oil repellents, but these might come in handy if I get into a bind.
Decide what you might need for your family.
Consider whether you need to include the following items:
Epinephrine injection pen for someone allergic to bee stings?
Aspirin in case someone with a heart condition needs it?
Asthma inhaler?
A few pieces of hard candy for a family member with diabetes?
In other words, think about what your family might need and add to it what you wish. You can also check out guidance from the Centers for Disease Control and Prevention (CDC) for other ideas. My kit might look different than yours!
How to Make Your Portable First Aid Kit
You can make this useful craft in under five minutes, with only three easy steps!
Before you start crafting, gather your supplies. You will need:
A small Pringles® can and lid. However, if you need to carry epinephrine due to a bee allergy, a tall can works perfectly for you.
Scrapbook paper of your choice (gift wrapping paper could also work, but it will feel less sturdy)
Scissors
Ruler
Pencil
Tape or spray adhesive (I used tape, it has held up very well)
Now that you have everything you need together, you are ready to craft.
Step One: Measure the Can and Mark the Scrapbook Paper
First, measure the can from just below the top rim to just above the top rim. You want this to nestle snugly in between. Use the ruler as a straight edge and mark a straight line with the pencil. I like to mark the back of the paper because it's easier than erasing stray marks if I bloop the cutting line.
Step Two: Cut the Scrapbook Paper
Follow your pencil line and cut the scrapbook paper, following the pencil line. "Fit" the length of it around the can, and using your ruler to make a straight edge to cut off the end. You want just a little bit of overlap for taping.
Step Three: Tape the Paper to the Can
Finally, line up the cut paper squarely between the two rims of the can. Tape the first end of the paper directly to the can–use generous amounts of tape. Remember you cut some overlap to hide this. But if you don't make secure the tape firmly, the whole thing will pop apart.
Wrap the paper around the can and neatly tape down the loose end.
That's it, you are done. All you have left to do now is to drop in the supplies you need to take with you and pop on the lid. Voila!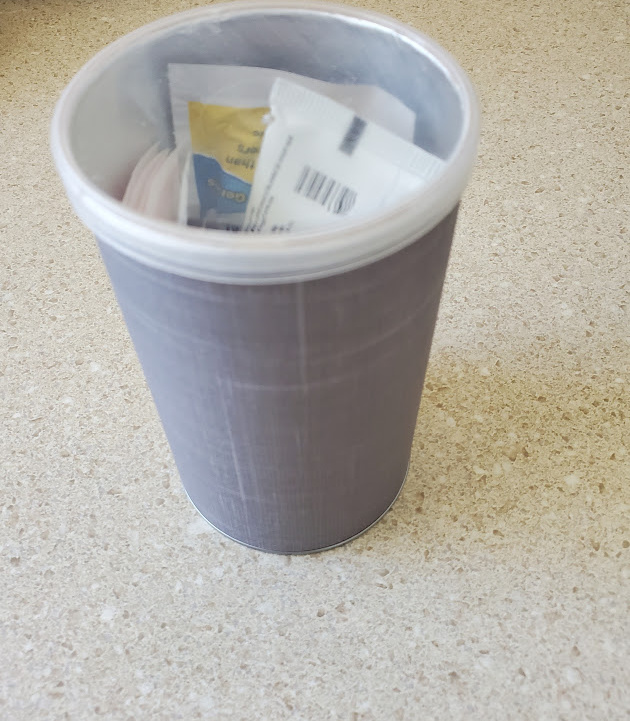 The Takeaway: You Can Make a Portable First Aid Kit in a Few Minutes
Making your own first aid kit out of a potato chip tube only takes a few short moments. You can take one with you anywhere you go because they are small, sturdy, and light. Because you probably have bigger containers of the supplies to stock it, you'll save money when you DIY instead of investing in a full kit. Finally, when the tube becomes worn looking, it's a great excuse to indulge in your favorite snack.
Please follow DIY Home & Garden on social media and share this post with your friends. And as always, have a happy DIY day.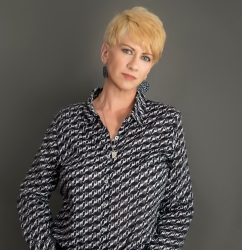 Latest posts by Deborah T
(see all)