It's time to get your winter home decor ready to enjoy.
We know this probably isn't going to be what you want to hear. But, well, there's no point burying your head because the months ahead are gonna get frigid. The nights are going to get longer, the weather is going to get duller and the temperature colder. So it looks like the amount of time you spend indoors is going to shoot up faster than a hockey puck shoots across the ice.
All of this means your focus should be on how to create a cozy winter home but spend less cash. That's what winter is all about.
It's about enjoying the little things in life: wrapping yourself up in a softer-than-soft throw and slurping on hot cuppa cocoa with nothing on your to-do list except binge-watch the latest Netflix originals TV show as a scented candle gentle flickers left and right. It's the best feeling ever. The problem is, none of us are flush with money at this time of year (thanks a lot, Christmastime).
But, just because you have money pouring out of your bank account left, right and center doesn't mean you can't make your home feel extra-cozy too. You just have to be a little bit smarter about how you go about upping the coziness levels of your humble abode. That's why we've been busy pulling together a list of super-simple ways you can make your home super-cozy and uber comfy on a budget.
Just be warned. You might not want to leave the house, which may not go down too well with your boss. So maybe start looking for remote working jobs while you're at it.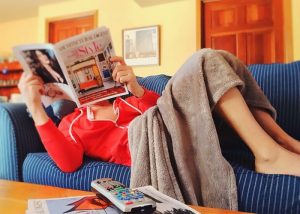 It's All About The Faux-Fur
Nothing – and we mean nothing – looks or feels more luxurious than a room speckled with faux-fur. It doesn't matter whether you have chucked it over the back of a chair, draped it over the arm of your sofa, placed it at the bottom of your couch, or wrapped your favorite footstool in it, you'll have a room that looks infinitely more high-end as a result. There's something about the texture that's just so warming, both in looks and reality. And, what's more, you can pick up a faux-fur blanket these days for barely anything. So, what are you waiting for?
Books Are The Best Decorations
Not only are books a great way to escape the mundane realities of day to day life, but they also offer you the chance to decorate your space in one of the most amazing (and affordable) ways ever. Cozy, warming, colorful and useful. Books really are one of the most amazing ways to make your home feel more welcoming and sophisticated. Oh, and they can be bought en masse for just a small handful of dollar bills. Tap up the used section of online retail stores, head into charity shops, stop at every garage sale you pass and attend school fetes because each of these places is known for its cheap sale of epic literature. They're like dollar bins full of absolute gems.
Don't Be Beat by Buffering
When the nights get longer and the outdoors becomes ever more uninviting, the idea of staying in becomes impossibly attractive. It's the thought of curling up on the sofa in front of yet another Netflix series, cooking comfort foods while asking Alexa to play your favorite Spotify playlist and letting your kids play Playstation online against their mates.
But, in order to make these cozy little realities beautifully stress-free, you need to have one thing and that's a super high-speed ISP. When winter comes and the front door stops slamming shut because everyone is staying in, you need to have an internet that can cope with all the extra use otherwise you'll find your cozy snuggle on the sofa will be ruined by the dreaded circle of buffering.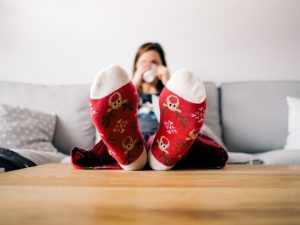 Make Room For Floor Pillows
With every winter comes guests. So many guests. It could be family popping over for a cuppa tea, friends coming for a weekend away or guests coming for your annual winter bash. No matter what the occasion, you need to have some extra seating options available and nothing is more budget-friendly, laid-back looking or friendly than a touch of floor-seating. All you need is a few Moroccan-style poufs and you have one of the most interesting and relaxing vibes going on and that relaxation transcends into the sort of gathering you're entertaining for. By having some comfy pieces on the ground, you'll see your guests gather around for a much more relaxing atmosphere, especially when you compare it to having everyone sat about in chairs and sofas.
Reclaimed Wood Is A Total Wonder
It doesn't matter how you use wood in your decor, it will always make your space feel more inviting. Wooden footstools, driftwood benches, side tables, picture frames, exposed flooring, faux-feature walls – they all give off that infectious feeling of being in a Swiss ski lodge. Of course, this is meant to be a blog about making cozy homes affordable, so if the wood pieces we've just mentioned don't quite slot into your budget, you can always try adding a few wicker baskets or piling up some chopped wood, which will feel just as cozy as anything else (even if you don't have a fireplace to actually burn your logs in).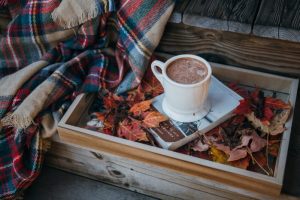 Get Cozy With Candles
There's something impossibly cozy about candles. They really do make a house lit. But to get the most out of this look, try mixing different candle holders, votives, and simple white pillar candles in various sizes because nothing gives a home a cozier ambiance than a cluster of candles. It's total relaxation, the flicker of multiple candles filling a place with a warm feel. They're the ultimate mood maker, and you can do it all for a matter of pennies. Elegance, sophistication, invitation, and magic for a fraction of what this look should really cost.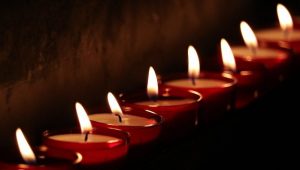 Winter home decor time is coming, and we love it. And now that you have the same tips as us, you have every reason to get excited too. I hope you enjoyed these wonderful tips on creating a cozy winter home. I am going to try adding some books into my decor…I've tried before without success. But perhaps I'll give it another shot.
Have a happy DIY day!