Let's start by delving into what exactly an English snug is. And, we'll see this idea from across the pond is what our homes might be missing.
The term 'snug' is a concept for a room derived from England requiring a few elements highlighted in this article to fit the title.
What is an English Snug?
First, let's define the term. An English snug is a small room, one which oozes warmth and coziness. It is a snuggly room if you will. It's a place in your home you can retreat to solely for comfort when other areas of your home may be oversized, bombarded with other functions creating the inability for you to relax, or the interior has been designed to suit a purpose other than your comfort.
The purpose of the snug is to create a location in your home essential for activities like naps, cozying up by the fire, reading a book, sipping a hot chocolate or glass of wine, it's a cozy little room for intimate chats with your closest, and last but not least comfort after a hard day at work.
If you're wondering how you can create this snug, scroll on down below to view a few easy tips to create a cozy English snug in your home..
1 – Fire
The presence or illusion of fire gives an instant warm feeling to any room, which is a particularly important point for helping to create your snug.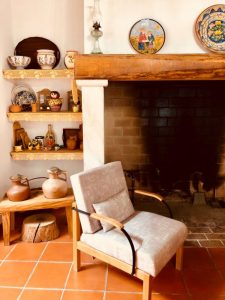 One must-have for your English snug–a fire element. When you think of fire, you may veer in the direction of visioning a blazing open fireplace, and although this is great if your budget will allow it, there are other more cost-effective alternatives. Such as an electric stove fire to simply planting candles around the room.
So light the fire and let the snugness begin.
2 – Warm, soothing colors
Embrace warm colors and veer away from any cold and harsh tones. You may opt for a warm taupe shade, a daring orange feature wall, or for the adventurous among you even tackle creating your own brick wall-effect to bring a rustic touch to your snug.
Warm colors should be reflected on your walls, flooring, and furnishings too, such as an oak wood floor, or a cream carpet to snuggle your toes into. The key is to look for colors that make you feel comfortable and happy. Layer these warm colors through the entire snug.
3- Cozy, live-in furnishings
Don't settle on a furniture set. Instead, mix it up with different mismatched pieces (if you wish). This look will inspire the feeling of warmth and even sentiment for you.
You may find a detailed mahogany side table in a local Goodwill store that you fell in love with. Or you may put to use the coffee table your great grandmother passed onto you.
The furniture you choose should create positive, happy feelings and compliment your chosen decor but also suit your snug's activities. For instance for gamers and avid readers might choose oversized quality bean bag chairs that mold around you while you're engaged in a good book or creating a simulated world online. While that's not the "traditional" choice, you dictate what works best for your lifestyle.
4 – Sentimental Ornaments
Sometimes it's difficult to find a home for your eclectic collection of sentimental gifts from friends, partners, and children.
For example, where you should put your children's prize-winning painting or a unique ornament you've treasured since you were a child? Your snug, that's where!
Here you can revel in nostalgia, as these pieces tie hand in hand with offsetting the perfect balance between style and hominess of a snug room to make you feel warm, protected, and happy.
How Do You Create an English Snug in a Larger Home?
If all your rooms are on the larger side, you can create the same feeling with a little creative design. Consider a screen or a half-wall to close off a small section of a larger space to give it the idea of a smaller, cozier spot.
The Bottom Line on Making Your English Snug
When designing your snug fortress stay in tune with what colors, furnishings, and items bring you warmth and happiness. Indeed, don't rest your design on what other people's snugs look like. This way you will design a room that's perfect for you. You'll have a place to re-energize, take refuge, and unwind in your English snug at the end of a long day.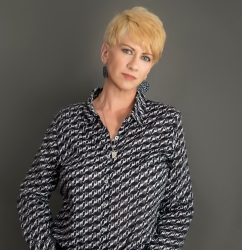 Latest posts by Deborah T
(see all)