French toast is often categorized as a way to use up old bread, but this breakfast recipe for Cinnamon Caramel French Toast is so much more than that. Okay. Technically, it is a wonderful way to use up old bread. However, this is so much better than that. It is rich and sweet at the same time. As a result, it really is an indulgent breakfast to make on a rainy, lazy weekend morning.
RELATED POST: Leftover Grits? Make Grits Bread for a Quick Weekday Breakfast Toast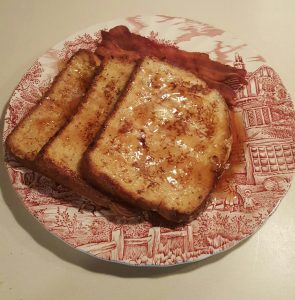 Like any french toast, this is very easy to make. But what makes it special is the addition of the caramel flavor.
It still has the rich flavor that you would expect from eggs and half and half. It's the traditional breakfast food that you love.
AN ACCIDENT, BUT A HAPPY ONE
I created this recipe by accident one morning. I was reaching for vanilla extract to add to my french toast and accidentally added caramel extract. As soon as the caramel hit the hot skillet, I knew I had grabbed the wrong bottle. But it was a happy accident, and my favorite breakfast came about from this mistake.
I serve this topped with butter and 100% pure maple syrup. But then again, I have a sweet tooth with a mind of its own. The butter adds a richness that cuts through the sweet. I really love it served this way, just butter, and maple syrup.
My husband, on the other hand, loves pecans. In fact, he likes toasted, chopped pecans and butter on his french toast. He has also mentioned that a cream cheese glaze would be great, but I haven't tried to make that for him just yet. So maybe that can be the topic of another post.
CARAMEL CINNAMON FRENCH TOAST
Ingredients
6 slices of bread
4 eggs
1/2 cup half and half
1 tsp cinnamon
1/2 tsp ginger
1/2 tsp caramel extract
Start with stale-ish bread. If your bread is fresh, sit it out on the countertop a couple of hours before you make this recipe.
Whisk together the eggs, half and half, cinnamon, ginger, and caramel extract in a flat-bottom bowl so that you can easily dip the bread in the egg mixture.
Prepare a sizzling hot skillet. I cook bacon first, then remove the bacon and use this skillet for making the french toast. Yep. It's a ton of calories. Yep. So it's unhealthy. Yep. But it tastes as delicious as you can imagine!
Dip the bread in the egg mixture, then place it down on the skillet. Lastly, flip it halfway through. Each side will be golden brown.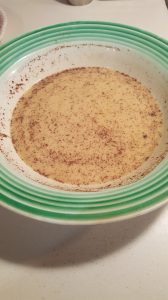 TOPPING IDEAS
Get creative with the toppings for this french toast. Sure, you can play it safe for me. For instance, butter and maple syrup. However, here are some other suggestion for sweet and savory toppings for Cinnamon Caramel French Toast
Cream Cheese Icing
Toasted Pecans
Candied Walnuts
Apple Butter
Whipped Cream
You get the idea, this french toast is a vehicle for about any topping you can think of! Please contact me and let me know of the most creative topping that you can come up with!
Perhaps this will motivate you to set your alarm, rise early next tomorrow, and fix a batch of these to enjoy for yourself!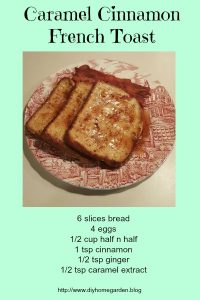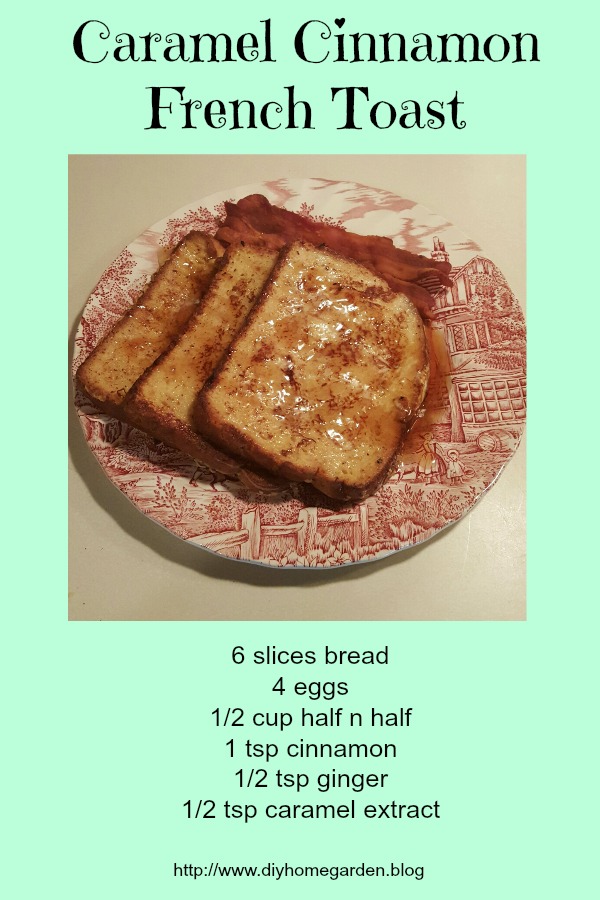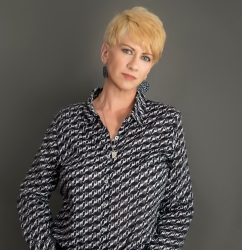 Latest posts by Deborah T
(see all)