Trying your hand at vegetable gardening these past few months? I bet you are enjoying yourself, nurturing your perennial plants, and watching those pretty flowers bloom. I hope our gardening posts have been of immense help to you in one way or the other. If they have, trust me when I say we feel extremely rewarded.
If this is your first time planting a garden, no worries, you can check out our super-helpful posts here.
So, your garden is burgeoning with a profusion of beautiful colors, well except for those areas that rarely receive sunlight. Most plants need sunlight for their survival, but there are some that thrive with little or no sunshine. And no, they are not ugly. They are quite pleasing to the eyes if I might add. Even beautiful things blossom in darkness.
You get an added bonus when you plant shade-loving perennial plants. How? Well, you only have to plant them once, and they keep on reseeding yearly, keeping your gardens beautiful every time. Now that you know you can grow lovely plants in shady areas of your garden, you are chomping at the bit. Well, I wouldn't keep you waiting any longer. Here are 5 perennial plants that love the shade.
When it comes to shade-loving perennial plants, the Hosta plant is one of the most popular names in the business. What makes it so reputable is its wide range of varieties. Different species have different colors of leaves, from blue to green to chartreuse and even gold. The leaves themselves have different shapes, depending on the species chosen, with the most common ones being round, oval, or heart-shaped. Even their sizes differ: some species could grow to just two inches while others can sprawl and cover the ground up to a distance of 6 feet.
At this point, it is necessary to point out that not all Hosta plants thrive in shady spots. Most fare well in areas having partial or no sunlight while very few (such as the species having golden leaves) need adequate sunlight for their growth. Therefore, be sure of the species that would suit your needs before going ahead with the purchase.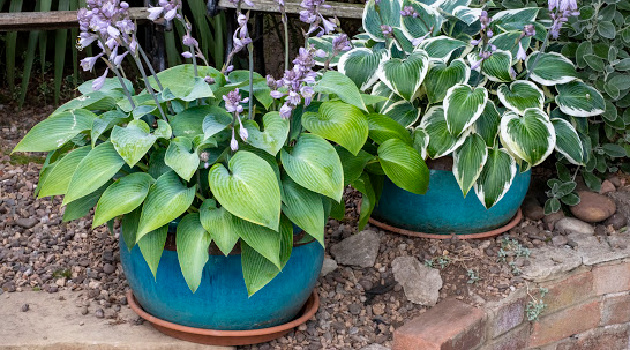 Some of you may know this plant by its botanical name: Hellebore. A notoriously early bloomer, the Lenten Rose grows in clumps and has dark-green leaves. Its flowers are shaped like a cup and come in various colors: white, cream, pink, green, or purple.
The Bleeding Heart plant gets its name from the shape and appearance of its flowers. These flowers are usually pink, red, or white in color and shaped like a broken heart with 'drops' of blood dripping from them. These flowers usually dangle upside down from willowy stems.
Loving partial to full shade, the Astilbe plant is known for its plume-like flowers and fern foliage. The flowers could be pink, white, red, lavender, and burgundy. Unlike most plants, Astilbe thrives in poorly drained soil as it requires constant moisture.
The Hydrangea plant is a shrub well-known for its big round-shaped flowers of either blue, pink, or white colors. It has different varieties with each variety having its unique characteristics. Regardless of the species, Hydrangea is not a big fan of full shade. Plant it in areas having light shade, as it needs just a wee bit of sunlight.
The Bottom Line: These Perennial Plants Grow Perfectly in a Shade Garden
This list is not exhaustive by any means. Other great choices include Columbine, Toad Lily, Lungwort, Jacob's Ladder, Christmas Fern, Dead Nettle (Yeah, I know. I wouldn't want anything dead nettling my garden either, but just like all the other plants in this article, the Dead Nettle is a perfect perennial plant for shade.)