Grilled ham and mozzarella macaroni and cheese is an easy dish to cook ahead and take when you're invited to a cookout or family reunion. It's easy to make and oozes with creamy, cheesy goodness. Better yet, it only takes roughly 30 minutes to prepare. Then, you just need to heat it and take it. Simple!
I love preparing covered dishes to take to parties and family gatherings. This is because I have a quirky, mismatched collection of vintage Pyrex and Fireking dishes from the 1950s-1960s and love to use them. Some of these were handed down to me by my grandmother or mother when I moved out on my own. But others I purchased for pennies at yard sales. Moreover, I collect various sizes and patterns, and colors. If I like it, I buy it. My only rule is simple…it must have the lid. So no lid means no purchase. That keeps me from going overboard.
RELATED POST: Easy, Cheesy Grilled Ham and Potato Soup
Anyhow…
Back to the mac and cheese.
This dish is quick and easy to make. In fact, you can easily take this and modify it with your favorite cheese. Also, if you purchase a pre-cooked ham steak, you don't need to cook it. I always do, just because I like the caramel-golden color after it's been grilled. Because it was raining outside, I tossed it in a skillet for 3 minutes on each side today. But sometimes I toss it on the grill. Either way is fine. This is a very unfussy recipe.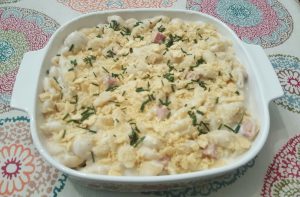 GRILLED HAM MACARONI AND CHEESE:
Let's get started.
Ingredients:
8 oz. pre-cooked ham steak
1 lb pasta, your favorite shape
2 tbl. butter
1/4 cup flour
16 oz bag of shredded mozzarella cheese
1 cup half n half
3 cups of milk
2 tsp salt
2 tsp black pepper
2 tsp granulated garlic powder
1 cup cheese cracker squares, crushed
2 tbl fresh cut chives
Directions, Part One:
Put a 5-quart pan of water to boil. Add salt to the water, and add pasta. Boil until al dente texture. Drain it and give it a stir so that the pasta doesn't stick. Place the pasta in a very large oven-safe casserole. You can spray the sides with non-stick spray if you want to. I don't usually because my Pyrex is well-used and nothing usually sticks.
While the pasta water is boiling, throw the ham steak in a skillet and "grill" it for 3 minutes on each side. You just want to add color. Remove it to a cutting board and dice it into small cubes.
Wipe out the skillet. Melt the 2 tbl of butter and the flour and whisk together. You want to cook off the raw flour until it's a dark blonde color.
Add the half and half, milk, salt, black pepper, and garlic powder. Your mixture will start out very runny. Give it a good whisk, then let it start to bubble. You will see the bubbles forming and the milk starting to stick to the sides of the pan. Start whisking again and it will thicken up.
Directions, Part Two:
Add the cheese and give it a good, hard stir. It will be very gooey and sticky, but work it!
Pour the piping hot cheese mixture over the pasta. Stir it in. Work quickly before the cheese cools down as it's easier to work with.
Crush your cheese cracker squares. I put mine in a zipper bag and hit them with a rolling pin. It's not using much finesse, but it works. Sprinkle the cracker bits over the mac and cheese.
Garnish with finely cut garden-fresh chives for zesty flavor and a vibrant contrast of green color.

Grilling the ham steak adds a pleasant, caramel color.

The cheese sauce starts out very loose.

The cheese sauce starts to bubble as it thickens.
And serve!
I like to eat this at home without baking it. That's because I love the fresh, cheesy taste and the little crunch from the crackers right out of the pan. However, when I'm taking it, I pop it in the oven for about 15 minutes to make it extra-hot. Then it seems to hold warm for longer. So if you are pulling it out of the fridge, plan on warming it at 350 for about 45 minutes.
This grilled ham and mozzarella macaroni and cheese is one of my favorites to take. After all, everyone loves mac and cheese, right? But there's something about the grilled ham and mozzarella that makes this one feel just a little more special to me. It's the same old mac and cheese comfort food with a little personality.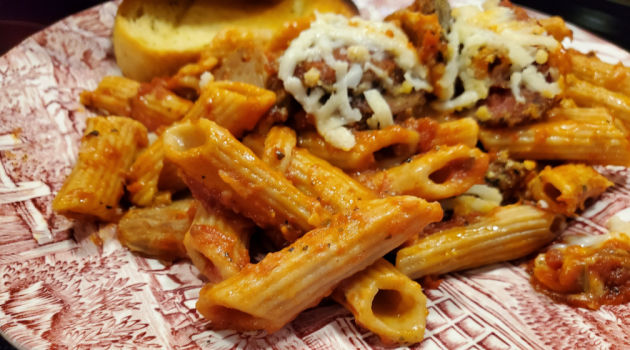 Happy cooking!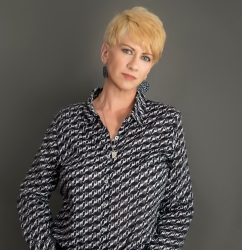 Latest posts by Deborah T
(see all)