Purchasing comfy and elegant beds for your pets can be quite expensive. Moreover, it's totally not worth it if Mr. Fluffy decides he doesn't like it. In fact, let's be honest: Pets can be very picky and fussy. Of course, you could shell out some major cash to keep Oscar in comfort. But instead, why don't you spend time this coming weekend to build a stylish pet bed for him?
But not to worry, most of these ideas are simple to implement. In fact, all they require is your wholehearted love and complete dedication to making your pets happy…..which I bet you have in abundance…..oh, and some old items in your house. Here are 9 stylish pet beds you can DIY for your beloved pets:
RELATED POST: A Clean House and Pets (Overcoming the Challenges)
If you are quite familiar with pet hair all over your shirts or pants, then you know how much pets love to burrow and snuggle into clothes. This is a prime opportunity for you to combine their love for your clothes with your desire to get them a comfortable bed.
Firstly, get an old or shrunken sweater, stuff it with a pillow and a rolled-up a baby blanket, and voila! Instead of sewing the whole thing shut, you can use zipper, snaps, or Velcro to secure them. This way, you can easily access, wash and dry the stuffing if and when needed.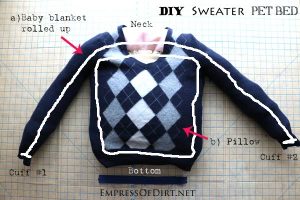 This idea is basically stress-free. If you have any old suitcase lying around, just clean it up and add a foam cushion padding to make your pet comfortable. The foam cushion can also be replaced with a couple of printed sheets and a quilt.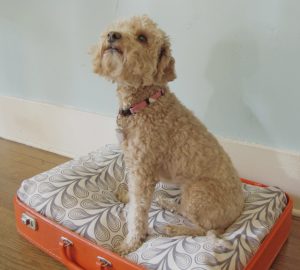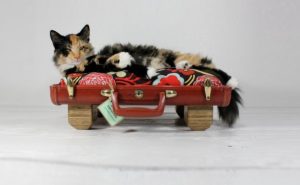 Trust me, this is the height of elegance for your pets. An old table can be upcycled into a glorious four-poster bed by simply turning it upside down. With its legs pointing up, the picture of a four-poster bed begins to form in your mind. Insert a comfy cushion into the bare space at the bottom and your cat would look like royalty in his sumptuous palace.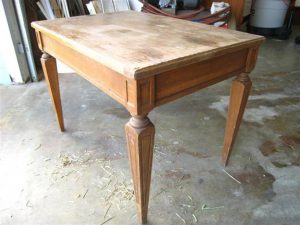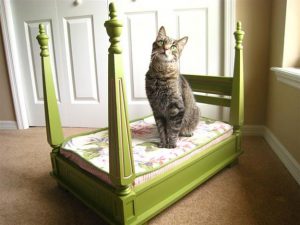 Remember those old console TVs that had to be fitted in stands? If you're a new generation like me, you probably don't know what I'm talking about. If you do and you're lucky enough to still have it lying around in your attic, accept my hearty congratulations. As one blogger succinctly put it, you can convert it into a pet bed fit for a king. Firstly, remove all electrical wires and whatnot. Then repaint and furnish with cushions, sheets, and quilts.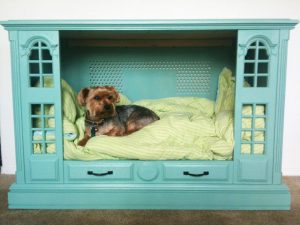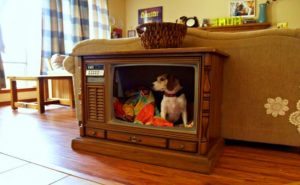 "My old TV is an LCD flat screen, is there any hope for me? 'Cause I really like this idea." Well, there is, if you have an old defunct desktop monitor lying around. It's basically the same idea as the TV bed, but it offers a much smaller space. As a result, it's quite handy for smaller pets!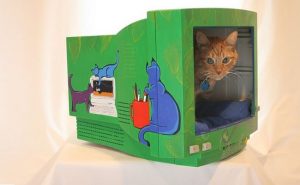 When it comes to upcycling, cabinets and dressers come in a close second to plastic bottles. The simple reason being that they can be used as planters, buffet tables, bookshelves and yes, as pet beds. For instance, in the pictures below, an old cabinet was transformed into a very luxurious and stylish pet "house". Yeah, this doesn't look like a bed, it looks like a pet mansion!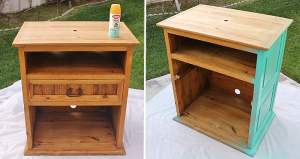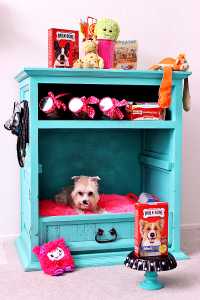 If you have a sliding storage compartment beneath your bed, then you can convert it into a stylish pet bed for your dog. Add quilts, cushions, and any other comfortable padding you so desire. Other related options include a picnic basket and dresser drawers.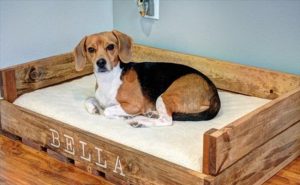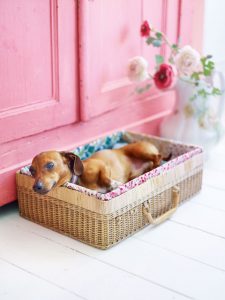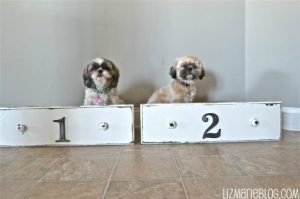 Old milk crates can also serve as stylish beds for small pets. With a little tweaking and some mastery in woodwork and carpentry, your dog can have that comfy bed of your dreams.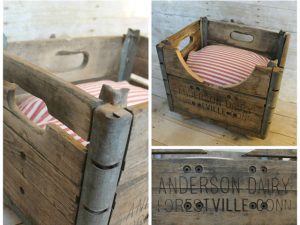 The milk crate idea a little too small for you? For those who want to dream big, build big and exert more effort, then you can take on the stressful but highly rewarding task of converting that spare wine barrel into a stylish bed for your pets.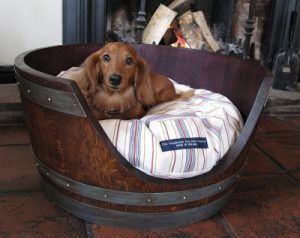 The Takeaway on Designing a Pet Bed fit for Your Best Buddy
You can repurpose everyday items to create a comfortable sleeping spot for your best furry buddy. By taking the design into your own hands, you can craft a pet bed that complements your decor and keeps Fido or Fluffy nice and cozy.