There's nothing quite like the smell of hot and tasty fajitas. Zesty, seasoned steak meets freshly grilled onions and peppers. The aroma is tantalizing. Better yet, they are cheap, quick, and so simple to make. In fact, the prep time takes longer than the actual cooking. It's a fantastic and easy way to feed a crowd for cheap!
RELATED POST: Recipe for Savory Alarita Spread for Wraps or Salads
These are one ot the most favorite Sunday meals at my house. We can make a large batch to eat that day. Then, we take them to work for lunch during the week. My hubby takes wraps and eats them the traditional way.
I take the grilled vegetables and steak and put it over a salad as I am still on WeightWatchers. The salad part is zero points. This means that I can eat a large and satisfying meal!
Quick Tips
When you're making fajitas, opt for inexpensive, thin cuts of meat. I used cheap eye of round steaks for this round because they were on sale. While the eye of round steaks would normally be like shoe leather prepared on the grill, they come out fork-tender and juicy when prepped this way. I suspect it has something to do with the long marinade soak and the super-quick grilling we give it. Other cuts of meat that work are skirt steak or thin sirloin steaks.
I served this with my homemade cilantro rice (which will be a future post!). My husband likes to put the rice right inside the wrap with his steak and vegetables and eat it all one-handed. But I'm okay with that. Because it means that I have less dishwashing to do when he skips the silverware.

The most important part of this process is making the marinade. This is because it adds the bold flavor and keeps the cheap steak cuts nice and moist. Super delish!
Here's how this all comes together.
STEP BY STEP INSTRUCTIONS TO MAKE THE BEST HOME GRILLED FAJITAS:
Make the Fajita Marinade
Ingredients:
2 tsp onion powder
2 tsp cumin
1 tsp ground ginger
2 tsp chili powder
2 tsp garlic powder
juice of 1/2 lime (fresh squeezed)
2 tsp. light corn syrup (optional)
Mix all ingredients in a large bowl. Whisk well with a fork. I like to use a bowl with a tight lid and use it for marinating the meat.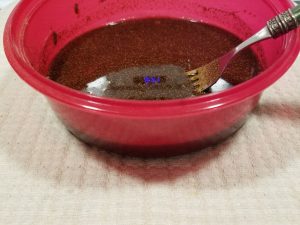 Prepare the Veggies
I used one yellow bell pepper, one red bell pepper, and a large sweet yellow onion. Julienne the vegetables and place them in a large ziptop bag. Take about 3 tablespoons of the marinade from the bowl then spoon it into the ziptop bag with the vegetables. Then close the bag and shake the marinade to coat the vegetables.
Place in the fridge to let those flavors develop for several hours.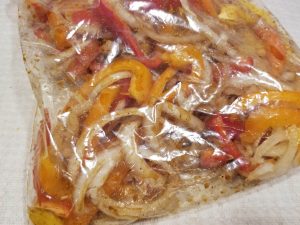 Marinate the Steak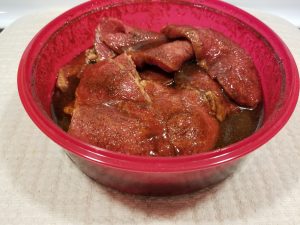 Toss those steaks into the marinade. Make sure that the meat gets an even coverage of those fantastic flavors. I flip the bowl over about halfway through the marinade time to share the marinade equally.
I let about one pound of thin steaks soak in the marinade for about 6 hours. In fact, that's what makes this such a great meal for entertaining. You can prep and clean up your kitchen hours before you have guests so you can enjoy their company!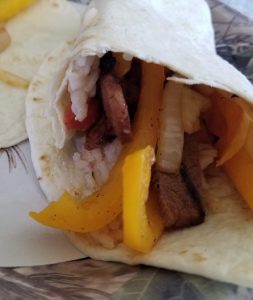 The Best Grilled Fajitas–in a Flash!
When it's time to grill, start with your vegetables. I place a grill mat down on a 400-degree grill, then toss on the veggies. They will take only about 5 minutes. I prefer to take these off the grill while they have just a little bit of bite left to them.
If you've selected those super-cheap thin steaks that make such great fajitas, then you will need to work quickly or you will overcook and dry out the steaks. Literally, by the time you toss on the last steaks, the first on the grill are ready to flip!
Remove the steaks and let them rest for a few minutes. Then cut the rested steaks into long thin strips that match the length of the julienne veggies to make a gorgeous presentation. Lastly, serve with warm tortillas, chips and salsa, or rice.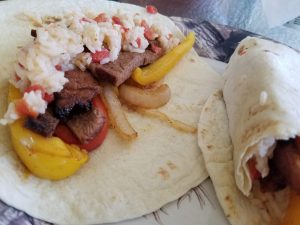 Alternative meats:
If you don't love steak, try making fajitas out of:
chicken
venison
halibut
shrimp
Wrap-up
A quick side story to fajitas. I used to work at a Mexican restaurant. Servers always advised customers, "Be careful, these just came out of a 500-degree oven." Inevitably, someone would touch the sizzling cast-iron serving plate to check about once a week. Ouch. Why? I used to ask.
Now, I think it was because fajitas were just so irresistible that they couldn't resist pulling that plate closer for a sniff of the savory good flavors.
Do you have a great fajita recipe or flavor combo? Then please feel free to comment, I'd love to hear your ideas!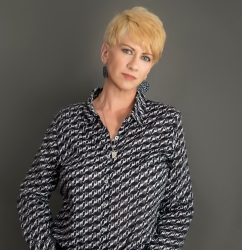 Latest posts by Deborah T
(see all)