These quick and easy breakfast sausage muffins are the perfect way to enjoy a hot breakfast on the go. They taste like sausage goodness wrapped up in a delectable biscuit, like your favorite fast-food sausage on a biscuit but in a poppable, portable package.
You can use your favorite commercial breakfast sausage brand and flavor. Think of sage sausage for a lunchtime treat or classic breakfast meat for the morning. I used a homemade venison low-sodium breakfast sausage that we make and freeze in bulk (not in casings) during hunting season. I follow a low-blood pressure diet and prefer a lower-fat content sausage. However, you can customize this recipe to suit your tastebuds.
Breakfast Sausage Muffins Are a Great Alternative to Fast Food Chains
I have always avoided fast food chains like the plague that they are. While I might not always be the healthiest eater, I do try to avoid the greasiness. Besides that, they recently raised all their menu prices and grocery prices continue to climb, making them of far less value, in my opinion. Add to that the Great Resignation and long wait times mean you can take the "fast" out of their promise–the lines are generally rather lengthy in our area.
As a result, we sought creative ways that my husband, who enjoys a fast-food breakfast biscuit about once a week on his way to work, can indulge without the wait time. This recipe is one alternative. Instead of sitting in the long lines for greasy food, he takes two or three of these in a container, pops them in the microwave when he gets to work, and eats them before he starts his day.
Of course, these are best when served piping hot, they smell so good and are softest straight out of the oven. But reheating is still better than unhealthier drive-thru food.
As you read the recipe, you'll probably laugh at my classic circa 1971 orange Tupperware mixing bowl — it is older than I am. In fact, my mother had it when I was a very small child. When my folks retired and moved to a smaller home, I grabbed this from the "donate" bin for sentimental reasons. Furthermore, it is now probably my most-used kitchen bowl.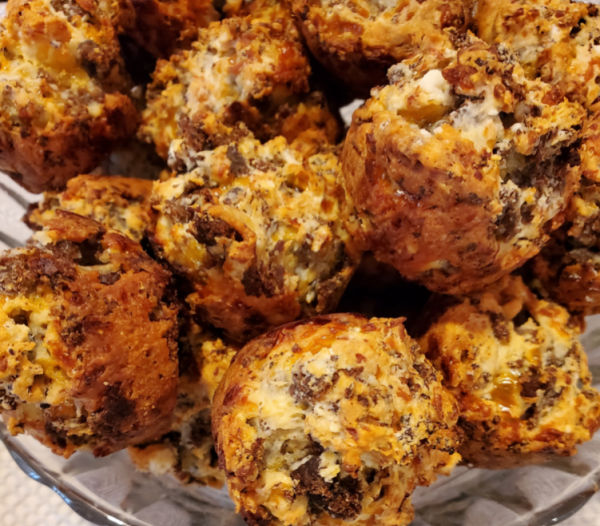 Quick and Easy Breakfast Sausage Muffins
These breakfast sausage muffins are so quick and easy to make, not to mention scrumptious to eat!
Ingredients
16 ounces bulk breakfast sausage, your favorite brand and flavor
2 cups of baking mix
1/2 cup plus 1 Tbl of 2% milk
1 cup of shredded cheddar cheese
1 egg, lightly whisked to break up the yolk
Non-stick baking spray
Instructions
Preheat the oven to 400° and spray the muffin tin with non-stick spray.
Fry the sausage to a light brown to cook off most of the fat. Break up the meat as it cooks. While this is cooking, you can start prepping the other ingredients--just keep an eye on it!
Into a large mixing bowl, add: the baking mix, milk, shredded cheddar cheese, and egg. Mix well, ensuring you break up any clumps of the baking mix.
Drain the excess grease off the lightly browned sausage and give it a quick stir in with the other ingredients.
Spoon 24 equally sized portions of the sausage biscuit mixture into the wells of the muffin tin. Set the oven timer for 25 minutes. They will be nicely browned with delicious melted cheese at the end of 25 minutes. Remove them from the tin immediately.
Notes
Kitchen tools you will need:
Spatula (for frying the sausage)
Large skillet
Mini-muffin tin with 24 wells
Spoon for mixing
Large mixing bowl
The Takeaway: Breakfast Sausage Muffins Are a Time-Saver and So Very Delicious
If you love a hot breakfast but hate to waste your time and money at fast-food spots, consider giving these breakfast sausage muffins a try. You will not be disappointed in them! Please join us on social media and comment on the topic, as we love hearing your results. Until the next time, have a happy DIY day.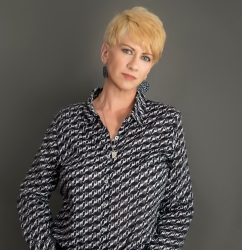 Latest posts by Deborah T
(see all)