If you crave more space at home, have you given much thought to what's right under your feet? Your existing basement might be dark, dingy, and full of spiders, but with some time and effort, it can be transformed into a fantastic, usable room.
Maybe you want to create a media room, a guest bedroom, or an impressive wine cellar. Regardless of how you'll use it, you can create tons of extra living space if you're lucky enough to have one. Here's how you can go about it.
6 Ways to Turn Your Basement into Liveable Space
1 – Clear out the clutter
As with most storage-type spaces, basements can accumulate a whole lot of clutter over the years. Your first step is to clear it all out, depending on the state it's in, you might need to give yourself a number of weeks to work through all of this. Hire a skip and be brutal, anything you no longer need or use should be thrown away, donated or given to friends. Anything you do still want, find storage elsewhere in the home such as the loft, garage or cupboards. Once the room is completely clear you will be able to see exactly what sort of space you're working with.
2 – Remove pests
Basements tend to be dark, cool, and relatively untouched making them perfect hiding spots for pests and other creatures. If you spot any kind of infestation, purchase some insecticides, rodent killer or call an exterminator.
Spiders and other kinds of insects lay a lot of eggs, so it's not enough to just get rid of the living creatures you can see. In fact, you need to break the life cycle. If pests have caused any damaged then you'll need to get this repaired. Give the space a really good deep clean too, and you have a blank canvas to start working on.
3 – Consider the window and ventilation
As basements are under the house, they can feel very dark and claustrophobic if you don't go about things in the right way. It's not so much of an issue if you'll only be using it for wine or other kinds of storage, but if you want a livable room then it's an important consideration. If you already have a window somewhere in the basement, make sure it's reinforced to good double or triple glazing that will help to keep the cold out. You can buy ozone generators these days which can remove mold and odors from rooms that are perfect for dank spaces like basements.
4 – Insulate
One of the main reasons your basement won't be livable right now is because it's not insulated. You'll know that when you open the door to go down and feel a huge draft and chill! Unless you're an experienced DIYer, you might need to hire a professional company at this point to insulate the place properly for you. This will usually involve boarding the walls and ceiling and adding insulation. If you're worried about the floor, you could also install underfloor heating at this stage. Just make sure it's compatible with the kind of flooring you want to put on top, as not all flooring types are. Once you have studded and insulated the space, it will start feeling like a proper room and not just a drafty old storage cupboard.
5 – Consider the lighting
The lighting is important in any room in the home, but for a room like a basement, it's absolutely crucial. Do some research into the best lighting for basements, daylight bulbs and plenty of light sources are likely to be your best bet. If you invest in smart home lighting, it's easy to tailor it at the touch of a button, or using your voice-activated technology.
6 – Decorate
Finally, the fun stuff! Choosing decor in your new basement room will largely depend on what you want to do with it. For a bedroom, a guest room, play room or a hobby room, light colors on the walls will prevent it from looking too enclosed.
However, if you're turning it into a gaming or media room, often the darker the better so you will create a cinematic vibe.
Finally, if you're going to add living plants, choose species that can function well without much light, and position them close to the small basement window if you have one. If the room is windowless then faux plants are the only way to go.
Bottom Line on a Basement Renovation
You should consider adding an extra room or two to your home. This the often overlooked basement square footage can be a smart renovation for some homeowners.
But, before you can start, here are a couple of last considerations:
First, make sure that your area is nice and dry before you tackle this project. Check for seeping around any cracks, windows or other crannies. Waterproofing most often begins on the outside of the home, around the weeping tiles. This repair can be costly (but necessary for your health) to fix.
And, second, be sure that you pull the correct permits from your local zoning board. All that hard work will be for naught if your local government fines you or performing these upgrades without permissions in place. For example, you must have a properly-sized egress window before they'll allow you to have a bedroom in the basement. Planning for the cost of the window at the outset will prevent you from budget over-runs.
So, set up a plan, pull your permits, and hire your contractor. You're about to add space and value to your home if you accept the task of taking on a basement renovation.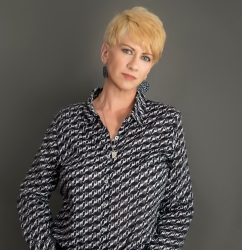 Latest posts by Deborah T
(see all)