Some people swear that the exterior of the home is just like the cover of the book – in a way, it sets the scene for what is inside. Just think about it – if you were a buyer and you saw a property that looks like it is haunted, would you go in? Probably not! Thus, never question the importance of your home's curb appeal, especially if you plan on selling it in the near future.
Believe it or not, but boosting your home's curb appeal can not only increase the value of your home by up to 20% but can also make it sell a lot faster. But do not worry, upgrading the exterior of your home does not have to be anything too time, energy, and money consuming, no. With our simple tricks and your will to do some DIY-ing, you can completely change your home's exterior look in just one weekend.
6 Simple Tips for Boosting Your Home's Curb Appeal
So, let us get started.
Tip #1 – Go as Green as Possible
Adding greenery and flowers is one of the best ways to boost your home's curb appeal. There is simply not a person in the world that doesn't like that in a home. But, do not go overboard. If you put grass everywhere and if you add pots with flowers on every corner, you may push away potential buyers. Why? Because nobody wants to spend every weekend mowing the grass and watering the flowers! Stay on the 'safe side,' and just add a couple of green areas here and there. You can, for example, add flower boxes to the windows. Or, you can create a nice green place in the backyard where new owners would be able to start their own food gardens. Be creative, but have your limits.
Tip #2 – Add Some Outdoor Furniture
Having the right amount of furniture in your back or front yard is more important than you think. If you have too much of it, the entire space will look cluttered and messy. But, if you have too little of it, then everything would look neglected. So, make sure you really utilize the space you have and choose the right furniture for it. Basically, you cannot go wrong with an outdoor set of tables and chairs. And, if you want to be a bit extra, go ahead and add a swing, an umbrella, and even a grill (if your budget allows it). Of course, these things will improve your home's value only if you leave them to future owners.
However, keep in mind that if you plan on packing up your garden furniture and taking it with you, you need to prepare yourself for a lot of work. Doing that is not as easy as it seems. You will need to clean everything thoroughly, disassemble it correctly, buy appropriate packing materials, pack it, and find a moving truck big enough. Or you can choose a more straightforward option – hire professional movers. Decide what is suitable for you on time when it comes to moving these kinds of things, and, most importantly, do not forget to buy new ones for your future buyers.
Tip #3 – Give Your Shed and Your Garage Some Love
Most people neglect their sheds and garages because they are technically not part of the house nor a part of the garden. But they deserve some love too. If you give them a makeover, you can significantly improve the curb appeal of your home and thus, improve its value too. Again, this project does not have to be a big one. You can transform your shed and your garage by simply repainting them. And, of course, by replacing the items that are broken or damaged, like doors, windows, shelves, etc. Do not forget to declutter and thoroughly clean these two areas, too – maybe the new owners will see some different potential in them.
Tip #4 – Design a Clear Path
Having a clear path from the street to your front door will make your entire home and yard look more welcoming and simply more put together. You can add rocks that match the color of your home, for instance. Or, if you have some money to spare, you can build a completely new path made of cement or brick. This is especially desirable in areas where the climate is wet. Just imagine having to walk in the mud every day – you will start to hate your home. Thus, if you do not already have a clear path in your yard, consider investing in one before the movers from A2B Moving and Storage come to pick your stuff or to bring in the stuff of the future owners. This is not a big investment, but trust us, it is one that will add a big value to your home.
Tip #5 – Clean the Gutters
This is something that will 100% boost your home's curb appeal. Yes, cleaning the gutters can be a nuisance, but it is something that must be done at least once a year. If you are not really handy with these kinds of projects, you can also call a professional. But, if you think you can do it, be sure to have the right tools first. You will need a ladder, gloves, trash bags, and a small rake. And, once you do clean the gutter from all the debris, do not forget to scrub them thoroughly, both inside and out. After scrubbing, they will look as good as new.
Tip #6 – Add Outdoor Lights
Last but certainly not the least trick for boosting your home's curb appeal is adding outdoor lights. This is an effortless way to make your yard look a lot better and safer. You do not have to spend a fortune on built-in lights. Instead, buy those that you stick onto the fence or those bigger ones that go into the ground. Both of these can be powered by electricity or by batteries. You can even get small solar lights – they are a great addition to any yard! But, whatever you do, do not forget to install bright, automatic lights above your front door. These lights have sensors in them, and they will light up whenever somebody walks into your yard.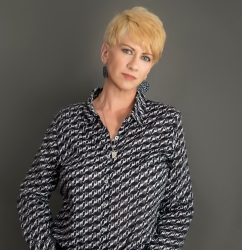 Latest posts by Deborah T
(see all)