Wood pallet projects can add a certain rustic charm to your garden. Besides making functional items that make your gardening chores more manageable, they are more affordable than purchasing wood. With a bit of inspiration and a few tool skills, you can do much with them. Whether you leave them intact and modify them or break them apart to use the lumber for a woodworking project, you'll find many uses. In fact, you will probably find more uses than you can find pallets.
Five Primary Wood Pallet Types:
Besides wood pallets, you might see plastic. However, the plastic styles are far less helpful for around your homestead or garden. Here are the main types of wood pallets you can find out and about as you begin your search for this resource.
1 – Stringer Pallets
Perhaps the most common find you'll come across is the simple stringer pallet. It features a top deck with gaps between the boards and "stringer boards" facing two opposing sides. The bottom deck may or may not be finished. Because two sides are finished, forklift operators can only lift them from the two open sides. This style is widespread due to its relatively lower cost and sturdiness. Warehouses use this for a variety of applications.
2 – Block and Deck Pallets
This style is constructed similarly to the stringer pallet, minus the stringer boards on the two sides. Because all four sides are open, forklift operators can lift it from all four sides, making it a favorite in warehouses with tight spaces. The upper deck receives support by twelve columns, called "blocks." They may or may not feature a bottom deck.
3 – Solid Deck Pallets:
These are rare finds. This wood pallet has a continuous top deck with no gaps or spaces between the boards. Because they have no opening, most warehouses use these for smaller boxes or items. The manufacturers of these units invest a lot of money in the wood, so they tend to carry a higher cost than stringer or block and deck.
4 – Double Faced Pallets:
This style has both a top and a bottom deck, so you can't see the difference between top and bottom. You'll find these in warehouses that load weighty items. Due to the extra cost of facing both top and bottom, you won't likely find them often, especially if you are looking for freebies for wood hobbies.
5 – Double Wing Pallets:
Both the double-wing style's top deck and bottom deck extend past the blocks. These extra few inches provide additional stacking space for warehouses that need to move large volumes of merchandise. In other words, the extra surface means they can load more items on the pallets to reduce the forklift traffic.
Where to Find Wood Pallets for Free (Or Low Cost)
So now you know the various types of wood pallets you might encounter. But where to find them? That's the big question.
Your first instinct might be to inquire about the freebies at local large businesses, like chain retailers or grocers. However, as directed by corporate offices, they often have disposal or collection arrangements. They might want to help you out, but their hands might be tied by company policy.
Smaller locations have greater flexibility–and decision-makers might be located on-site instead of hiding behind a desk in a corporate office tower.
Here are some places that might be willing to let you have some of their cast-offs:
Construction sites
Lawn and garden stores (large bags of seed and fertilizer may arrive palletized)
Local, independent grocery stores
Pet shops (feeds come palletized)
Hardware retailers
Small- to medium-sized manufacturing facilities
Newspaper or magazine printing facilities
All you need to do is call them and ask if they have spare wood pallets to dispose of and offer to come by and take it off their hands. Be sure to keep your word and collect it when you promise. Otherwise, you might spoil the deal for the next DIYer who asks.
One note: do not remove pallets without express permission. Just because they look like trash does not mean that they are. You could be charged for trespassing or theft without intending any harm.
Wood Pallet Projects to Add Functional Charm to Your Garden or Homestead
Let's get to the fun part–let's look at some inspiring wood pallet ideas.
1 – Wood Pallet Garden Walkway
This blogger collected pallets, dismantled them, and created a charming wood walkway. Seal it with water sealant for extra life. Shabby chic outdoor decor at its best!
2 – Build a Garden Fence
Do you have a bunny invasion you try to keep at bay in your garden? If you want a fence to (try) keep them out, this garden fence would be a fantastic place to start. If you dig a small trench, stake in some chicken wire, and staple it inside the wood, you might fortify the fence these tiny invaders. Regardless, it sure adds tons of beauty.
3 – Build a Vertical Herb Garden from a Wood Pallet
This image might look familiar to long-time site readers…because this is our own DIY Home & Garden tutorial. This wood pallet herb garden helps you save space. Even someone who has a small patio or balcony can grow some beautiful, healthy plants.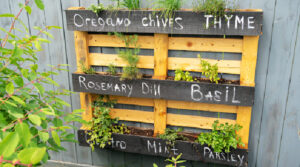 4 – Potting Bench
This project takes three pallets–you will leave two together and dismantle a third for the front legs and worktop. This potting bench will be ideal for completing all those essential planting tasks.
5 – Tool Organization Station
Keeping your outdoor tools organized makes your chores easier to complete. Besides that, you won't waste time playing hide-and-seek to track down your tools. A genius way to save space and get your stuff well-organized.
6 – Build a Covered Bench From a Wood Pallet
Treat yourself to a spot of shade after a day of working on your gardening or homesteading projects. You earned a seat on this stylish bench! This project is half-bench and half-arbor. What an inviting place to rest!
7 – Stylish Seating Area
If you find a vast wood pallet stash, you could consider disassembling each one and building this stylish bench. Sew yourself a few colorful cushions, and you will have a showstopper!
8 – Wood Pallet Deck
The cost of lumber is through the roof. If you have not priced it lately, you are in for sticker shock if you have a new deck in mind. However, this deck's parquet pattern is so lovely that you won't even consider it a low-cost alternative. It's worthy of any home.
9 – Wood Pallet Garden Planter
Container gardening enjoys wild popularity in urban gardening and among renters who do not have permission to dig a garden. Why not build a raised planter to grow your favorite flowers, herbs, or vegetables?
10 – Mini Greenhouse
Take that quintessential wood pallet raised garden bed up yet another notch by framing it out to support sheeting for a small greenhouse. This protection is clever, especially in developing zones with late-season frost.
11 – Outdoor Shelving
Display plants and outdoor-safe knick-knacks or store gardening essentials on a sturdy wood pallet outdoor shelving unit. Add protective outdoor paint or stain to preserve it.
12 – Bicycle Rack
Do the kids leave their bicycles tipped over? Or do their friends pedal over and clutter up the yard? Make a bicycle rack to make the area neater. You could even add an eye bolt to secure with a chain and lock.
13- Cucumber Trellis
Growing cucumbers vertically produces healthier fruit, as it does not lie on the ground prone to rot. DIY Home & Garden has advocated for this in a past article, using tomato cages to grow our cucumbers. However, this wood pallet serves the same purpose and very effectively!
14 – Make Shabby Chic Garden Signs
These shabby chic garden signs might become your new favorite hobby if you have a steady hand and a knack for lettering. Dismantle the wood, apply a coat of chalk paint, and paint on letters–freehand or stencil. Finish this design by sealing it against the elements.
15 – Wood Pallet Strawberry Planter
Strawberries thrive in raised beds and tiered gardens. This project makes a stylish home for you to grow those beautiful berries.
16 – Plant in Nice, Straight Garden Rows
Lay each wood pallet down, fill it with potting soil, and plant your favorite herbs or vegetables. The slightly raised bed will keep your produce off the ground, helping to avoid mold, pests, and disease. Besides that, your rows will be nice and straight!
17 – Build a Tiered Planter
Tiered gardens are the best way to maximize a smaller yard or plant in that single sunny spot in an otherwise-shady backyard. Of course, this planter adds function as well as beauty.
18 – A Stylish HVAC Unit Cover
Do you live in a home with the HVAC unit sitting outdoors? In my part of North Carolina, we do not have a basement. Almost every home has a reversible heat pump unit sitting next to the house. They are not pretty. I am soooo going to make this HVAC cover.
19 – Wood Pallet Playhouse
Have your kiddos been bugging you for a treehouse or playhouse? You need good tool skills, the ability to plan a sturdy structure, and LOTS of pallets to create this playhouse. But oh, what a wonderful gift this would be for the little ones!
20 – Poolside Towel Rack
This towel rack would be amazing next to your pool. And do you see how the pool noodles tuck right inside? That would keep them from blowing about in an unexpected storm. Clever!
21 – Outdoor Bar
Serve up your favorite cocktails while you flip burgers or shrooms or whatever you love on the grill. This rustic but chic outdoor bar will become your favorite gathering spot.
22 – Privacy Screen With a Planter
Neighbors too close for comfort? This privacy screen and planter combine into one adorable unit that will help you block an unsightly view or nosy neighbors.
23 – Children's Sandbox
Your kids want a sandbox, but you don't want the neighborhood strays using it to do their business. This sandbox made from wood pallets fixes that problem, as it has a clever bench that folds flat to cover the sand when the children are not playing.
24 – Wood Pallet Swing
This swing is a sturdy take on the ubiquitous fabric hammock. You know. The one with fabric that fades in one season and mice nest in when you store it away in the fall?
25 – Build an Outdoor Kitchen from a Wood Pallet
Here in semi-coastal North Carolina, having an outdoor kitchen is not a luxury. It's a necessary backup plan for the next hurricane that comes. We know that there's always another one that will hit us sooner or later, so preparedness is fundamental to how we live. Even for those who live in inland regions, a plan B cooking station is a wise idea. Of course, you will have a blast cooking and entertaining, too!
The Takeaway: Adapt These Wood Pallet Ideas to Suit Your Gardening Needs
Whether you are a casual gardener or a homesteader living off the grid, wood pallets are helpful for many needs. Give these a try, and please connect with DIY Home & Garden on Facebook or Mewe, as we love hearing your success stories. Until then, have a happy DIY day.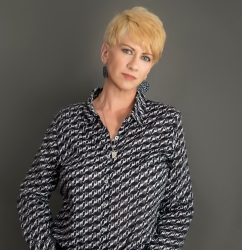 Latest posts by Deborah T
(see all)