Vitamin C Serum could be the game changer you have been looking for to boost your skincare routine.
If you battle dull-looking skin and you want a healthy glow, please consider adding this to your daily beauty regimen. Vitamin C is a potent antioxidant that helps your skin fight free radicals and other ravages. As a result, it's perfect for antiaging–both prevention and treatment of–unwanted fine lines and wrinkles.
We will take a look at Vitamin C Serum FAQs and explain how you can put it to use in your daily routine.
Vitamin C Serum FAQs
Here are the most commonly searched-for questions about this product.
Can I use vitamin C serum every day?
Yes! In fact, one study out of India suggests that users achieve maximum benefit by applying this product every eight hours. However, most of us would apply in the morning and before bedtime.
What skin type is vitamin C serum good with?
Vitamin C serum is safe for all skin types.
That is a concern for many people, especially those with oily skin. Because they are naturally oil-free, you can apply them with confidence. Be sure to read the product label to ensure that the manufacturer does not add any oil to the final product.
Is vitamin C serum any good? Here are the seven key reasons to give it a try:
Know the seven key benefits of Vitamin C serum. Here is what it can do for you:
Boost skin radiance without added oil
Plump up the skin to reduce the appearance of fine lines and crow's feet
Fight free radicals that damage your skin (could help prevent skin cancer)
Reduce the appearance of under-eye circles or darkness
Lessen the appearance of acne scars, hyperpigmentation, or age spots
Healthier, more resilient skin will help you feel more confident
Better hydration and moisture retention for plumper skin
Of course, there is not a one-size-fits-all when it comes to skincare. But this product is well worth a look.
What age should I use vitamin C serum?
Fine lines and wrinkles can start to appear as early as the middle- to late-twenties. So if your goal is to prevent the signs of aging, you should start using it then. On the other hand, people with already-aging skin should start to add this to their skincare kit right now.
Can I mix vitamin C serum with moisturizer?
Yes, it is safe to apply Vitamin C serum along with your favorite moisturizer. You should wear the serum under the moisturizer.
Does vitamin C make skin darker?
No. These serums have a yellow to orange color. While it might lightly "stain" the skin, especially in the fairest skin tones, it is short-lasting and not a permanent darkening of the skin.
Which serum is best for glowing skin?
Vitamin C serum can give your skin a healthy glow. However, you can also try hyaluronic acid products if you don't see the results you hope for with this skincare product. Through trial and error, you will find the serum that is best for your face. But Vitamin C products should almost certainly be part of your discovery process.
Can I apply vitamin C serum overnight?
Your body runs its "repair processing" while you sleep overnight. So applying your skin repair products before bed proves beneficial. In a 2021 NIH publication, University of Colorado sleep research, Dr. Kenneth Wright, Jr. agrees:
"There are certain repair processes that occur in the body mostly, or most effectively, during sleep. If you don't get enough sleep, those processes are going to be disturbed."
Does vitamin C lighten skin?
This vitamin inhibits your body's melanin production by when you apply it to the skin. That's because it suppresses the conversion of tyrosinase, an amino acid, into melanin. That is why you can rely on this serum to reduce hyperpigmentation, acne scars, age spots, or sunspots that appear with age.
Can I apply vitamin C serum overnight?
Yes. When you apply Vitamin C serum overnight, you will receive maximum benefit from the treatment.
What can you not mix with vitamin C serum?
You should not mix Vitamin C serum with any products that contain AHA or BHA acids. The names you might see on the label are these:
Glycolic acid
Lactic acid
Salicylic acid
The molecular structure of these treatments destabilizes if they mix with Vitamin C, rendering them useless. Thus, you are wasting your wonderful skincare products.
This might sound confusing as you shop for a serum. That's because you might see manufacturers blending some of these acids into their formulations. However, they craft these for stability under stringent lab conditions and then test them for efficacy. When you mix them at home, you will not likely achieve these results.
On the other hand, you can mix this product with hyaluronic acid-based skincare products. They work together beautifully!
Should I moisturize after vitamin C serum?
Yes. However, you should apply the serum under the moisturizer to ensure it penetrates your epidermis and delivers its potent benefits.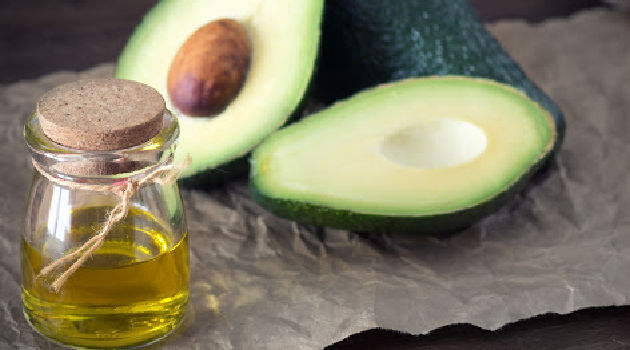 The Correct Order for Applying Your Skincare Products
Here is the correct order of applying skincare during your daily routine:
Remove makeup, including mascara and eyeliner (night): If you do not wear makeup, you can skip this.
Cleanse (morning and night): Use a cleanser appropriate to your skin type for cleansing.
Exfoliate, if needed (night): Exfoliation can leave your skin reddened, so many people prefer to do this at night.
Toner (morning and night): This ensures that you leave behind no cleanser residue, oils, or dirt, preparing you for the treatments. Find a toner for your skin type.
Spot treatments (morning and night): As needed.
Vitamin C Serum (morning and night): If you decide to use a different serum, this is still the correct time to apply it.
Eye cream (morning and night): Choose a cream that multi-tasks, fighting age damage and dark circles
Moisturizer for your skin type (morning and night): Choose an SPF formula for day, especially if you spend a lot of time outdoors.
Of course, no two people have the same specific needs. And not everyone uses every one of these products. So pick and choose which steps work for your lifestyle, following this order of application as a general rule of thumb.
What Is the Best Vitamin C Serum?
Although skincare salespeople will swear that their product is the best, that might not be the case. As a former counter manager with a highly-respected global brand, I can tell you how the system works. The companies hold classes and workshops to help salespeople memorize key points and sales pitches. They bring in reps from around the region, let they try the newest, latest greatest products. In fact, they even hold them there as a captive audience, catering in lunch while they feed the reps even more company propaganda.
The reason they do this? So the reps learn how to convince you to purchase their brand. I could not do it anymore, I walked away.
But no two people are alike…so all people get the same results. Have you ever heard someone swear by a product that does not work for you? That is a very common thing you might experience
Therefore, know that when you are experimenting with adding a new skincare product, it might take some trial and error to find the just right fit. Here are some top picks from Amazon.
1 – Honest Beauty Vitamin C Radiance Serum With Artichoke and Clover Extracts
Many people know the name Honest Beauty and trust the brand with their skincare needs. This product holds the same commitment to quality. You will achieve healthier skin while helping maintain Honest's environmental pledge.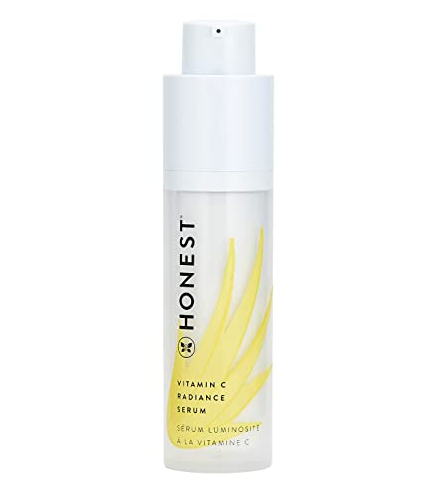 Product features:
Climate pledge friendly
Free of parabens
Mineral oil-free
Contains hyaluronic acid
EWG certified
Packaged in a tree-free box
Dye-free
Fragrance-Free
2 – Acure Brightening Vitamin C and Ferulic Acid Oil-Free Serum
If you are someone who specifically looks for oil-free products due to oily or oily-combination skin, this product should be worth a look. It gives you the healthy glow you desire without adding any oils.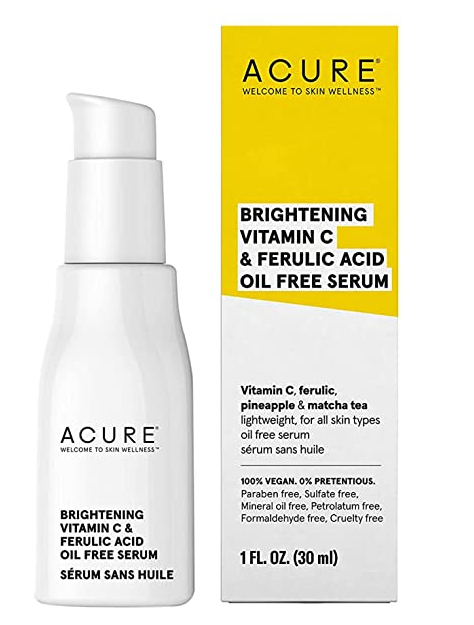 Product features:
Oil-free serum
Also contains ferulic acid for added potency
100% vegan
Also contains pineapple extract and matcha tea (great for acne-prone skin types)
Paraben-free
Sulfate-free
Mineral oil-free
Formaldehyde-free
Cruelty-free
3 – Soul Ceuticals Day Glow Serum
Almost everyone admires the radiant skin of most Korean women. Their secret? A commitment to a daily skincare routine using only healthy products. Some call it "K-Beauty" for short. You, too, can have that experience with Seoul Ceuticals! It contains Vitamin C and other healthy acids that will reveal a glow from within.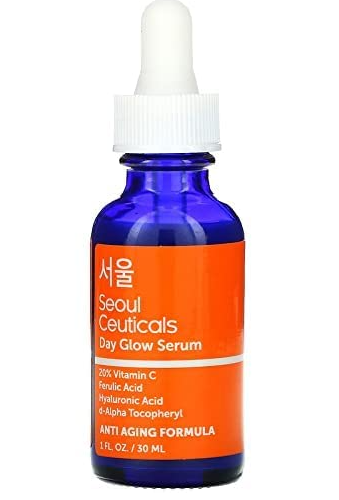 Product features:
Vitamin C 20% (a powerful dose of goodness for your skin!)
Ferulic acid for additional skin health
Hyaluronic acid for luminosity
Anti-aging and anti-wrinkle formula
Reduce fine lines and crows feet around the eyes
Results within three weeks with daily use
4 – Tru Skin Vitamin C Facial Serum
Tru Skin Vitamin C Facial Serum is safe for all skin types and promises to brighten your completion while tackling fine lines and wrinkles. Perhaps that's because it works in tandem with the added benefit of Vitamin E and hyaluronic acid.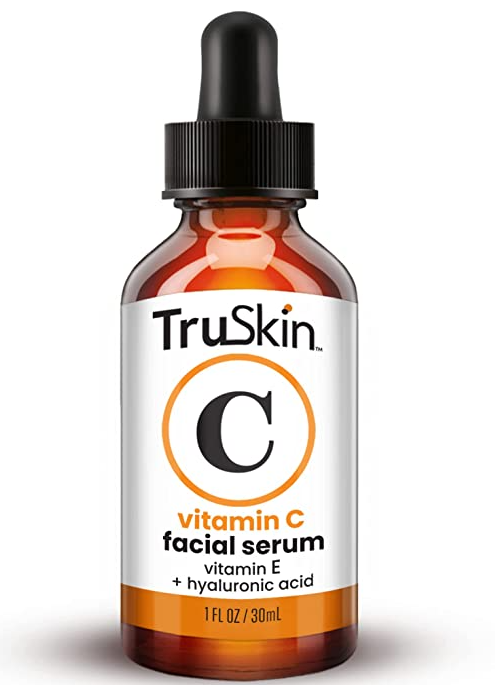 Product features:
Also containes hyaluronic acid, jojoba oil, vitamin E
Safe for all skin types
Plant-based formula
No added fragrance
No parabens
Brightens the skin while minimizing fine lines and dark spots
Use day or night
Cruelty-free product
Comes with a 90-day money-back guarantee, which sets them apart from the rest
5 – La Roche-Posay Vitamin C Serum
La Roche-Posay is one of the most trusted names in the beauty industry, and their high commitment to quality is evident in this serum. The product pledges to improve the luminosity of your skin, improve texture, and help decrease the look of fine wrinkles.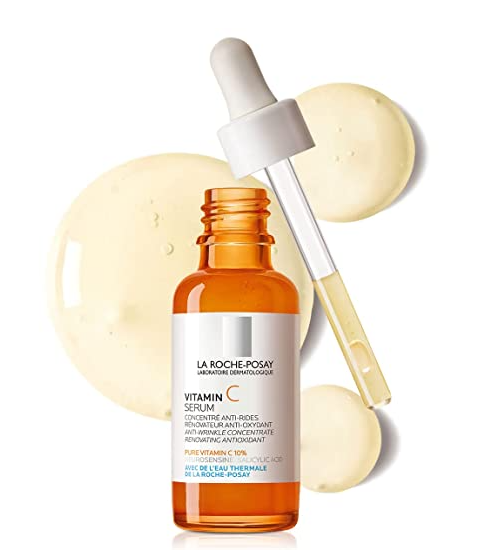 Product features:
Also contains hyaluronic acid, to soften skin and help retain moisture
Contains Salicylic Acid for texture improvements
Safe for sensitive skin
Vitamin C 10%
Allergy-tested
Dermatologist-tested
Oil-free
Paraben-free
The Takeaway: Vitamin C Serum Is Worth a Try for Most
Vitamin C Serum is appropriate for most people who want to reduce the signs of aging, clear up hyperpigmentation, and have healthy skin. There is not all-in-one cure-all for better skin health, but the science proves that the antioxidants can help dramatically improve the appearance of your skin.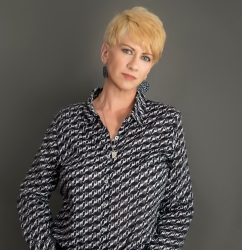 Editor and author
at
DIY Home & Garden, a Word Innovations publication
Deborah Tayloe is a full-time blogger, children's book author, and freelance writer, contributing to large publications.

She has a B.S.Ed. in Secondary Education/English and a Spanish Minor. In addition, she holds a Certificate in Natural Health from a fully-accredited program and is a Certified Herbologist. She pursued these natural wellness certifications due to her love for herb gardening.

Despite freelancing to make a living, her love is "all things home."

Deborah grew up in a family that grew a large vegetable garden and a fruit orchard, helping her parents pull weeds and can home-grown foods as part of her childhood. In fact, she had no idea that she could purchase veggies and fruits in pre-packed steel cans until she went to college and made a food run.

Today, she lives in Bertie County, North Carolina, an agricultural rural area with more chickens than people. She lives with her husband and two rescue pets a sweet toy fox terrier and a cat who showed up one day and moved into the house. Together, they enjoy DIY projects, furniture refinishing, gardening, and canning.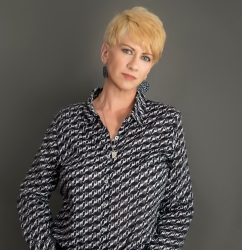 Latest posts by Deborah T
(see all)