Upcycling is fun, easy, and can save you a ton of money. Today, I'm going to share 5 easy upcycling ideas featuring common household items.
RELATED POST: How To Upcycle A Broken Chair Into A Planter
WHAT IS UPCYCLING?
You may have heard the term "upcycle" but don't quite know what it is. It's repurposing an old item with little to no value that you would normally discard. You create an improved, new item that has value and purpose.
In short, it's going beyond recycling and elevating the item to a new, improved purpose.
As a person who used to work in sales for a large solid waste and recycling company, I saw tons of trash going into the landfill every day. Literally, hundreds of tons of trash were hauled up the hill all day, every day.
I'm not a super-passionate environmentalist, but I do believe that we should all do our part to help reduce our carbon footprint. Plus, you get to handcraft some nifty stuff, really cheap!
1. TOILET PAPER ROLL TURNED INTO A JEWELRY BOX
The first item I'm sharing is a toilet paper tube turned into a jewelry gift box.
Have you noticed that when you go to department stores to buy earrings nowadays that they often no longer come in a gift box? They offer to sell you a box. Nope. Not me. I found a way to turn a toilet paper tube into a cute "pillow box."
Because I have an embarrassing hoard of craft supplies, I always have a ribbon on hand. This makes this project free for me…and cute!
I've demonstrated this in a short video.
Pretty easy, right?
2. WOODEN SPICE RACK TURNED INTO PAINT ORGANIZER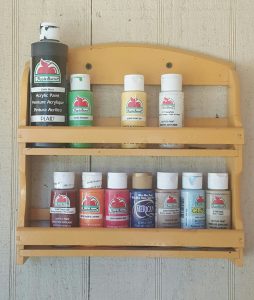 The second item up is an old circa-1970 spice rack that I turned into a paint organizer. It was an old 1970's brown spice rack. I spray painted it Steelers gold #steelersnation and mounted it to the wall of my she-shed to hold my craft paints. Now that they are no longer in a bin, I can find my colors easily.
I found this spice rack at a yard sale in a "free" pile. It was ugly but solidly made of walnut and very heavy. I knew this would be perfect for this use.
3.PRINGLES CAN INTO SEED STARTER POTS/TERRARIUMS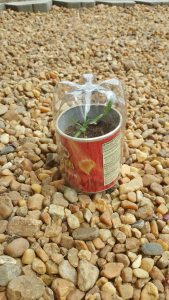 Who doesn't love Pringles? I do! But I like them more for the cute little tins than for the chips themselves. They are so useful. This is my favorite use for a Pringles can…
I purchase the individual sized "short stack" cans for lunches. We save them and fill them with potting soil. This is where I plant my seeds in the spring. I can leave them outside for the full sunlight and put the lids on to create a terrarium environment or to protect them from frost.
Also, please notice a "bonus upcycle." When the seedlings get too tall for you to put the Pringles lid over them, cut down a 1-liter water bottle in half and use the bottom part as a cover from the frost. Plastic bottles are very useful for upcycling!
4.EMPTY PRESCRIPTION BOTTLE INTO EARBUD CASE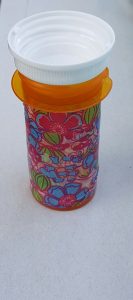 On to upcycle idea #4…an empty prescription bottle can be used to hold your earbuds. I don't know about you but could never get my earbuds back into their tiny original box. They were becoming a tangled mess in my purse.
I removed the pill bottle label and affixed washi tape around the bottle to make it cuter. The earbuds slide in perfectly and neatly. Now they are not getting tangled up and I can reach into my purse and find them.
If you have multiple family members fighting over earbuds, let everyone choose their own color washi tape and make their own earbud holder.
5.SALT CONTAINER UPCYCLED INTO DESK ORGANIZER
Table salt comes in very sturdy cardboard containers. Most of us just throw them out when they are empty. But you can't find a better free, sturdy desk organizer to hold your pens, rulers, and scissors.
Draw a straight line under the rim of the pour spout top. I use a dressmaking tape measure for this. Cut the top off neatly. Cut a piece of scrapbook paper to fit, and use spray adhesive to tack it on.
Another idea is to take a scrap piece of fabric or burlap. I have done this before as well, and it's an adorable look.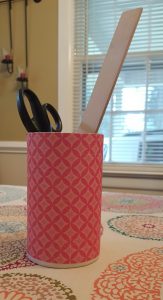 The next time you need something, take a look around your home. There are items of little use and zero value that could be a resource for you. If you're able to upcycle them and the money from purchasing new…go for it!
Please comment or share photos with me to share your upcycling ideas! I'm always looking for new ways to upcycle.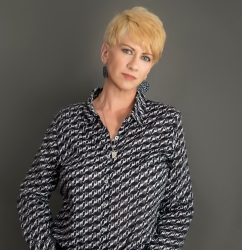 Latest posts by Deborah T
(see all)