Turkey taco stuffed peppers and satisfying, savory, and oh-so-satisfying. But that's not even the best part. Check this out–a generous portion will only cost you one measly WW smartpoint® (blue or purple). Plus, I have a trick I can share to get that smartie trimmed down to zero points for people on WW purple plan.
If you love Latin-inspired flavors, you know the struggle. The flavors are addicting, but they can weigh heavy in the tummy for hours after you eat. However, by swapping out a flour tortilla for a lovely green bell pepper, you shave down the points value and still enjoy a crave-worthy meal. As a side benefit, cooking at home means you will not face the temptation of that basket of warm, fried, corn chips that use up all your daily points!
Are you ready? Let's do this.
WW Smartpoints value of turkey taco stuffed peppers
As written, the smarties you will consume while eating a nice portion of this recipe will be as follows:
Purple plan: 1 sp
Blue plan: 1 sp
Green plan: 4 sp
Note 07.05.2022: With the new and updated smartpoints plan, your stuffed peppers might vary in points, depending on your personal points. If rice is a zero points for you, it will calculate to zero. Because an entire cup of rice goes into six separate peppers, it comes out to one point for me. Long story short–your tracker will guide you!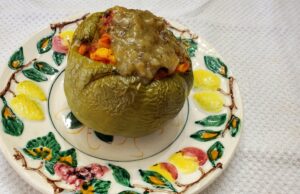 A special tip for purple plan followers (turn this into a zero-point recipe)
As promised in the opening paragraph, here's a tip for purple plan followers. This recipe calls for one cup of cooked white rice for the entire batch. Indeed, the only smartpoints® in the entire recipe come from the rice. So, feel free to swap out the plain old white rice from the recipe for brown rice.
If you are on the WW (formerly Weight Watchers) blue plan, it really makes no difference. For this reason, I stuck with my personal preference of white rice–the option is up to you.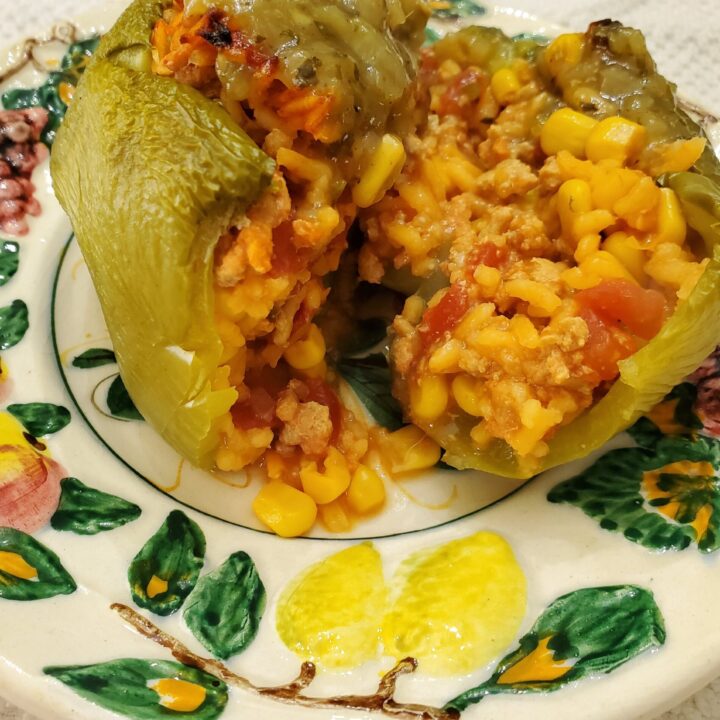 Turkey Taco Stuffed Peppers (1 WW SmartPoint)
This turkey taco stuffed pepper is satisfying, savory and only 1 ww smartpoint
Ingredients
One pound of 99% fat-free (white meat) ground turkey
1 can sweet yellow corn (or 2 cups of fresh cut off the cob)
1 can no salt added diced tomatoes
One tsp. of Goya Adobo All-Purpose Seasoning
6 green bell peppers, medium-sized, washed, hollowed out, seeds removed
1/2 cup of white rice
1/2 cup finely diced yellow onion
Goya Recaiato, cilantro flavor
Instructions
Add 1/2 cup of uncooked white rice to 1 cup of boiling water. Add one packet of Goya Sazon seasoning. Reduce to low. Simmer with the lid on until cooked.
While the rice simmers, open the package of turkey and add it to a frying pan. Add the Goya Adobo seasoning to season it. Cook, breaking the meat up into small pieces as you go.
After the meat cooks, add the diced yellow onion, the can of corn and diced tomatoes, the second pack of Goya Sazon Seasoning, to the pan and combine.
Preheat your oven to 400 degrees.
Use a slotted spoon the remove the contents of the frying pan, leaving the liquid (including any turkey fat) behind. Place it it a large mixing bowl. Add the one cup of cooked, seasoned rice. Fold until all ingredients are well combined.
Spoon enough 1/6 of the mixture into each of the green bell peppers.
Place the stuffed peppers into a shallow baking pan. Cook for 45 minutes, or until the green pepper is tender. Don't overcook--it will all fall apart when you dig in!
Remove from the oven, and top with a nice big dollop of Goya Recaito Cilantro topping for a final layer of flavor.

Notes
Feel free to be creative! Don't like corn? Add blackbeans instead. Or, if you want to kick the flavor from mild to hot, kick it up with cayenne pepper or chili powder. Have fun with the concept and make it to please your taste buds!

The turkey mixture freezes well, so a single person can make one serving then quickly freeze five additional portions for future use.
Nutrition Information
Yield

6
Serving Size

1
Amount Per Serving
Calories

230
Total Fat

6g
Saturated Fat

2g
Trans Fat

0g
Unsaturated Fat

4g
Cholesterol

82mg
Sodium

344mg
Carbohydrates

20g
Fiber

4g
Sugar

8g
Protein

25g
All information and tools presented and written within this site are intended for informational purposes only. I am not a certified nutritionist and any nutritional information on diyhomegarden.blog should only be used as a general guideline. This information is provided as a courtesy and there is no guarantee that the information will be completely accurate. The nutritional labels are a product of online calculator apps. Even though I try to provide accurate nutritional information to the best of my ability, these figures should still be considered estimates. If you believe you have a medical condition, food allergies, or other concerns, please consult a doctor.
A note about turkey as a protein
White meat turkey has zero smart points®. It remains relatively inexpensive; it's far less costly than ground beef these days.
But we don't give this meat enough consideration as a protein. Brushed off and dismissed as "too dry," it all comes down to cooking technique. Sure, crumbled cooked ground turkey is dry if you'd serve it up plain. Think creatively and find ways to use it that will add moisture and still help you keep unwanted fat out of your diet. In this recipe, you'll add a can of diced tomatoes with juice to the pan as you finish cooking the turkey, infusing it with the flavor and adding juiciness to the mixture.
When you shop for ground turkey (as you'll use for this recipe), shop for a product that is 99% fat-free or all-white meat. The package label will tell you all that you need to know! The 93% variety, the easiest one to find, contains dark meat and, thus, extra fat. Your smartpoint® value will change from zero to three-ish (use your ww app to scan the pack).
Don't give up if you cannot find a package of 99% fat-free turkey. Opt for an all-white-meat breast. Ask your local butcher to grind it up for you, or you can grind it at home! In our house, we have a meat grinder for hunting season, so this is the easiest option for me. This sounds like an enormous project, but it's really quick to grind up a turkey breast, and you can then package it for the freezer in the quantity that's most convenient for your household.
So, don't sell turkey short. It really is a healthy option and can serve as a blank canvas for your culinary creativity.

Ideas to customize this recipe to your own taste
Don't feel trapped by the info on the recipe card. Squeeze your creative juices and find the flavors that work for you. Other fun flavors that you can add to the mixture include black beans, red beans, diced jalapenos, chopped garlic, or pimientos. Mix and match the flavors. Get creative. Suit your taste buds!
The flavor here is very mild. Love to feel the burn? Then add chili powder or ground cayenne pepper.
This makes six gorgeous medium-sized green peppers. Know that the filling freezes beautifully. The option of making one serving then freezing the rest in portion-sized freezer bags makes this ideal for a single person who wants quick meals during the week.
The bottom line: these turkey taco stuffed peppers are too good to pass up!
Really, you will be addicted to these turkey taco stuffed peppers. Seriously, eating one of these left me very satiated. In fact, one serving was all most too much to eat!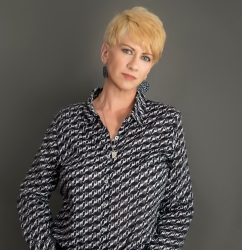 Latest posts by Deborah T
(see all)