I have been growing sweet basil in a planter all summer. Finally, it's time to make my sweet basil vinegar. It has been an extremely humid summer, even by North Carolina standards. But this sweet basil is LOVING this moisture.
Now, this basil has mutated into a shrub-like size and stature. Of course, I use it as much as possible in my cooking. However, it seems like every time I cut some to use it grows back double. Ergo why I call it mutant!
Before, I had only read about flavored vinegar in cookbooks and blogs. I have also seen very expensive flavored vinegar in the store. However, I had never purchased nor tasted an infused vinegar prior to this attempt.
A Simple Recipe
Some recipes for infused vinegar have a long page of instructions on how to make a flavored vinegar. But I don't like complicated recipes. Simply put, I prefer easy recipes. In fact, I strongly prefer easy recipes with quick results.
Also, most of the flavored vinegar I have seen in cookbooks end up funneled into fancy bottles. But for me, I am choosing to store my infusion in a Ball mason jar. I find this easier, as I have mason jars on hand. Also, I love that mason jars are so very cute.
This Sweet Basil Vinegar came out absolutely delicious. Its fragrance is bold. Yet it stands up to the vinegar and has a great balance. I have been using it in place of plain vinegar for an extra punch of flavor in salad dressings. I can't wait to try it over garden fresh kale this fall (I'm hoping my kale will be ready to harvest in about 3 weeks).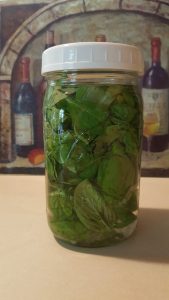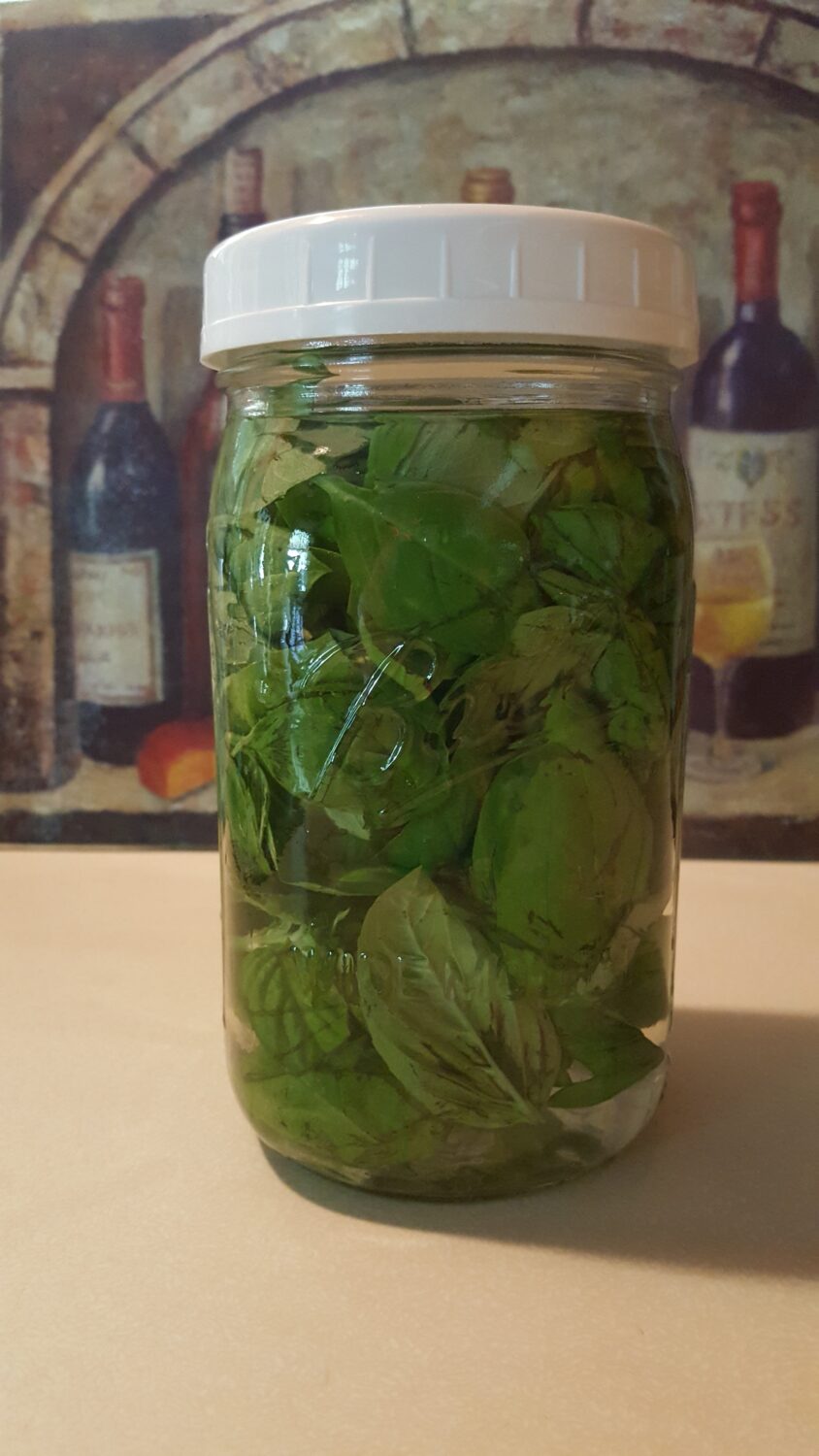 SWEET BASIL VINEGAR:
white vinegar – almost one quart
sweet basil – 3 large handfuls
Harvest your sweet basil, wash well, and strip the leaves down and off the stems. You may save the stems for a delicious vegetable stock. Lay your basil flat on a cutting board. Take the flat side of a chef's knife and smack it down onto your sweet basil to release the oils and aroma. Place basil leaves into a quart mason jar. Top off with plain old white vinegar — I used Great Value White Vinegar which costs under $2 at Wal-Mart.
Cap your vinegar and store in a cool dark place for two weeks. During that two week time, swoosh your vinegar around every couple of days.
After two weeks, strain your vinegar into a clean mason jar. Or, use the pretty vinegar bottles if you must have them! To strain the basil leaves out, I used an old-school Mr. Coffee basket-style coffee filter.
Of course, you can have fun and experiment with this same concept. Be creative! Try infusing other herbs or any combination of herbs you like. Or, add this to your natural, homemade cleaning products–the basil leaves a pleasant scent as you clean house.
Please share your successes with us on Facebook!
Love this basil vinegar recipe? Then you should also check out our scrumptious jalapeno-infused vinegar recipe, too!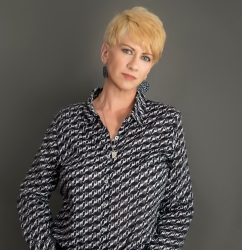 Latest posts by Deborah T
(see all)