Your bathroom should be a place of relaxation. It should be somewhere you can unwind after a difficult day at work. It should be somewhere where you feel completely at ease. If your bathroom isn't like this, it is time to make some changes. Read on to discover how to turn your bathroom into your own at-home spa.
6 Tips to Turn Your Bathroom into a Spa Experience
Here are some "dos" to keep in mind as you recreate a spa in your bathroom.
1 – Get rid of any clutter
There is only one place to start when it comes to reviving your bathroom, and this is by getting rid of any clutter you have in your bathroom. You are never going to be able to chill out if your bathroom is filled with empty shampoo bottles and old magazines. Clutter creates stress! If you've ever been to a spa, you will have noticed that the design is very much about simplicity. It's worth looking to Dallas Junker if you're going to basically re-do your entire bathroom from scratch. After all, you will have a lot of waste to get rid of.
2 – Warm-up with heated towels
There is nothing luxurious about getting out of your bath and wrapping yourself up in a freezing cold towel, is there? A heated towel rail is a must for any spa-like bathroom.
3 – Focus on scent
To give your bathroom a spa feel, you do not only need to focus on the appearance of it; you need to engage all senses. You can do this by bringing in relaxing scents via candles or oil diffusers. Scents that will help you to unwind include the likes of vanilla and cherry blossom.
4 – Add little touches
The spa experience is all about those little touches that make a massive difference when it comes to creating a lavish and tranquil environment. For example, why not buy a bath tray so that you can have a glass of wine while soaking in the tub? Or, you could hang some plush bathrobes on the door for when you get out.
5 – Invest in a luxury item
A spa is all about luxury. There are a lot of different ways that you can add luxury to your bathroom, but a standout item is going to do this best. For example, you could opt for a hot tub style bath or you could go for a luxe walk-in shower. There are plenty of options.
6 – Change the design of your bathroom
Last but not least, if these changes do not have the desired impact, then it is time to focus on your bathroom design. Contemporary designer bathrooms create a luxurious environment, which enables you to truly relax and unwind. Such a serene environment is impossible in a dated bathroom, which isn't making efficient use of the space. Perhaps it's time to give your bathroom the full works that it deserves?
The Bottom Line on Making an At-Home Spa Experience
To conclude, a pamper is something we all deserve, so why not bring the spa to you instead of spending money on going to a spa all of the time? You aren't going to regret it. And, you deserve the relaxation!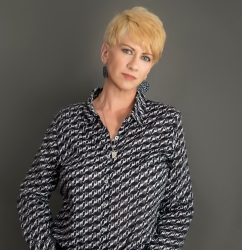 Latest posts by Deborah T
(see all)