A huge garden isn't required if you want to grow vegetables. Sometimes, a small plot that can easily be managed can easily grow plenty of crops if you are a busy individual. The secret of success here would be for you to try and make the most out of the space you have. If you want to grow good vegetables, then you just need to make sure that you have a sheltered space that gets full sun for around half a day. You also need to have soil that is deep and fertile, with plenty of organic matter. Deep raised beds are ideal if you have a small garden.
If you work the soil deeply and if you add organic matter to the surface then you will soon find that you can plant vegetables at two-thirds of the normal spacing, without having any paths between the rows. This will give you maximum space and you won't have to worry about a thing.
6 Space Saving Things to Grow in Your Small Garden
Not sure what plants to choose? Read on for six species that don't take up too much space (and they taste great, too!).
1 – Spring Onion
Spring onions are ideal if you want to grow crops that are high-yield in a very small space. A lot of varieties tend to "bulb up" if you do not pull them young. Any that you don't use will return to the size of normal onions later on.
2 – Potatoes
Potatoes are another type of produce that thrives in smaller spaces. You don't even need to plant your potatoes in the garden if you don't have the space. You can easily put some soil inside a dust bin and then grow your potatoes in there. When you have done this, you can then pull them when they are ready. If you want to plant different potatoes, then why not look up the benefits of sweet potatoes for dogs as well so you can plant something for your furry friends too?
3 – Watercress
When you grow watercress on a very small scale, you won't need anything like a chalk stream. You'll just need a bucket full of compost and a nice, sheltered corner which is very close to your home. Watercress needs light but nothing like the hot, midday sun. If you want to get the best result out of your crops, then you need to start planting them around spring.
4 – Runner Beans
These plants are very heavy, and they keep cropping up all throughout summer. Sowing one of them should be more than enough. The great thing about runner beans is that they are very reliable and they are easy to grow as well. Their flowers are incredibly nice, and they thrive when growing up a fence or a trellis.
5 – Lettuce
Varieties such as Salad Bowl or Lollo Rossa can easily be picked over time. You can take a couple of leaves and you can leave the rest to keep on growing. Salad leaves are very good if you have any containers which grow on the ground. If you are stuck for which variety to go for then there are so many guides online that will help you to find the best one for your garden.
6 – Strawberries
These tiny fruits are packed full of Vitamin C and nutrition, and you can grow them in only a little space in a vertical garden. Purchase a stacking pots system or a wall-hanging unit. If you purchase ever-bearing berries, you will enjoy sweet berries all season long–from the first season!
The Bottom Line: You can enjoy the benefits of home-grown produce even in a small garden
With a little creative thinking and some know-how, you can enjoy the fresh flavors of produce from your small garden. Each of these ideas take up the smallest amount of space.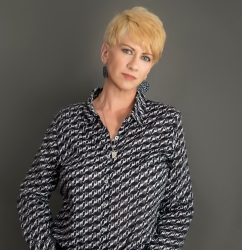 Latest posts by Deborah T
(see all)