There's no doubt that the traditional bathroom, complete with shower cubicle, pedestal sink, and integrated bath served its purpose over the course of the last few decades. Functional and fully-equipped, the setup served millions of families for generations. But shower cubicles suck when compared to a wet room.
Here are some snags that lead one to believe that improvements are possible. For starters, the small lip between the shower cubicle and the rest of the bathroom is a trip hazard. It's downright dangerous for anybody, especially the elderly. Then there's the ugliness. Shower manufacturers have done an excellent job of trying to make their showers appear more appealing. But no matter how good their designs, showers almost never look as if they belong.
The Rising Popularity of Wet Rooms
Is there a solution? Luxury hotels have, for a long time, used wetrooms rather than traditional bathroom setups, to entice guests and make themselves feel more luxurious. Wetrooms always look so much more "designer" than regular bathrooms, but also have a simplicity not found elsewhere. Wet rooms allow you to get rid of the annoying gap between the shower and the rest of the bathroom. Everything is on a single level, and all water flows to a common drain, no matter where it ends up in the room. As pointed out at MaplewoodPlumbing.com, drains still need to be maintained, but overall wet rooms feel as if they require less maintenance.
Then there's the fact that the shower no longer needs partitioning off from the rest of the bathroom – unless you want it to be. This helps people with less square footage to play with make the most of their space. Add a couple of splash mats to minimize the possibility of a fall, and all of a sudden you have a much safer, airier bathroom environment.
The Primary Drawback to a Wet Room
It's not all good news, though. Because wet rooms are bespoke, they often end up costing a lot more than bathrooms furnished with mass-produced units according to telegraph.co.uk. Flooring can be expensive because of the need to plan gradients carefully. Fixtures and fittings cost more too, as well as installation. If you're eco-conscious, a wet room might not be the right choice since they tend to be less water-efficient than regular bathrooms, so there are downsides.
However, if you have the budget, wet rooms offer you much more than regular showers. Not only is drainage usually a lot better, but you don't have to contend with the temperature differential on the inside and the outside of the shower unit, which can be unpleasant. Wet rooms are especially useful for the elderly, allowing for easy access in and out of the shower. They are ideal for people who want to continue to live independently without the need for daily carer visits and can be adapted for wheelchair users.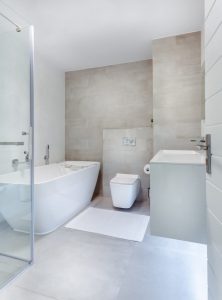 The Bottom Line on this Upgrade
In conclusion, the humble shower cubicle has had its day. They can be unsightly and potentially dangerous. They don't provide adequate access to wheelchair users, and they create a cluttered look. Bespoke wet rooms are the future, especially in premium properties.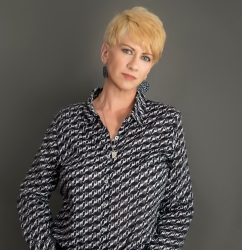 Latest posts by Deborah T
(see all)