Selling your home is an exciting time because it allows you to move onto pastures new. But before you pack everything up and vacate, there is one little thing left to do. Spiffing up the property! But when you are looking to sell a property, you may think that it's a lost cause and there's not any point in making any major changes to the property.
But it's about doing the right amount to get the property to sell, but you also don't want to do too much or invest much money. When it comes to this, what's the key to the amount of work you should put into the front of the property before you sell it?
If you're buying a home you need to know the right questions to ask. So click this link!
Your To-Do List Before You Sell Your Home
1 – Look at the State Of The Garden
Have a good look at the property and ask yourself, would I buy this place? It can feel like a lost cause, especially if you've already moved on, but when you think about leaving the house in a particular state, you may want to think about adding a little bit more in terms of curb appeal. It's effortless to do; you can get a handful of plants, and contact a paving company to lay some slabs down. Remember, the pathway from the sidewalk to the front door is one of those things that when you are in the process of selling your property, many people will have decided already if they want to enter or not. Think about that journey.
2 – Do You Need To Repaint?
There's nothing wrong with a little paint, and if you feel that the property looks a little bit old, a lick of paint can make it look like new. And when you look at the exterior of the property, repainting the walls, especially if there's a bit of mold, will make it look like new. It's always best to go for neutral colors because this will draw people to the house more because they want to put their personality onto it. Many purchasers want to avoid the idea of a fixer-upper.
3 – How Personal Is The Exterior To You?
Personalizing the home, inside and out, is essential. And if you have spent a long time building up the property to your liking, you need to find a way to depersonalize the space especially when people are viewing the property. Go for a more minimal impression, especially on the outside of the property. A handful of plants work fine but don't think about extra lighting, or building up the space to be more cluttered than it needs to be. Depersonalizing the area makes it a blank canvas so people can decide if they want to buy or not.
4 – Does The Exterior Need Cleaning?
Much like a lick of paint, the exterior could do with a simple clean, so all the mold is removed. And also, if the property has been battered by the weather over the years, using a power spray to get rid of all the dirt and grime can make it look like new, and you may not even have to repaint the property. You could also clean the garden to give it an extra dose of cleanliness.
Final Thoughts on Your Exterior When Selling Your Home
When it comes to making over the exterior of a property you don't necessarily have to do a lot of work. But you've got to do enough to ensure that the property is presentable, but also make an excellent impression on anybody looking at the place. After all, your goal here is, ultimately, selling your home.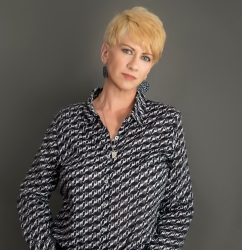 Latest posts by Deborah T
(see all)