Looking for a snack to enjoy during tonight's Monday night game? Try stirring up a quick, easy batch of roasted corn and black eyed pea salsa. It is a tangy, savory, and delicious salsa that's got a very mild heat so even those who don't brave hot salsas will be sure to enjoy this treat.
Serve it up with crunchy tortilla chips, or get creative and top it on crusty rounds of toasted French bread or atop snack crackers.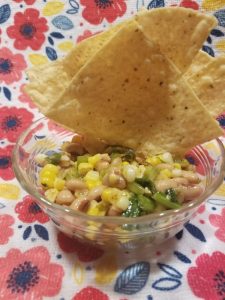 This recipe originated from a happy accident. I was trying to replicate a black eyed pea and corn salad that I had tried at a restaurant. I never did get the seasoning, texture, or dressing quite right. So, I sat the salad in the fridge and went outside to do some gardening.
When I came back inside, my husband was sitting on the couch happily crunching on tortilla chips that he had topped with the bowl of corn salad in his lap.
"Awesome salsa," he complimented me. From that moment on, this was no longer a corn salad or relish. It was Roasted Corn and Black-Eyed Pea Salad.
It really takes just a few pantry staple ingredients and is super quick to make. Here's how you can make this in time for tonight's kickoff.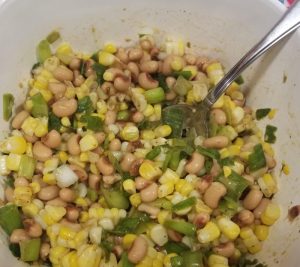 ROASTED CORN & BLACK EYED PEA SALSA
Ingredients:
one 14 oz can of black eyed peas
2 ears of oven-roasted or grilled corn
3 or 4 green onions, chopped
fresh cilantro
1 tsp garlic powder
2 tbl. apple cider vinegar
3 tbl. extra virgin olive oil
1 tsp. cumin
1/2 tsp. chili powder
1/2 tsp. black pepper
Directions
Soak the black eye peas in water to soak for a few minutes. You'll see bubbles rising and creating foam, releasing gasses in the beans. Your tummy will thank you later!
Roast or grill the corn; cut the corn off the cob and set aside.
Cut the green onions into small rings and toss it in the bowl with the corn.
Mix the remaining ingredients into a medium mixing bowl to make a small amount of dressing.
Strain and rinse the black eyed peas. Drop them into the dressing.
Add the corn and green onions to the bowl of black eyed peas. Toss to coat everything with the little savory dressing and seasoning blend.
Taste and adjust the seasoning. You might decide to add salt; I am on a salt-reduced diet, so I leave it out. I feel that the flavors are bold enough without it.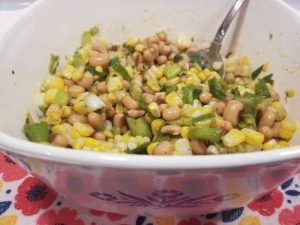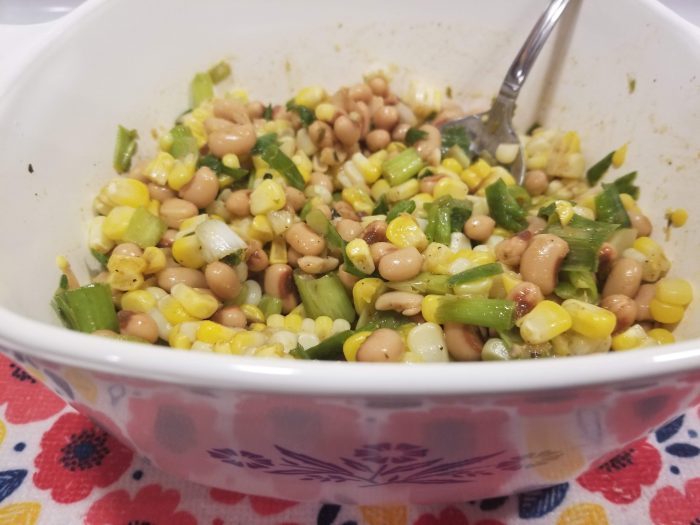 Turn Up the Heat
If you prefer a hotter salsa, feel free to add ground cayenne pepper or fresh jalapeno. This recipe is very easy to adjust to your own preferences.
So have fun, play with this recipe, and enjoy this savory and delicious salsa. How will you take this recipe and make it your own?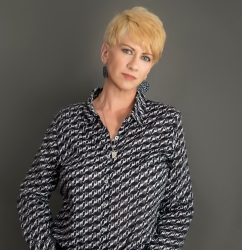 Latest posts by Deborah T
(see all)