One of the tastiest ways to use the tiny but tasty cherry tomato is to make a bowl of cherry tomato salsa. As a matter of fact, my garden is slamming right now. So I'm getting about a pint of cherry tomatoes each day along with jalapenos and cilantro. We were getting just a bit weary of eating cherry tomato salads. But I decided that a little fresh salsa was just the thing to use up those cute little cherry tomatoes!
I took my inspiration from the Cinco de Mayo post written by my friend Alejandra Velazquez. I know in the Mexican culture, they use the finest, freshest ingredients. Because of Mexico's climate (muy caliente), many Mexican families have grown their own veggies and use all the fresh produce possible. As a result, this gives a distinctly luscious feeling to authentic salsa. I decided to try to honor Alejandra's culture by using this garden-fresh goodness to try my hand at salsa making.
An Age Old Tradition
Making fresh salsa is a tradition. Not only do you find salsa in Mexico, but most South cultures also take advantage of fresh vegetables by making their own version. Some are very much like the Mexican salsas that we are accustomed to. But others are very spice and use local ingredients like pineapple or mango.
To be fair, I will state that I've never seen fresh red beans grown locally in my area, so those are canned. The corn was fresh corn purchased at a farm stand, imported from South Carolina. We are still about 2 weeks away from fresh corn here in NC.
But the cherry tomatoes, cilantro, jalapeno…that's all from my garden.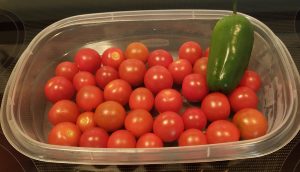 This is going to be so delicious when I go sit outside this evening and relax.
RECIPE: Cherry Tomato Salsa or Early Summer Salsa
2 ears of fresh corn
1 can of red beans
1 jalapeno, finely chopped – seeds and stems removed
1/2 red onion, finely chopped
1-pint cherry tomatoes
juice of 1/2 of a lime
cilantro
1/2 tsp cumin
1 tsp chili powder
salt, to taste
black pepper, to taste
Directions, Part One
Shuck your corn. I tossed mine on the grill to give it a nice char. Then bring it in, and let it cool down.
Open your red beans, then rinse them, and place them in a bowl of water to soak for thirty minutes. This releases the gasses. You will see the bubbles rise. Trust me, your tummy will thank you for this!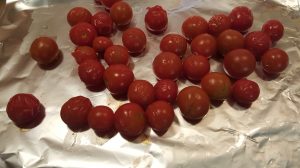 While your beans are soaking and your corn cools, place your cherry tomatoes on a foil-lined baking sheet. Place them under the broiler for about 4 minutes, or until the skins pop open. Remove them once they start to pop, don't let them burn!
First, pinch the cherry tomatoes gently to pop them out of their skins. Cut them in half. Then, put the tomatoes, seeds and the juices you are releasing into a large glass (or other non-reactive) bowl.
Drain your red beans in a colander. Toss them in the bowl with the tomatoes.
Directions, Part Two
Cut your corn off the cob and stir it into the bowl with the other salsa ingredients.
Add your finely chopped red onion and chopped jalapeno.
Squeeze the 1/2 lime into the bowl. The lime juice will add a coolness to the zippiness of the jalapeno and it will keep your cherry tomatoes a bright, rich color
Finely chop a large handful of cilantro. It adds color and a fresh, bright flavor note.
At this point, add your cumin, chili powder, pepper, and salt if you use it. You really should, but I didn't because I'm on a reduced-sodium diet. Add it to your own taste.

Pair cherry tomato salsa with crunchy tortilla chips.

This salsa has great heat, juicy flavor, and the hint of lime refreshes the heat. If you want a hotter salsa, leave a few jalapeno seeds…that's where the heat lives inside all peppers!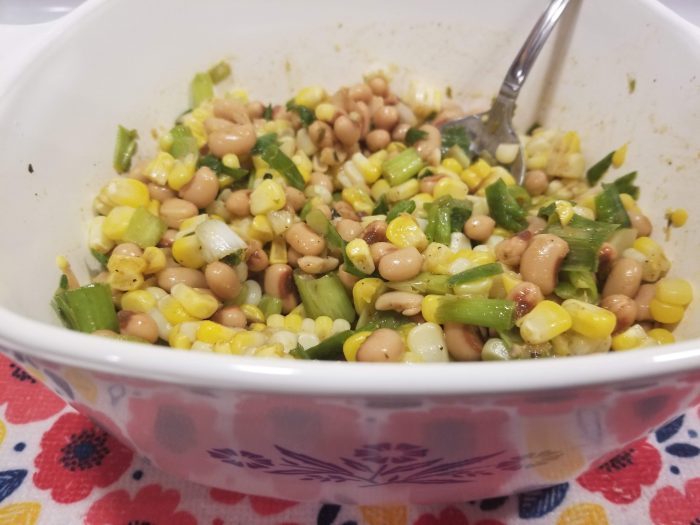 The Takeaway on Cherry Tomato Salsa
Tonight I plan on a cold beer, some crispy tortilla chips, and a bowl of salsa. I'm going to have a fiesta on my own patio. I am certain to enjoy the summer-fresh flavor of this cherry tomato salsa.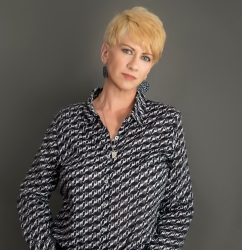 Latest posts by Deborah T
(see all)