Are you trying to find the best tips to refresh your home?
The home can become quite tired and worn out after a prolonged time of use, just like anything in life. The paint becomes dull and the fabrics of the curtains start to discolour. A home can quite quickly become a nightmare! So, that's why every now and then, a spring clean or a complete makeover of the house in necessary!
However, there is often a problem. What design do you go for? And what should the new look, look like? What colors and what textures do you want in your home? Maybe you are moving, and redesigning a blank canvas, that can be even harder as it is the time you put your mark on your home! This article will give you some hints and tips!
Top Tips to Refresh Your Home
1 – Where do you start?
The best thing to do when starting is figuring out the color scheme that you want for the room or house. Will it be dark shades, or will it be lighter? Or will it be cosy and warm full of warm hues? Colors play an important role in the look and feel of your home, so these should take priority at the start of the planning process!
Also, it is practically easier to start with colors too, as painting a room that is full of brand new furniture and decor will be a very long and very painful process, so always keep that in mind.
2 – Textures play an important role
Just like colors, textures also play a big role in the look and feel of your house. Minimalism lends itself to either be full of different textures due to the fact it is a blank canvas, and the textures are the things that keep the space interesting and warm. A great piece of advice when it comes to textures is using things like tiles. Something like a terracotta floor tile will add warmth and something a little exotic to your home, or outside area. A mosaic is a great way to add color and vibrancy without needing to use a lot of paint.
3 – Less is More
The walls can be boring. You can have the biggest wall in the world, with the most amazing colour, but then it can look uninteresting. Things like wall panels can really add some texture and decoration to the wall, and it can be done in an affordable way. Other things like adding a bookshelf or painting can also break up big sections of empty walls.
The main factor you need to think about when it comes to decor is that less is more. Do not try and fit too much into one single room. You can quickly make a big room feel very cluttered and enclosing, which is not the ideal way to feel about your home.
4 – The Outside Plays a huge part
The outside of your house is a huge part of the house that you need to remember to focus on. It is the first part of the house you see when you first pull up or walk up to the door. If you see a dark or miserable-looking front of the house, then your mood will automatically fit the mood of the house. Pull up to a colorful and updated happy front, then hey presto just like that you are in a great mood!
The walls could be re-painted, with special exterior paint. It is completely up to you, it is your house at the end of the day!
5 – Patterns and Wallpaper
Wallpaper is another great and creative alternative to just using block color paints on the wall. A great way you can use and utilize wallpaper to your advantage is by making feature walls or setting a scene with what theme you want the room and the overall house to follow. If you are a lover of floral prints, one single floral wall paired with neutral colors and minimal decor, then to top it off floral cushions and fabrics, this can make a room feel so warm and connected!
That is the main feeling you want from your house, to make a house into a home it's the feeling of warmth you get. When you get home from a busy day at work or a holiday where you reach that point where you can't wait to be in your own home. That feeling. If the design does not achieve that then it is failing at what it should be doing!
The Bottom Line on Using These Tips to Refresh Your Home
Designing your home is fun! Hopefully, these tips paired with your amazing creativity skills can really make your next hour project pop!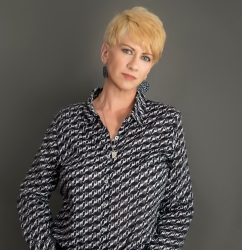 Latest posts by Deborah T
(see all)