Everyone's talking about Christmas but the next occasion on the list is Valentine's Day. If you are in love then there is simply no better day than Valentine's Day. It provides the perfect excuse to spend time with your partner. You can show them how much they mean to you and how much you care about them.
However, while the day itself is special, the build-up can be frustrating and stressful. This is because thinking of what to buy the one you love for Valentine's Day can be very difficult. You might find it hard to find the right balance between finding something which is unique and different. But also, you want to locate something which you know your partner is guaranteed to love. Moreover, you are faced with a ton of clichéd gifts which can sometimes be difficult to resist because they are the easiest option and they proved a safe haven.
Nevertheless, when you begin your shopping spree for your loved one the very first thing you need to consider is what card you are going to buy. A card is something that tends to be overlooked. People simply walk into the shop and pick up the first thing they see and thus there is no value associated with it. This is a shame because if people took the time and effort to pick out a suitable and relevant card then it would be appreciated and people would see how much the person gifting the card really cares about them.
Here are some Valentine's Day tips to make a special day.
1 – Send a personalized card
For those who like to take the time and effort to pick a nice card the most popular option, they seem to be going for at present is personalized cards. In fact, this type of card is something that has really boomed in popularity over the past few years. More and more online card stores are offering this option as a consequence.
When it comes to Valentine's Day in particular personalized cards are great because there is simply no better way of showing how much you care and love the person receiving the card. In addition to this, there is no other way of ensuring that you are in control of the message that the card delivers and therefore you can get across exactly what you feel and what you want to say to the person receiving it.
You wouldn't think it but personalized cards are not even really more expensive than a traditional card, and they are just as easy to buy. All you need to do is go online and search for a 'personalized Valentine's Day cards. You will be faced with myriad cards that offer this option.
2 – Puppy love
Next, you need to consider what gift you are going to purchase. The gift you buy will depend on the stage of your relationship. If you've been together for many years, your gift will be different when compared to a gift for someone you have been dating for a few weeks. If you want to buy a gift that shows your commitment, there are lots of options. Are you ready to put a ring on it? You may want to look at lab puppies for sale if you are ready to extend your family but you're not quite ready for a baby yet. Of course, a puppy is a lifetime commitment and not just a cute gift! So, make sure you consider this carefully.
3 – Fine fragrances fit every occasion
(Personal pick this is NOT a paid ad, my opinion only!) If you have not been with your partner for long, you cannot fail with perfume as a gift. Ralph Lauren Romance for women was launched in 1998. It evokes the timeless essence of falling in love. This timeless attribute is present within the scent itself. This is a fragrance that will never be deemed outdated or unfashionable.
It is classified as a velvety floral fragrance. Romance has a feminine and sensual feel, boasting an exquisite blend of extravagant florals, velvety woods, and seductive musk. The scent opens with a delightful blend of sun goddess rose, water lily, and juicy guava. The heart notes are white violet, fresh daylilies, and a lotus flower. The base notes are sheer patchouli and soft musk.
This elegant fragrance is a celebration of true love. This is not only reflected in the fragrance but the design of the bottle and box as well. The box is a pretty light pink shade, while the bottle features a classic and timeless design, aptly symbolizing the notion of falling in love.
Ralph Lauren has an incredible reputation in the industry. He is considered one of the pioneers of designer fashion. His fragrance range is hugely successful and Romance does not disappoint. If you are looking for a gift for your partner, Ralph Lauren Romance for women would undoubtedly be a perfect choice. It is romantic and has a beautiful gesture associated with it. The feminine, lavish and elegant scent is assured to be appreciated by your other half.
The Bottom Line on Making Valentine's Day Special
All in all, Valentine's Day is a way of making sure that you show the person you love how much you truly care about them. There is no better way to do so than by making an effort. Buying a personalized card is one of the best options to go for. Pick an original message and let you tell the person you love them rather than the card retailer! You can then consider what sort of gift to buy and we hope the options that we have mentioned will help.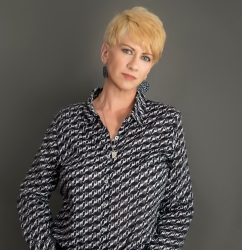 Latest posts by Deborah T
(see all)