Today I wanted to share how to make 5 ingredient lip scrub at home. The air is getting colder and drier. I don't know about you, but winter is starting to take a toll on my lips! They get dry, chapped, and flaky if I am not vigilant with a lip scrub this time of the year.
I have purchased sugar scrubs in the past, but at $8 a pop (for a little teeny tin!) at the bath specialty store, I set out to create my own. You will probably have most of the ingredients in your home. If not, the ingredients are available at any supermarket.
So off we go.
SWEET STRAWBERRY SUGAR SCRUB FOR LIPS
Follow these easy tips for smooth, refreshed lips.
Ingredients:
100% pure cane sugar (3 tbl)
Vitamin E oil (4 drops)
your favorite hydrating formula lipstick (cut off a small bit with a small craft knife)
coconut oil (4 tsp)
strawberry extract (1/2 tsp)
Instructions:
Here are the step by step instructions and photos of how to make the lip scrub.
Place the coconut oil (which is a soft solid straight from the jar) and the lipstick in the microwave for 30 seconds to melt. Stir and melt an additional 10 seconds at a time if needed. You may skip the lipstick. I like the color in the scrub and the soft tint it leaves on my lips. That's totally optional for you.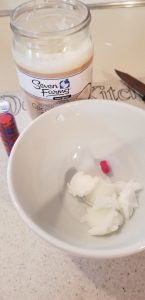 2. Add the sugar, vitamin E oil, and strawberry extract and stir it all in until it's a pleasing texture.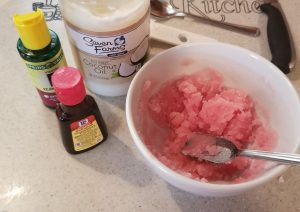 3. Pack The Scrub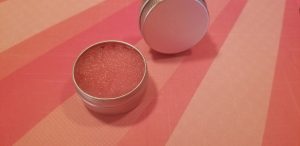 USING THE LIP SCRUB:
Get over the bathroom sink, as it can get messy. Take a fingertip of scrub and massage it in a circular motion on your lips. Rinse with clear, warm water until all the sugar is gone. Pat your lips dry with a tissue. Apply lip balm.
I hope you will try this "recipe." It really only takes a few moments to make and it lasts a good while. I like to make enough to pack the little tins to share with my sister and friends. Please let me know how you like this scrub after you make it! If you find yourself interested in other DIY scrubs, check out our delicious-smelling Sweet Pomegranate Hand Scrub With Vitamin E. It is super easy to make with ingredients you might have on hand and leaves your hands and arms looking soft and silky.
Please let us know on Facebook how this lip scrub works for you, love hearing from you! Have a happy DIY day!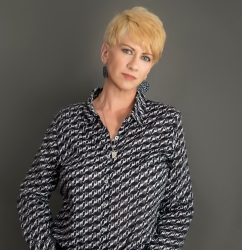 Latest posts by Deborah T
(see all)