How well do you like purple? If your answer is something along the lines of "Errm…a whole lot", then accept my hearty congratulations, 'cuz this blog post is all about the purple. Yup, purple remains a much coveted color trend in home decor and interior designs. Purple is one of those spectacular colors that can be gotten in a dizzying range of shades, from calm, muted variants (like lavender and lilac) to deep, bold tones (such as violets, orchids, plums, and even aubergine). This coming year, however, promises to favor the color's rich tones and eschew its pastel-like shades.
Ways to make purple reign in your design scheme… without overpowering
Do you love to make a bold statement in home design? Then what better color to represent this fearless quality than the regal purple. From time past, people have associated purple with royalty, elegance, and luxury. Aristocrats loved it mainly because it was expensive to obtain (figures, eh?) and also due to the fact that it was capable of conveying strong emotions and powerful messages. Purple has the uncanny knack of being able to leave a very strong impression, influence our moods, and add passion to a given space. It gives an impression of luxury and grandeur, stimulates creativity, and can even be used to express feelings.
Then one does wonder why most people are wary of using purple in decorating their homes if indeed the color is as awesome as just described. Well, the reason ain't farfetched. Purple is a strong, dominant color, and if not done rightly, it can tend to be a bit overpowering when used in decorating a space. It is not neutral, it's more of a "hey…notice me!" color. If used correctly and properly, purple has the ability to create a smart, trendy, and unique decor while calling attention to those key details in your home.
So, how can I decorate with purple, and rightly too?
Paint your ceilings and walls
You can paint your walls with a dark purple color. For instance, you can do this in the living room, dining area, and home office.
View this post on Instagram
The ceiling can also be painted purple. But it is important to keep in mind that although deep shades of purple can be used for both ceiling and walls, the ceiling should be painted a shade lighter than the wall.
View this post on Instagram
Use purple tiles in your bathroom
You can use purple in the bathroom. For example, on wall tiles, floor tiles, or even a combination of the two. Don't worry about going too far over the top. After all, if you are bold enough to go for a purple bathroom, then you probably march to your own drumline anyways!
View this post on Instagram
Use a purple color scheme for your kitchen cabinets, island, and countertops
You can also have your kitchen appliances in bold, unapologetic purple!
View this post on Instagram
How about purple accent walls, feature walls, textiles, or wallpaper accents in your bedroom or bathroom?
View this post on Instagram
Purple too overpowering for you? Start small
Painting your walls can be a huge step for you, especially if you feel not so comfortable with bold colors. If this is the case, I'd advise you to build your interest in this zesty color gradually and steadily. For example, you can start with curtains or drapery. You can also use fabrics such as rugs, drapes, and bed covers to embody the color scheme.
View this post on Instagram
Or with small pieces of furniture such as throw pillows, sofas, chairs, and cushions.
View this post on Instagram
Effectively balance with other colors
Purple easily dominates any decor you use it in. However, you can temper its overall effect by cleverly combining it with other colors. Recommended color options, for instance, are gray, white, cream, crystal, silver, wine red, maroon, pink, brown, lime green, and even black.
Knowing how to blend these colors is very important. But always remember that purple works best in a two-tone scheme. Simply put, don't mix it with three or more colors. Instead, use two separate colors in combination with the color scheme. Because if you fail to abide by this rule, chances are that you'd end up with, as one blogger succinctly put it, a colorful and confusing chaos.
So I guess it's safe to say that choosing purple seeks to toss us far out of our comfort zone, and this home decor is just the beginning of the whole drama. But, well, to be honest, I can't wait. Bring it on! And please, do…. share your photos on our Facebook page!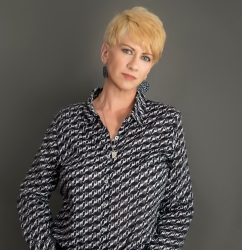 Latest posts by Deborah T
(see all)