As a relocated Yankee living in the south, I sometimes miss being able to order Pittsburgh's most famous cole slaw. You can get this very special slaw only at Primanti Bros. restaurants. They build sandwiches that are piled high with fresh meats and french fries, and they top it all off with this style of coleslaw. The sandwiches are so tall that it's a workout just to get them smashed down enough to take a bite! It's a deliciously indulgent sandwich.
This coleslaw is light and refreshing. Instead of being made from heavy mayonnaise, it is an apple cider vinegar cole slaw. It's bright, savory, and slightly acidic. This is a perfect coleslaw to carry to a summer cookout because it is mayo-free and holds up well in the summer heat.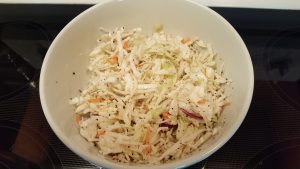 Health Benefits Of Eating Raw Cabbage
Here's a quick video on the benefits of consuming raw cabbage. It's an extremely nutritious food.
Primanti Bros. Coleslaw
Primanti Bros. is a Pittsburgh staple. They have locations from Pittsburgh north to Erie. Their restaurant empire grew from serving the early steelworkers of the Steel City. Those were mostly Italian immigrants who had to carry their lunch to work. In the days before modern labor law, they only had a few moments to eat their sandwiches. Therefore, they put the entire lunch between two pieces of bread that could be quickly and conveniently consumed. Thus, the french fries and cole slaw on top of the sandwich.
Sadly, I'm hours away from the closest Primanti Bros. restaurant. However, I love to recreate their famous coleslaw every chance I get. To be honest, I hate mayo and won't eat any other cole slaw.
I had tried several copycat recipes from the internet, but something was missing on every single one. After experimenting with the flavors, settled on celery seed being the missing flavor. Of all the recipes that I have tried in an effort to duplicate this coleslaw, this is the best imitation that I can come up with.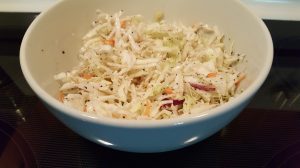 RECIPE: Pittsburgh's Most Famous Cole Slaw…Primanti Bros Coleslaw
1/2 cup apple cider vinegar
1/4 cup vegetable oil (don't swap out for olive oil!)
4 tbl sugar
pinch of salt
1/2 tsp celery seed
1 tsp onion powder
several cranks of fresh ground black pepper
1 head of green cabbage, finely sliced
5 large carrots, shredded finely (not traditional, but a delicious addition!)
Pour the vinegar, vegetable oil, sugar, salt, celery seed, onion powder, and black pepper in the bottom of a large mixing bowl. Whisk all the ingredients together until the vinegar and oil have mixed well. Do not substitute white vinegar, it has a different flavor. You must use vegetable oil as olive oil won't taste quite right in this particular recipe. I've tried it as I'm usually partial to olive oil.
Place your cabbage and carrots into the large bowl. Use two large forks to toss the cabbage in the mixture and coat the cabbage and carrots evenly with the dressing.
Serve this immediately. The crispy texture is important in this particular cole slaw. It's best on sandwiches fresh. If you have leftovers, it is tasty but the texture of the cabbage won't be crispy, it will be more of a Kim chi texture. Also delicious, just not quite the same.
Final Thoughts on My Primanti Brothers Cole Slaw Copycat Recipe
Admittedly, this cole slaw may be an acquired taste for many people. It may not be your preference. But for a Pennsylvania girl living in a North Carolina world, it's the perfect taste of home.
Have a happy DIY day!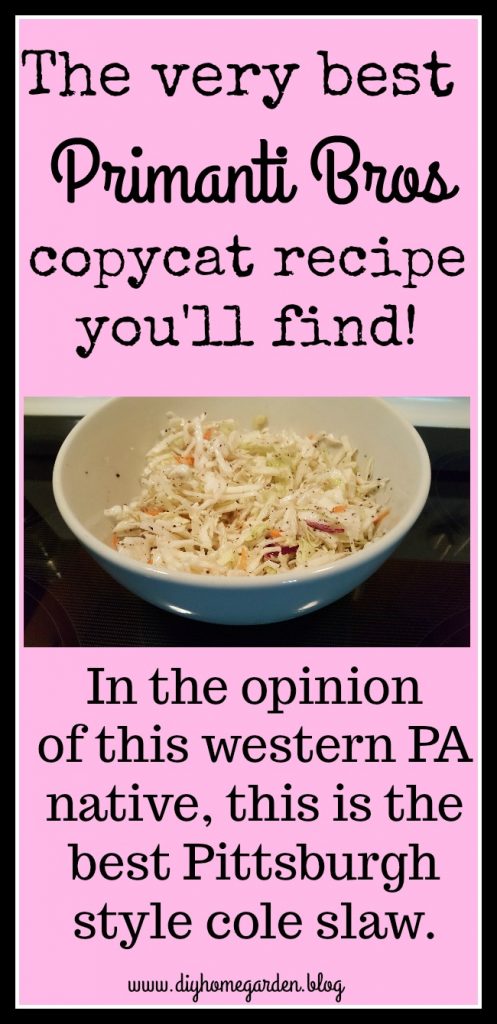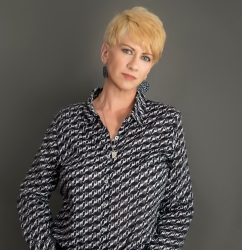 Latest posts by Deborah T
(see all)