Never did I think the day would come that I would find myself pressure canning potatoes again. Plain, white, boiling taters. Then pandemic panic shopping hit my area, and I was unable to purchase spuds for six weeks or more.
I had canned potatoes in the past. But I found them readily available and inexpensive year-round, so I focused my time on other treats. Plus, my farming neighbors keep me steadily replenished under normal circumstances. So why bother, right?
Fast forward to yesterday, when I braved my local grocery store for the first time in a couple of weeks. Lo and behold, they had limited quantities of five-pound bags of potatoes on the shelf. Furthermore, they placed a one-bag-per-person limit, allowing all shoppers access to them.
Granted, this limitation means that I will need to can several batches of my garlic potatoes over a few weeks. But at this point, I am genuinely just grateful to have them in the store again.
Decision made. This time, I'd can the potatoes in one-pint jars (the size required for my electric pressure canner). If a "second wave" of COVID-19 hits in the fall and the panic restarts, I will have a small supply of potatoes ready to eat, one jar at a time.
How to Serve Canned Potatoes
Canned potatoes are very soft in texture. You will first parboil them to release some of the starches. Then, you'll top off the jars with boiling water, which continues the cooking. Finally, you'll process them in a pressure canner. Yep, soft, cooked, and basically ready to heat and serve.
Despite the slightly soft texture, you can do a few beautiful things with these garlic potatoes.
Make potato soup
Make a quick potato soup with your home-canned taters, chicken stock, a splash of cream, and some pepper. Yum!
Garlic mashed potatoes
I can these spuds with a clove of garlic and some canning salt in each jar. They are fabulous to heat, drain the liquid, then add a splash of milk and butter into yummy garlic mash.
You can also top off with your favorite cheese.
Homefries
You can caramelize onions in a skillet, then drain the liquid from the jar and add the taters for quick home fries. Easy does it as you move them around your skillet, they are fragile (but taste soooo good)
Potato cakes (aka potato croquettes)
You can quickly make homemade potato cakes (croquettes) by straining the liquid, mashing the potatoes with one egg and about 1/4 a cup of seasoned bread crumbs, and popping them in a skillet with butter to make scrumptious croquettes. This is my personal fave!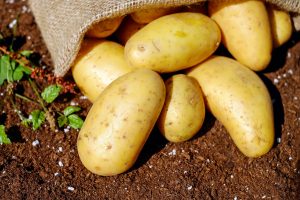 Yes, You Must Pressure Can Potatoes
If you're old enough, you might remember your granny preserving her spuds in a boiling water canner. Until the mid-1950s, home canning enthusiasts did not know any better! Until that time, the research was not present to show the need for the pressure canning technique to kill botulism on the potatoes.
Before I wrote this article, I confirmed the necessity of pressure canning with the Penn State University Extension service. Although I live in NC, I am a PA native, and I've trusted their data for many years. They state the following:
"Characteristics of special concern when canning potatoes are their low acidity and starchy nature. Potatoes must be canned in a pressure canner for safety." -Penn State University Extension
Simply stated, any foods considered low-acid must be processed in a pressure canner. Spuds are low-acid.
Types of Pressure Canners
Mastering a pressure canner is
an essential cooking skill
for those who want to be more self-sufficient. You'll find two types of pressure canners on the market:
manual pressure canner
electric pressure canner
Each has its own advantages. Let's take a look at a few reasons why you'd choose one over the other.
Stovetop pressure canner

First up, let's look at the pros and cons of a stovetop pressure canner model.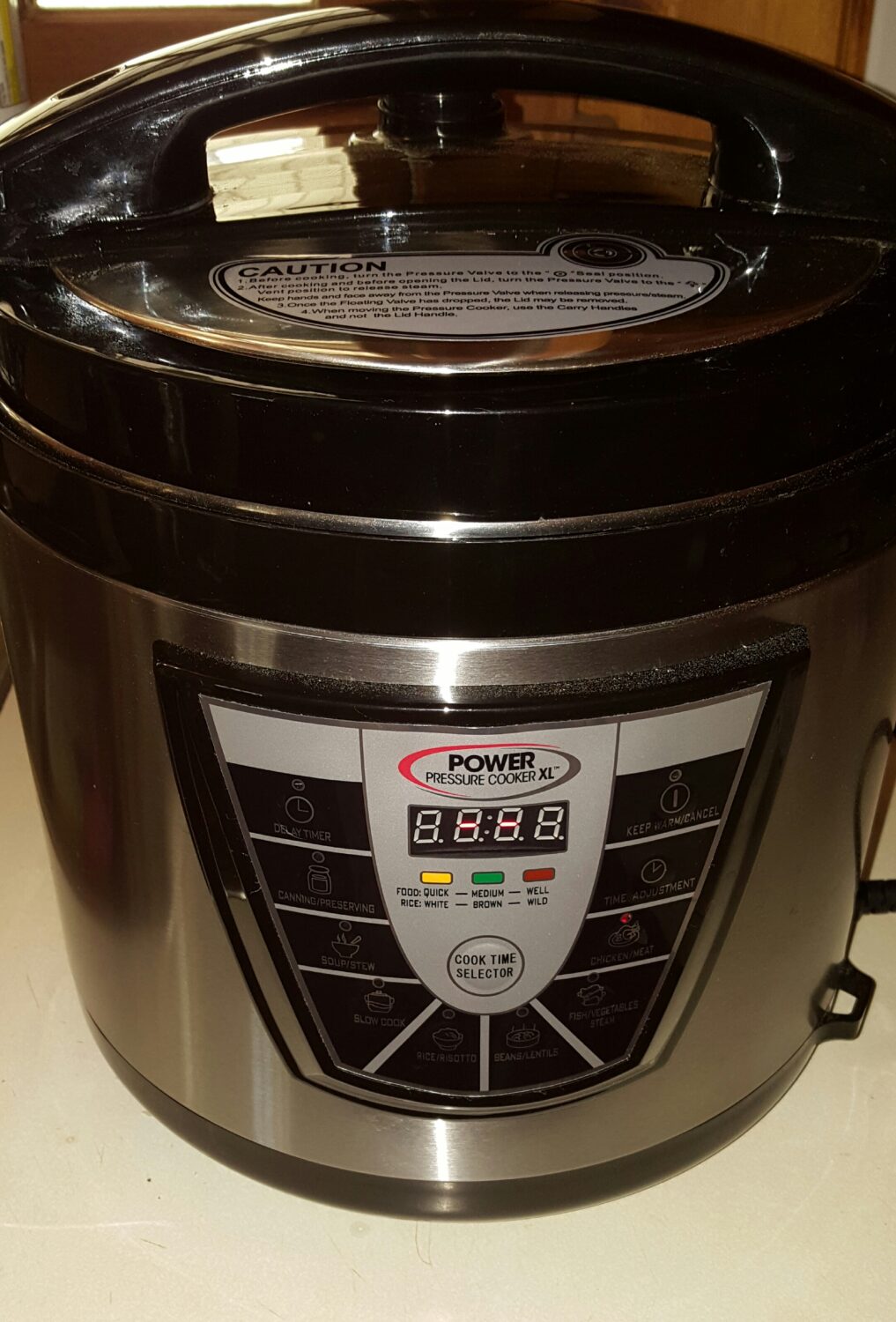 Pros:
Holds a large jar capacity
Enables you to can larger-sized jars (depending on the size you purchase)
No electrical outlet needed.
Readily available online or in big box or hardware stores
Large size ranges available: from 8 quarts all the way up to 24 quarts.
Cons:
Could crack the glass top of an electric range (why I don't use one!)
You must take special care with safety
Very large if you have limited storage
The larger sized units are hefty to lift when full.
Electric pressure canner
Next, let's review why you might choose (or not) an electric pressure canner.
Pros:
Built-in safety features
Keeps your stovetop free for boiling liquids and simmering lids
Digital sensors do the work. So you don't need to manually watch the pressure valve
They are multi-tasking marvels–slow cook, instant pot, soups/stew settings, etc.
The smaller size makes for more accessible storage of the unit.
Cons:
Only a couple of manufacturers make these units. I have one called the Power Pressure XL. The brand was the first to offer a pressure canning function. I have had it for three years, with heavy use, and it proves to be reliable use after use
Limits jar size–on my model, the max jar size is one pint. We have two people in the house, so pints are excellent for us. Larger families might need to open up two jars of home-canned potatoes, for example.
Fewer jars per batch fit into the unit.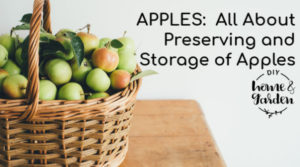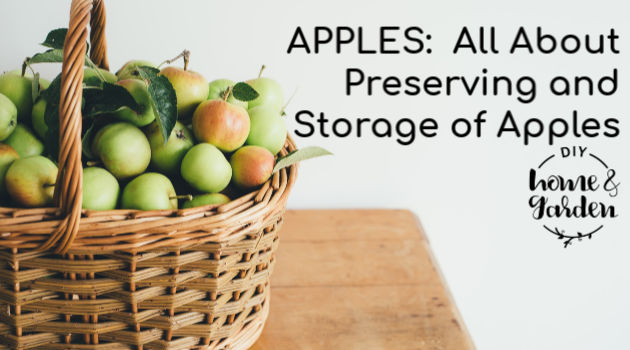 Selecting the Right Potatoes for Canning
You want to look for a "boiling potato" to make home-canned potatoes with garlic. If you choose baking potatoes, such as your standard russet, your potatoes will turn to mush in the process.
I looked at the bag in the store yesterday, and it literally stated, "white boiling potatoes." So I knew that these would hold up the best in the process.
Home Canned Potatoes with Garlic Recipe and Method
I am admittedly not a big "potato person." I enjoy them once in a while. But frankly, I find them rather dull. Thus, I prepare my home-canned variety with a nice big clove of garlic and 1/2 teaspoon of canning salt in each jar for some extra flavor.
When you open the pot, you may discard the garlic. Or…you can keep it for extra flavor. Here is a third option–if you don't like garlic at all, omit it altogether. The choice is yours.
You need to gather up these canning supplies before you start:
7 one-pint jars
canning lids and rings
jar funnel
pressure canner of your choice
jar lifting tool
headspace remover tool
magnetic lid lifter
Please note: if you purchase your canning supplies via my links, I earn a small commission from Amazon–at no additional cost to you! You will be supporting my small business (yes, blogging is my full-time job!). I appreciate your support of DIY Home & Garden.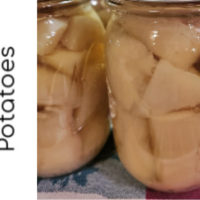 Pressure Canning Potatoes with Garlic (recipe + how to guide)
Active Time:
1 hour
20 minutes
Total Time:
1 hour
50 minutes
Learn how to safely can white potatoes for use later on in the year. These are easy to make, and a great first project for those new to pressure canning.
Materials
5 pounds of boiling potatoes
7 cloves of garlic
Tools
electric pressure canner or manual pressure canner
stock pot (for parboiling the potatoes)
canning jars, lids, and rings
7  one-pint canning jars
canning accessory tools (jar lifter, magnetic lid wand, jar funnel)
Instructions
Prepare your canner according to manufacturer instructions and set it aside.
Sterilize your jars and rings in either your dishwasher on the sanitize setting or by boiling them for at least 10 minutes in a large pot.
Prepare a large stockpot with cold water and a tablespoon or of Ball Fruitfresh to hold the color of the potatoes.
Peel the spuds. Cut off any dark or "bad" spots. Peeling is necessary as the skins can hold botulism. Do no skip this step.
Cut the potatoes into similarly sized chunks of about 2". Place them into the cold water.
Place the batch of potatoes on the stove, and bring to a boil. Boil them for 10 to 15 minutes--just enough to release some of the starches and let them just start to soften. They will continue to cook throughout processing.
While you boil the potatoes, fill a tea kettle with water and boil the packing liquid--that's it, just plain water!
Towards the end of the 15 minutes of potato boiling, place your lids into a small sauce pot of simmering water. Check the directions on your lids for simmer time. I often wait to do this until after I pack my jars to ensure I don't do these too long. Other people prefer to do it before packing jars. Your choice.
Use a large spoon or fork to carefully place the potatoes into the prepared and waiting jars. You need to pack them loosely, not tight! Add one clove of garlic (I smash mine to release the oils more potently) and 1/2 tsp. of canning salt to each jar.
Top each jar of potatoes off with the canning liquid (the boiled water from the tea kettle--do not "recycle) the potato water of you'll add too much starch. Using the canning funnel helps eliminate mess! Leave 1" of headspace. This means you need 1" of room from the top of the jar to the product you are canning.
Wipe down the rims of each jar using a paper towel and white vinegar. This removes any residue for a secure seal.
Use the magnetic wand to remove lids from the simmering water. Carefully position the lid over the jar and hand tighten the rings securely.
Place the jars into the pressure canner of your choosing.
Process in the pressure cooker using the "canning" setting for 40 minutes. If you are uncertain of how to use your particular canner or have questions on processing times, contact your local extension office for further guidance.
After the timer goes off, release the steam, carefully open the lid. Set your canned potatoes onto a protected surface to seal. Do not disturb them for 24 hours.
Notes
This instructional guide was written using my personal methodology and experience. I do not represent myself as a food safety expert. If you have any questions or need guidance, contact your local county extension office. Also, double check pressure cooker instructions against your model's manual--understand it before you use it!
The Takeaway on Pressure Canning Potatoes
Despite the long list of instructions, pressure canning potatoes is not a difficult task. Time-consuming? Yes. Challenging? Nope.
While you might ultimately decide to continue to purchase fresh potatoes in the store, at least you now have an alternative. I plan to make one more batch for storage–just in case of further store hoarding episodes–and purchase fresh when available. So that should strike a nice balance, don't you think?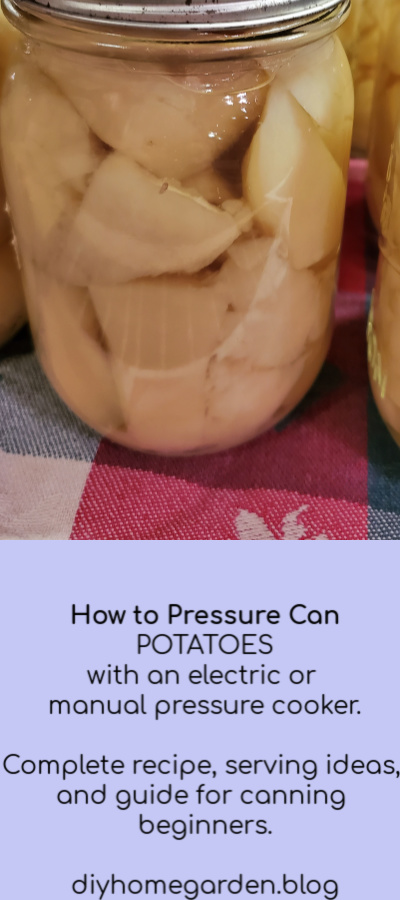 If you do try canning potatoes, please post the outcome on the DIY Home & Garden Facebook page. Of course, love to hear about your adventures! Have a happy DIY day!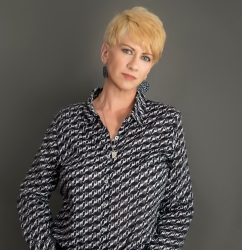 Latest posts by Deborah T
(see all)