If you love cooking, you're probably constantly searching for new recipes to try and tastes to discover. However, just as with developing any skill, there comes a time when you start to plateau. You have all the fancy equipment, you can make a host of meals, and yet it's all started to feel a bit… dull.
You still love your food, but you're looking for ways to jazz it up a little bit, and really take your cooking to the next level – and you've found them! With these little tips and tricks, your dinner parties will really start to blow away your guests. It's the detailed touches that can elevate your dishes to the next level, and turn you from a cooking enthusiast into a master chef.
3 Tips that Elevate Your Cooking Skills
1 – Know Your Spices
Spices are a cook's best friend, and there are so many of them. They can be one of the most fun elements to cook with – if you know them inside out, of course. Really knowing the flavors of spices and how they can be combined will allow you to free yourself from the following recipes. With this knowledge, you can start experimenting to create your own flavor combinations, becoming the maverick chef you always dreamed of being.
Spices are an essential part of good cooking, and there are even online courses you can take to widen your knowledge and deepen your understanding. There's also no substitute for simply standing in your kitchen and tasting your spices, using your tastebuds and your own opinions to start making those flavor combinations…
2 – Sauces and Dressings
As any chef will know, sauces and dressings are the keys to unlocking the true potential of a dish. If you're still using those Bisto gravy granules, throw them away immediately and start making your own sauces from scratch. You'll be shocked at the huge difference it makes to your dishes, adding a richness and depth of flavor you'll be proud of.
Fancy-sounding dressings such as a raspberry vinaigrette are also surprisingly easy to make, and they will turn your salads into a thing of beauty, with explosions of taste. Expanding your repertoire of dressings is a fun activity, and you can mix and match dishes with different sauces to create new experiences that will elevate your cooking to the next level.
3 – Get Into Presentation
How many of you have marveled at the beautiful dishes served on televised cooking shows? Well, why not try doing this yourself? However gorgeous your food tastes, a fantastic presentation can be the one thing that truly blows your guests away, turning your dishes from tasty meals into culinary experiences.
The best way to learn a fancy presentation is simply by trying it. Play with different options, and look online for pictures to inspire you. Presentation is also a great way to check the balance of your dishes – if it's an all-brown plate of food, it won't look great, but it also probably isn't the healthiest of meals either. Vegetables often add brilliant splashes of color to a plate, and the more attractive your food looks, the more everyone will want to eat it!
The Bottom Line: You Can Use the Tricks to Up Your Cooking Skills
When you are trying out new cooking skills, take things slowly. Try one thing at a time. Master it, then move on to the next challenge on your list. You'll build an entirely new skillset that will serve you well for life.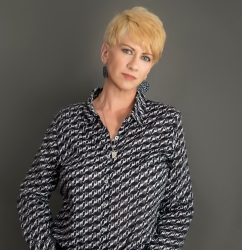 Latest posts by Deborah T
(see all)