Simply delicious, pineapple rum cake is a current favorite around my house. It is moist, sweet, and satisfying.
My husband and I have been missing sweets and treats since I've been on Weight Watchers (currently down 74 pounds!). I recently discovered some fantastic baking recipes that are WW friendly and began to experiment with them and change them to my liking. This cake has only 4 points per serving. But even if you're not dieting, it is rich and satisfying, so don't let the "diet" ingredients scare you off!
RELATED POST: Apple Pecan Dump Cake (4 Ingredients)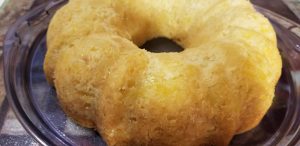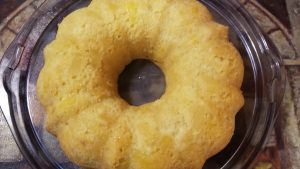 Many of the Weight Watchers baking recipes involve cake mix and diet sodas. I tried a couple and they were sweet and moist, but I wanted a little something more. This is the best combination I've come up with so far!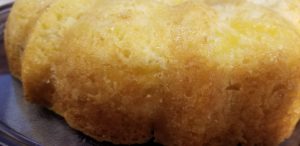 A plain pineapple cake is great, but a pineapple rum cake? Get outta here! Even better. Although I haven't tried it yet, I would like to try it with a garnish of toasted coconut to create a pina colada cake. But that would add points, so it hasn't happened yet.
Simply Delicious Pineapple Rum Cake
It's so good you will forget that this is a diet-friendly recipe! (Don't tell!)
Ingredients:
1 – Duncan Hines Pineapple Supreme Cake Mix
4 oz Sprite Zero
1 – 20 oz can of pineapple tidbits in juice (NOT heavy syrup!)
1 tsp of rum extract
Directions:
Preheat your oven to 350 degrees
Use cooking spray to coat a bundt cake pan
Mix the pineapple cake mix, the entire can of pineapple and juice, and the rum extract and whisk thoroughly. I didn't use the stand mixer on this one as I didn't want the pineapple to become too bruised.
Fold in the Sprite Zero (or Diet Sprite) last.
Pour the entire mixture into the bundt cake pan. Then use a rubber spatula to get all that goodness into the baking pan!
Bake for 35 minutes at 350 degrees. Use a toothpick to make sure the cake is baked in the middle. Add three more minutes if needed.
After the cake has cooled for 15 minutes, gently flip the bundt pan over onto a cake plate.

Skip the icing, but do splurge on a dollop of light whipped topping. As you can see in the photo, I couldn't wait to dig in and ate a bite before taking my photo. Yum!

If you add whipped topping, as I did for this photo, that will add on to your daily ww smart points total. (I saved the points to enjoy this treat)

I'm sure that if you give this a try, you'll love it! Please share comments with me if you give it a try. I'd love to hear how it works out for you. Also, please feel free to share photos of your cake on Facebook!

Like us on Facebook http://www.facebook.com/diyhomegardenblog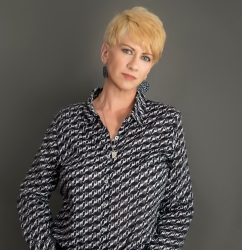 Latest posts by Deborah T
(see all)