Your kitchen countertops take on a lot every day. They get bumped into and start to chip. Their surfaces get nicked by knives that miss the cutting board. And crumbs get tightly packed into grout lines. With all that wear and tear, it's only a matter of time until you'll need to redo your countertops.
RELATED POST: How Often Should You Update Your Kitchen
You could do a complete renovation, or you could simply refinish your countertops to look like new. It depends on which type of material your counters are made of. For instance, if they're concrete or granite, you won't be able to cover them with new laminate. But if you have tile, cultured marble, or solid wood countertops – you're in luck.
Check out these options for resurfacing kitchen counters on your own:
Refinishing Kits
If you've already got a few DIY projects under your belt, refinishing your own countertops should be doable. In fact, it's much cheaper than hiring a professional, which normally costs a couple thousand dollars. DIY countertop refinishing kits range from $75 to $150, so if you're comfortable rolling up your sleeves, consider these top-rated kits:
SpreadStone's Mineral Select Refinishing Kit
This unique coating works with most countertop surfaces, including plywood, tile, and concrete. You don't have to worry about it falling apart throughout the years because it's heat, impact, and stain resistant. It looks like speckled stone and comes in various shades. For example, Volcanic Black, Coriander Cream, and Iron Stone. But no matter what shade you choose, it'll make a strong statement. This kit sells online or at hardware stores for about $125. You can learn more about it here.
Giani Countertop Paint Kit
You can also get that starry, speckled granite look with a solid paint kit, like one from Giani. Like SpreadStone's product, this kit comes in neutral faux-stone finishes. Each kit is designed to hide any existing stains, scratches, and burns. It comes with a clear acrylic topcoat for extra protection. You can expect four hours of painting and twelve hours of drying time. Want to give it a try? This product sells for $80 on Giani's website.
Rust-Oleum Countertop Transformations Kit
Unlike SpreadStone and Giani, this kit uses decorative chips to achieve the textured look of granite. It comes with an epoxy coating to seal it up. Paint and dry time is a bit longer – instead of hours, it takes two days, so refinishing with this would truly be a weekend project. It's stain resistant and stands up to most household cleaners. You can choose from natural tones like Java Stone, Charcoal, and Desert Sand. This kit costs $150. You can learn more about this product here.

Other Options
Kits are great if you've completed a few home improvement projects, but if you're looking for more of a challenge, check out our kit-free refinishing options. They're equally inexpensive and let you get more creative with your countertops.
If you're set on painting your counters, you can try for a faux-stone look like the ones in the kits. Or you can instead mimic stainless steel with a shiny, satin-like finish. But before you start designing, think about how often you plan on switching up your décor. So if it's every few years, it might be best to stick with neutral tones. For instance, ones that go well with just about anything. You don't want to have to redo your counters every year to fit your new aesthetic.
Using Tiles
Not into the whole paint idea? Then consider covering up your counters with ceramic tile. It's extremely durable, and easy to clean. Moreover, it comes in a variety of textures and colors. If your existing counters are dull, brighten them up with thick, double-glazed tile. If you're searching for ways to spruce up your kitchen island, multi-colored mosaic tile in beige tones looks great on large surfaces. You can also try stone-look porcelain for a classic, old-world look.
Peel-and-stick tiles are definitely the cheapest way to update your countertops. They take just a few hours to apply and are available in a wide variety of styles that mimic stone, marble, and many other natural stones. As with any refinishing method, you'll need to have a steady hand and a decent amount of patience, but the end result will make it all worthwhile.
Final Notes
No matter which refinishing option you choose, you're sure to have fresh-looking counters in no time. And the fact that you did them yourself? Even more rewarding.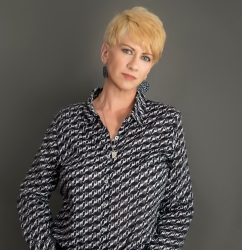 Latest posts by Deborah T
(see all)