Sharing these cute popcorn party favors are perfect for any fall party. You'll see that your guests will appreciate this yummy and practical party favor. Unlike some party favors, everyone will enjoy them! Better yet, you don't need any special crafting skills. And, you can make dozens of them in just a few minutes.
Yesterday, I shared a recipe for Pumpkin Spice Snack Mix that I made when I helped my father-in-law give a big birthday surprise party for my mother-in-law last November. These are photos of the party favors that we passed out to guests.
The party was held at their church social hall. There's basically one way into the social room and one way out. The guests arrived early, ahead of my mother-in-law. After all the guests gathered in the room, I set a table near the door with these party favors and a little candle to draw attention to the favors so each guest could grab one while exiting.
The little basket of popcorn became a cute vignette that everyone oohed and aahed over when they saw it! I used them as part of the decorating, along with fall flowers. It was a hit. If you are looking for party favor ideas and have limited crafting skills, this is a great fall favor you can make with very little technique!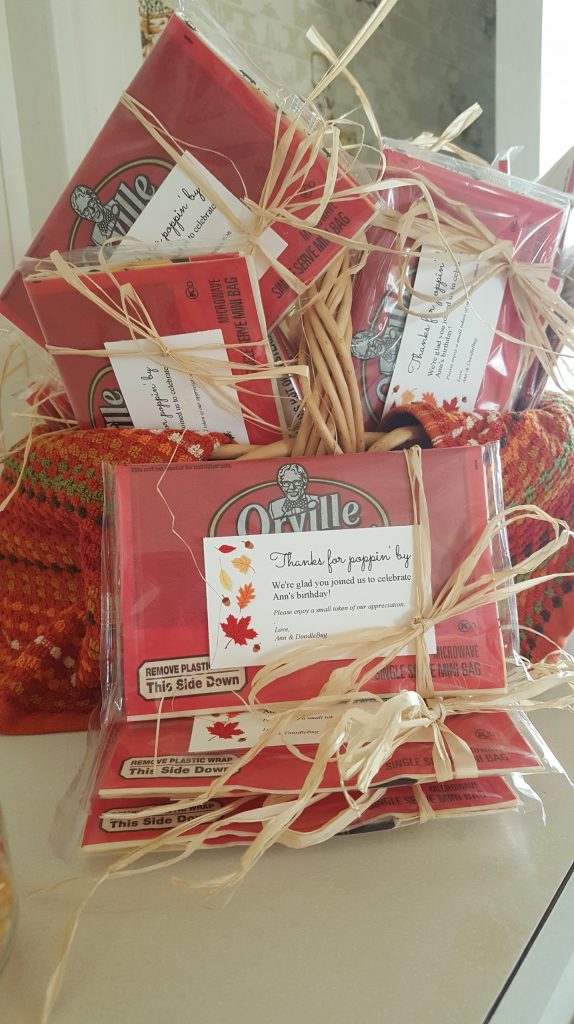 Here's how to create these:
1-CREATE THE CARD:
I used Avery plain white business cards to create my message of appreciation. Using Avery's online templates, I chose a colorful fall leaf theme. I used the tagline "Thanks for poppin' by" and then customized one sentence thanking the guests for joining us and a signature from my in-laws. Easy!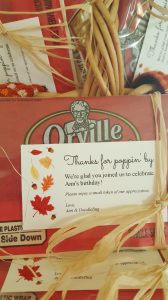 2-TAPE CARDS TO THE POPCORN:
Use double-sided tape and affix the cards to the bags of popcorn. I used the small portion bags of popcorn because they are small and cute. If you want to use the full-sized bags, go for it!
3-TIE THE RAFFIA RIBBON:
Tie the raffia ribbon around the popcorn and tie a simple bow. Make sure the business card peeks through and displays the message.
See? Easy to make!
I lined a basket with a kitchen towel that matched the table decorations and fall theme, then tucked the popcorn into the basket. It really made a charming display!
In addition, I wanted to have a candle to make certain that guests took notice of the basket on the way out, in case we missed someone leaving. I took a mason jar, filled the bottom with loose popcorn, and popped a votive candle down into the popcorn.
This candle jar was easy to clean as the melted wax was trapped in the popcorn. After it cooled off, I just dumped the whole mess of popcorn and wax into the trash, and the jar was still clean!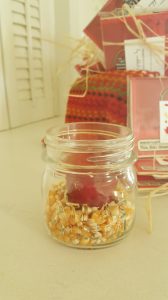 When you are planning a fall party, you aren't limited to just a fall leaf theme! While the fall leaves and pumpkins are natural decorating ideas, adding popcorn into the theme really makes your party POP!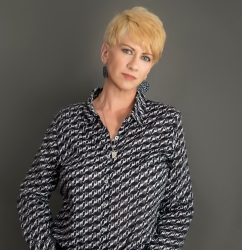 Latest posts by Deborah T
(see all)