Have you ever wondered the secret to keeping your home fresh? We have six useful tips to give you a clean, fresh-smelling house.
We all want to live in a completely faultless home. It's completely normal for us to want to be surrounded by a flawless place. We think of different ways that we can improve our home: the look, convenience, hygiene, and a bunch of other stuff. It seems so very straightforward in our mind's eye to move everything around and enhance it all. But in the real world, it's not really that simple – it requires thought, time, and a fair bit of work.
Something we'd all like to have in our homes is that constantly feel of freshness – it takes some work, however. You cannot just sit there and expect it to all fall on your lap. Let's have a little look at some things you can do to keep your home fresh and clean.
Have A Big Clearout
This is a fairly simple idea, but one of the first things you can do is consider getting rid of the clutter you have lying around your home. You definitely have some because everyone does! Have extra bits and pieces around that you don't need can mean the place gets a little crowded and stale.
It can also take its toll on your mental state as you can feel a little down looking at it. Perhaps spend the day decluttering – it might make a huge difference.
Organize Each Room
When things aren't arranged in an organized fashion, then they will probably, over time, get a little messy and you may start to lose certain stuff. Try and keep everything assembled – make sure there's a place for everything and that everything is in its place. It doesn't have to be a massively overwhelming job – just go through the home room by room.
Create A Cleaning System
In keeping with the idea of having things organized, it would be a good idea for you to create a little cleaning plan for yourself. If you have a clear plan ahead, then things will be clearer in your mind. With a little schedule jotted down, you'll also be able to get yourself into a routine that will benefit you too as you can be more organized in other areas of your life.
Use Technology
Thanks to some smart people around the globe, there are loads of inventions being made every year that can help you out domestically. Perhaps think about bringing some in to keep things fresh and moving along swimmingly. Something like an automatic air freshener that sprays every thirty minutes could be useful.
If you have a pet, then maybe you could look at some pet tech products to help you out so that you don't have to do everything manually. Technology can make things way more convenient and efficient for you in this day and age.
Bring In Fresh Flowers
Finally, you can freshen up the place in terms of looks as well as general rosiness by placing some flowers into the home. The aroma that they give off can be pleasing, and we all know that they brighten up a room just by being there.
Master Essential Oils
If you've heard about essential oils but haven't tried them…well, it's the time! You can custom blend your favorite fragrance notes and fill your home with aromatics. Plus, they have therapeutic benefits and can clean the air.
No essential oil diffuser? No problem. Diffuse essential oils in your electric wax melter. Just add 1/8 of a cup of tap warm water and 6 drops of your favorite essential oil. In just a few minutes, you will enjoy the rich fragrance.
A Home Fresh and Clean
A home, fresh and clean, is a dream to come home to every day. Try these tips and let us know how they work. Have other suggestions? Please share them in the comments.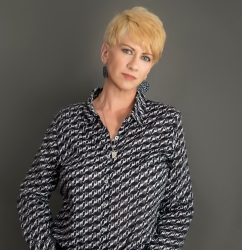 Latest posts by Deborah T
(see all)