Being able to enjoy your home more is important, and as such, you want to be able to create spaces that are entertaining for both your guests and for you as a household. Depending on what you see as entertainment for you will depend on what you go for.
Here are four tips to create a more entertainment home space.
1 – Invest In Your Home Entertainment System
A home entertainment system is for many, the heart of the home, and what you do with it is up to you depending on the budget available. Some may want to create a real cinematic experience regardless of what they're watching by setting up a screen and projector.
Others might want a more dynamic experience in terms of the sound. Thus, they could invest heavily in speakers and a soundbar to get the best quality available. You may have the budget and space to stretch to a separate home theater space altogether. Regardless, it's always good to invest in your entertainment system as this may be the place where most of your family time may be spent and where you'll likely have the most memories as a household.
2 – Tailor It To Your Household's Preferences
Your household's preferences will depend on what you love doing for entertainment as a household. You may love playing games. So you would invest in a games room where you can perhaps have a pool table or another lounge area with a table laid out that's perfect for traditional board games.
There are so many different ways you can go about transforming your space to suit your preferences and that of your family. Find what they enjoy and see as home entertainment and incorporate that into the spaces you have available to you.
3 – Dress Every Room With The Right Lighting
Lighting is probably one of the most important things for any room because it can affect the mood but also the feel of it. With that being said, it's worth evaluating the rooms you're transforming and seeing if the current lighting suits what you're after. You may find that in fact, there are some changes you can make to change the overall dynamic. For example, dimmer lights might work better for a home cinema experience as opposed to traditional on and off light switches. Set the tone and mood that you want for your room with the right lighting.
4 – Make It Easy Enough To Maintain
A home that's easy to maintain is one that ends up being most enjoyable to live in. So when you're trying to maintain its appearance, it's important to try and create a home space. You will find it easier to clean and to keep tidy. The more functional and minimal your entertaining areas can be, the better. Avoid anything that's going to clutter the space and make it feel cramped.
The Bottom Line on Making an Excellent Home Entertainment Spot
Creating a more entertaining space is needed, especially during these testing times. Use these tips to ensure you're getting the most out of your home entertainment spot for both you and your family.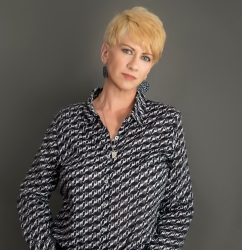 Latest posts by Deborah T
(see all)