We love to eat pizza at my house, and we always keep home canned pizza sauce on hand. Because, you see, I live in a very rural area. The closest pizza shop is about 30 minutes away. Of course, they don't deliver. Frozen pizza from the frozen food section? No, thank you!
My solution is to keep the ingredients for making the best pizza at home. I have really grown to enjoy the whole pizza making process, from scratch-made dough to home canned pizza sauce.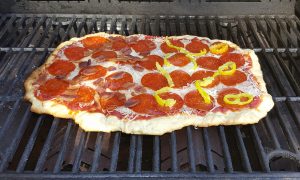 This sauce is not a messy sauce that requires you to hand peel each tomato, one by one. It's made from pre-canned sauces that you can buy in bulk. After adding the right blend of herbs and spice, you put it on to simmer for a couple of hours and stir occasionally. After it cooks down for that 2 hours, it tastes absolutely delicious.
The recipe makes about 24 half-pint jars. I like to use half-pints because one jar makes one large sheet pan pizza. Of course, you can make pint jars. But, that comes with an increase of 10 minutes of processing time in the canner.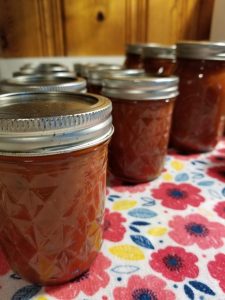 Here's the recipe–it is an excellent thing to try if you are new to canning.
HOME-CANNED PIZZA SAUCE
Pizza Sauce Ingredients:
1 – 110 oz. can of crushed tomatoes
1 – 110 oz. can of petite diced tomatoes
1/4 oz. lemon juice (to keep the tomato color bright and not brown)
4 tbl garlic powder
2 tbl onion powder
1/2 cup white granulated sugar
2 – large handfuls of fresh oregano (washed and stripped off the stems)
1 – large handful of fresh sweet basil (washed, stripped, and chopped)
1 – stem of rosemary (washed, stripped, and chopped)
3 tbl. ground black pepper
1 – 14 oz. can of tomato paste
Gather Your Supplies:
24 half pint jars
lids and rings to fit the canning jars
air bubble remover tool
canning tongs
clean towels
boiling water bath canner
magnetic lid lifter
Pizza Sauce Directions:
After prepping all the ingredients, pour all the ingredients (except for the tomato paste) into a large pot. Simmer slowly over a low heat for two hours. Stir occasionally to prevent the sauce from sticking. Taste and adjust the herbs and seasonings to your taste, if needed.
After about 2 hours, check the thickness of the sauce. Add the tomato paste by small spoonfuls if the sauce is thin. Stir well until the paste dissolves. Cook an additional 30 minutes. I will say that I don't normally find that I need to add the paste. I don't like a thin sauce, but I don't like it super-thick, either. That consistency is up to you.
During the last 30 minutes of cooking time, I prepare my boiling water canner, sterilize my jars, and start to simmer my canning lids.
Fill each jar with about 1/4″ of headspace at the top. Run a butter knife or the air bubble removal widget around the inside of the jar to remove any air bubbles. Clean the rims of the jars with a clean towel. Lid the jars and tighten the rings.
Use your jar lifter tool to place the jars of pizza sauce into the boiling water bath.
Process half-pint jars for 25 minutes; if you use pint jars, process the sauce for 35 minutes.
Remove the pizza sauce from the canner and place on a clean towel (to soak up drips). Let the jars sit, undisturbed, for 24 hours. Let them seal naturally and instruct everyone in your house not to press down the buttons on the lids! (Yes, that part is a sore point in my home!)
Store for up to 12 months in a cool place…but I promise you it will run out sooner than that!
Final Thoughts on Home Canned Pizza Sauce
This really is a fantastic sauce, but don't limit yourself only to pizza! It's a great dipping sauce for toasted ravioli, or as a base for a quick bruschetta to snack on. In addition, I use it as a dip for homemade pepperoni rolls. There's really no limits to use for this sauce.
So enjoyit ! And please do let me know how this pizza sauce canning recipe works for you.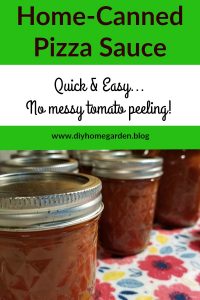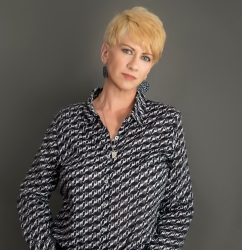 Latest posts by Deborah T
(see all)