A healthier you begins in the kitchen. Let us explain why.
At a time when you can practically buy anything you need from an online shop, it can feel discouraging to still have to work for some of the essentials you need in life. Health is one of those tricky challenges. It doesn't matter how many packs of vitamins and energy drinks you order online if you want to maintain your health, you'll have to create a health-focus routine. Yes, you've understood: To stay healthy, you need to work for it. Introducing regular fitness activities and keeping up with your sleep hours are some of the most significant changes you need to make to your lifestyle. However, not everything has to be difficult. Eating healthy meals, for instance, can be a pleasure rather than a dieting exercise. All you have to do is to create a kitchen that works for you.
Why a Healthier You Begins in the Kitchen
1 – Find a sanitary countertop
Your kitchen countertop is the most overlooked health hazard in the kitchen. Indeed, the food you prepare there is constantly in contact with your countertop. You may not see it, but the place is packed with bacteria! Contrary to common belief, there's only so much you can achieve when you clean the work surface. More often than not, porous surfaces can absorb liquid and retain bacteria. If you don't want to opt for a nonporous surface such as stainless steel as a countertop, you should choose granite. Indeed, expert Premium Granite, LLC, understands the natural resistance to bacteria of their prime material. This is why they offer elegant and rapid kitchen installations to help their customers to make everyday cooking healthier.
2 – Invest in healthier cook appliances
Without the right appliances, most people tend to use far too much grease in their cooking. If you don't have a non-stick pan you can trust, now's the time to hit the shops. Similarly, if you want to cut down on grease use and prepare tasty meals in a matter of minutes, an indoor electric grill is a smart addition to your kitchen tools. You can throw a nutritious and healthy dinner with a grilled source of protein – meat or fish – and a few grilled veggies. When you've got quality appliances, it's easy to eat healthy food.
3 – Grow your own plants
Ketchup and other sauces are the worst things you can do to your health. Most shop-bought sauces and seasonings are high in fat, sugar, and additives, which can transform a healthy meal into a calorie bomb. Replacing your sauces with healthy spices and herbs offers a delicious and nutritious alternative. You can grow kitchen herbs in pots all year round to make sure you've got fresh stocks all the time. Basil is a favorite because it's strong and fragrant. But chives, parsley, and tarragon can elevate any dish into a gourmet experience!
4 – Choose a bright color
It might sound silly, but introducing more light into your kitchen can make a healthier you. How? They help to cut down unhealthy cravings. In other words, maximize your opening and add some bright and exciting colors. For a neutral look, cream and light blue is a great combo for your walls. If you prefer something more exotic, try orange, apple green, or mimosa yellow.
The Bottom Line on Investing in a Healthier You
You can't buy health in a box. But you can make it easier for you to maintain positive habits in the kitchen with smart changes. Grease-free cooking appliances and fresh herbs can transform your meals, while a sanitary countertop and a bright room can keep harmful bacteria and cravings at bay.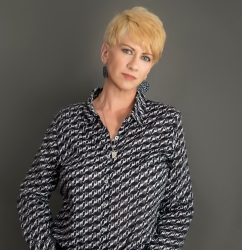 Latest posts by Deborah T
(see all)