When the weather turns cold, this easy, cheesy grilled ham and potato soup warms the body and feeds hungry appetites.
RELATED POST: Grilled Ham and Mozzarella Macaroni and Cheese. Creamy, Easy, Cheesy Goodness
While soup most often conjures up thoughts of long cook times, this potato soup is just the opposite! It's a "cheater" recipe that you can make and have on the table in about 30 minutes. In fact, there's no peeling of potatoes involved!
While I do normally enjoy cooking from scratch, sometimes I'm just too busy! This is a great recipe to keep on hand for a busy, cold, fall night.
So grab your apron, fire up that stove, and you can be eating this delicious soup in just a little while!
EASY, CHEESY GRILLED HAM AND POTATO SOUP
Ingredients:
1 pouch of instant garlic mashed potatoes
1 cup of half n half
3 cups of milk
1 medium ham steak
2 tbl butter
2 tsp garlic powder
1/2 cup shredded cheese (your choice!)
pepper
1 tsp finely minced rosemary
Directions:
Grill the ham steak for 2 minutes each side. It is usually fully-cooked, but a nice caramelized color is far more appealing in this soup. Set aside to cool a few minutes.
Place the pouch of instant potatoes into a pot, add the half and half, butter, and milk in the pot and whisk until potatoes are dissolved. Let simmer for about 15 minutes.
Cut the ham steak into cubes, then add it to the soup pot.
Add the garlic powder, rosemary, and fresh ground black pepper towards the end of the cooking process. Taste and adjust to your own taste. You may want to add salt, but I'm on a salt-reduced diet.
Stir in the shredded cheese. I prefer a Monterey Jack mix with a peppery bite. Cheddar is a super option, also. I add a little cheese to the top of the soup to give just that little extra cheesiness!
---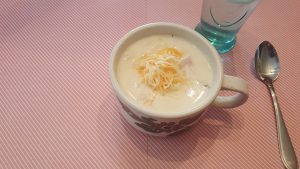 There's nothing more satisfying than a hot bowl of soup on a cold evening. Pair it with a crusty loaf of bread and a quick green salad, and you'll have a great family meal in a flash!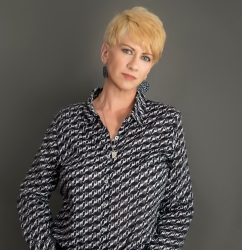 Latest posts by Deborah T
(see all)