During the winter months, it can be easy to neglect your garden somewhat since you're not going to be in it that much, so it really doesn't take priority that often. Whether it's fixing that rain gutter or mowing the lawn, if you're thinking of how to get your garden ready for spring, then now is the time to start preparing for it. And the good news is it's not as expensive or as difficult a job as you may think.
In this post, we're going to share with you some tips on how to get your garden ready for spring without breaking the bank.
Plant new grass:
Grass can take quite a beating during the harsh winter months, so if you don't want to wait until the summer for it to start growing back, then there's no reason not to make a head start in time for spring and let the grass grow back nice and green so that you can enjoy your garden during the spring months and actually get the benefit of a nice lawn instead of one that looks a bit rugged and patchy.
Mow the lawn:
Depending on where you live, you may not actually have any issues with the grass disappearing over the winter, but it could simply be a case of grass that's a bit overgrown. A simple lawn mower will really make a big difference and help you keep your lawn nice and tidy so that you can start preparing for the spring and summer and get your garden ready to enjoy during the warmer months.
Add new accessories:
Accessories for your garden are actually really easy and cheap to find if you know where to look, and winter is actually the best time to start buying them since they'll be a lot cheaper than when the spring rolls around and they're in season. Plus, the good thing about buying stuff that's out of season is that you won't have the same style of accessories as everyone else. Accessories don't need to be over the top, but some simple solar lights, fairy lights, and even new plants can make such a big difference to the overall look and feel of your garden.
Add new furniture:
Garden furniture is typically quite expensive depending on what you want to buy, but it doesn't have to be that way. You can easily find some great bargains by shopping around, buying second hand or buying out of season stock in winter when no one is buying things like garden furniture and stores just want to get rid of stock compared to the spring months when people will actually be searching for it and they can charge full price for it. Things like chairs, tables, parasols, and even hot tubs are things you can get surprisingly cheap during the winter months if you know where to look for them.
Hopefully, this post was helpful in showing you that you don't have to spend a fortune to get your garden ready for spring and that a few simple tweaks can make all the difference.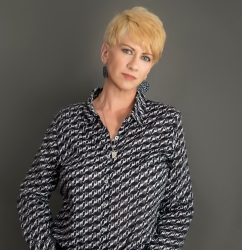 Latest posts by Deborah T
(see all)