Do people make assumptions about you based on your home's curb appeal? Think about times you've formed opinions.
Have you ever passed a house while you were out and about and really felt like you could tell what kind of person lived there just from the outside? Maybe it was a row of sunflowers and sparkling pinwheels, or some mud-spattered rubber boots and a dog lead. Whatever it was, its facade shares a story about the occupants.
The outside of your home is its public face – the first thing visitors will see. And when you put so much effort into beautifying the inside of your house, cleaning, carefully selecting furniture, wallpapers, décor, and flooring, don't be let down by a scruffy or bland exterior! Below are some cost-effective tips that you can use to make the outside of your home shine.
4 Easy Ways to Dress up Your Curb Appeal
1 – The
Garden
Splashes of color brighten up the outside of any home, but you don't want to be let down in the wintertime. Potted plants that blossom all year round and provide some much-needed color in the darker months can frame your front door and really bring to life the picture your house paints. Make sure you buy plants that suit the climate where you live – you don't want to spend every year replacing a bunch of dead twigs in a pot!
2 – Doormats
One of the easiest and most cost-effective ways to show visitors who you are. Etsy has a great range of quirky doormats so you can express your personality from the get-go. Whether it's a whimisical, wizard theme, pun-tastic, or personalized representations of you and your family as penguins, you will be sure to find something to suit your style.
3 – Turn Things Inside Out
Bring the inside out! There are so many objects that always live inside that can really personalize the outside of a house or garden. Mirrors and picture frames are inexpensive and can both make the space seen bigger and reflect the colors and garden that you've spent so much time on. Here, you can see some great examples of creative ways to use picture frames, planting inside them and mixing and matching colors to bring a drab, dull wall to life.
4 – Exterior
Walls and Windows
Of course, all of this will not add to the overall curb appeal if the outside of your house is grubby. You wouldn't leave your kitchen without cleaning for six months. So why do so many of us treat the front of our houses like that? The most efficient way to really get rid of a build-up of grime is a pressure washer. But don't be tempted to DIY this one! Pressure washing can be risky and actually cause damage to your property. Also, it could potentially spread mold and other bacteria. First Class Clean explains a bit more about the risks involved in trying to pressure wash and offer a great and reliable service for you and your home, that you feel truly shows who you are!
For more ways to smarten up your home's first impression–the curb appeal–, check out this blog!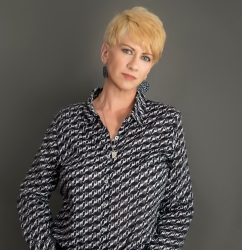 Latest posts by Deborah T
(see all)