Today I'm looking forward to enjoying sipping some 3 ingredient Dark Chocolate & Kahlua Iced Coffee. The forecast is for a perfect spring day. We have been promised a warm, low-humidity day with a low pollen count. Here in Eastern NC, it tends to go from winter to hot summer with nary a break so I plan to treasure this perfect Sunday afternoon.
I plan to slow down, take a break from all my projects, and just enjoy the day. Dark Chocolate Kahlua Iced Coffee is definitely part of my plans. I'm not much of a mixologist. In fact, I don't really like bottled liquour, except for cooking with it.
However, when you blend chocolate, coffee and a bit of Kahlua, something magical happens. It tastes rich, decadent, slightly nutty, and creamy despite being dairy-free. It's like a dessert in a cup. Because it's made with dark chocolate almond milk which only has 100 calories per cup, it's not too very destructive to the upcoming beach season. And remember, java is "healthy-ish."
Please take time on Sunday to spend some time with God and your family. And take time out to enjoy yourself.
RELATED POST: Irish American Coffee: a hot coffee cocktail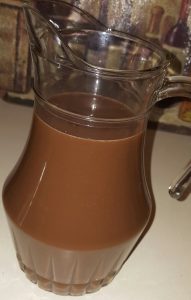 EASY RECIPE FOR A 3 INGREDIENT DARK CHOCOLATE KAHLUA ICED COFFEE:
2 cups leftover, cooled coffee
2 cups Silk Dark Chocolate Almond Milk
1 cup Kahlua
Cool your coffee before you pour it into a pretty glass pitcher. Trust me on this one y'all. I once got 2nd degree burns down my legs when a pitcher burst on me.
Add the Silk Dark Chocolate Almond Milk
Stir in the Kahlua
It really doesn't get much easier than this recipe, folks!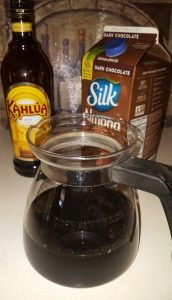 Yes, I do often have leftover coffee. I have had a single-cup brewer but when it broke I didn't miss it. I use an old-fashioned Melita pour-over style coffee maker. It tastes better to me and there's something satisfying about the whole "making coffee" routine every morning. In addition, the whole thing stores away when I'm not using it, saving me valuable counter space in my little kitchen.
Cheers to a relaxing, wonderful Sunday afternoon!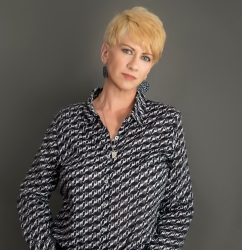 Latest posts by Deborah T
(see all)