This quick and easy homemade, grilled pizza is a family favorite in my home. It's a quick Saturday afternoon meal and gives us a chance to break away from all our projects to just sit and have a nice, casual lunch on the back porch.
Why not just order pizza? Well, my friends, that's a fair question. The fact of the matter is this. I live in Bertie County, NC. We are one of the largest by square miles, but least populated counties within the entire state.
So this is going to shock people. But there's only one pizza place in the entire county. They have awesome pizza. However, it's about 20 minutes into town to get pizza from this shop. They simply don't deliver out to the country.
Yes, that's enough to send some people running to the nearest big city. I, however, do love living in a rural area. Once a city girl, I have now become accustomed to country life. I also love the taste of made-from-scratch food and fresh-grown ingredients.
Because we live in North Carolina, it's hot a lot of the year. This beats the heat in the kitchen by prepping the pizza crust inside in the early morning before the afternoon heat. Then I finish cooking it on the grill later in the day and usually serve it right outside. No muss, no fuss!
The pizza dough takes less than 10 minutes to make in the stand mixer. I let it rise about 10 minutes, then place it on a cookie sheet at 425 for about 10 minutes to give it some structure so it's not floppy when I put it on the grill. That quick pre-bake also gives it a nice flaky and crispy texture on the outside while keeping the inside chewy in a very pleasant way.
I hope you enjoy!
RELATED POST: Home Canned Pizza Sauce
---
QUICK EASY HOMEMADE GRILLED PIZZA
pizza dough ingredients: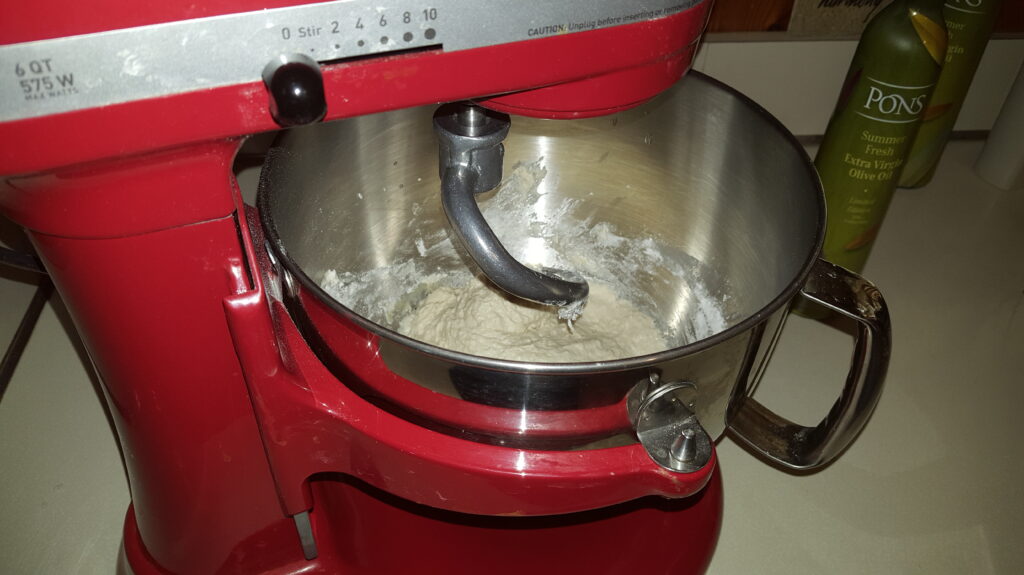 3 cups white flour
1 tbl sugar
1 tsp salt
2 tbl olive oil
1 cup warm water
2 tbl corn meal (for dusting the board after you bake it)
Preheat your oven to 425
Put the cup of warm water in the bowl of your stand mixer. Add the package of yeast and sugar until the yeast proofs.
Add the remaining ingredients (except the corn meal) and place on your stand mixer.
Use your dough hook to mix the dough until it becomes a soft, slightly sticky ball. If it's too dry, add a couple of tbl of additional water.
Turn the dough onto a cookie sheet sprayed with non-stick spray. Lightly stretch the dough out to form your crust.
Let it rise for 10 minutes. Pierce holes in the dough with a fork. Go gently, you don't want to go all the way through to the cookie sheet.
Bake off for 10 minutes, the edges will be golden brown and the top of the dough will barely start to brown. You don't want it too brown or it will be hard to chew later!
Remove it, and place the crust on a clean wood or glass board which has been lightly dusted with cornmeal. This will protect it from burning when you grill.
grilling time: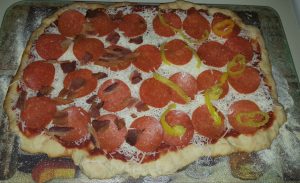 Before you grill your pizza, top with your favorite ingredients. I use my home-canned pizza sauce–I make enough every year to carry me through the long months of winter and spring. In the summer, we love to use garden fresh vegetables. But this time of the year can be challenging. So get creative!
Firstly, preheat your grill to 400. Then use some finesse to slide the pizza onto your grill rack for about 5-10 minutes. The cheese will melt and bubble and the grilled flavor is excellent!
This is a fun recipe to let the kids help you with. In fact, it's fun to make a double batch of dough for a large crowd. Then you can divide the dough into mini-pizzas and let everyone make their own. It's a great way to accommodate a crowd of picky eaters!
Enjoy your pizza!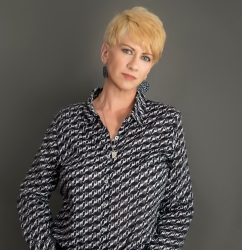 Latest posts by Deborah T
(see all)