Is your bathroom looking outdated and shabby? Are you searching for ideas to turn that space from boring to chic? Congratulations! You're in the right place. We've got wonderful suggestions that would help transform your bathroom from drab to fab.
RELATED POST: 8 Excellent Reasons to Do a Bathroom Makeover
Turning your bathroom from bland to exotic does not necessarily mean a complete overhaul of the existing features. Sometimes, a creative combination of style and personality is all that is required. Intrigued? Here are our top 5 bathroom makeovers.
1. The little things do matter
You don't have to buy a new tub or change the layout of the whole room to make your bathroom stylish and fabulous. Most times, it's the oft-ignored items that make the most difference when contemplating a makeover. Take a good look at the curtains, shower head, vanity, faucets, mirrors, and light fixtures. Upgrade where necessary and your bathroom can cross into the world of fabulousness. Don't believe me? Take a look!
In the bathroom below, the uplight above the mirror has been replaced with dual downlighters for increased illumination. The mirror also gets a needed upgrade, and a nice photograph and potted plant complement the overall effect.
Photo Credit: HGTV
This bathroom underwent a more obvious makeover. Vast improvements in the lighting accompanied by a new vanity, faucets, and mirror contribute in providing the room with a more modern feel.
Photo Credit: HGTV
2. Even the floors!
The floor is an important part of the makeover process. Old flooring types should make way for newer and better designs.
Before the makeover, this bathroom had a nondescript floor along with several other problems. After the makeover, a lot of things catches the eye, but the new flooring is the biggest draw. Its dark coloring serves as a perfect foil for the classic all-white look of the bathroom.
Photo Credit: HGTV
3. Color is everything…
You might not believe it but most times, color is usually the major difference between drab and fab. Some colors reflect light, others absorb. Using the wrong color scheme can make your bathroom seem crowded while the right color gives it an airy feel.
Pre-makeover, this bathroom was a dreary-looking space and the major culprit was the dull color used on the walls. The transformed, glossy, and (yes!) fabulous look of the bathroom can be simply attributed to a drastic change in the color scheme. White never looked so good! And that DIY mirror is just the icing on the cake.
Photo Credit: Curb to Refurb
The lighting and color scheme in the bathroom below are at loggerheads. The off-white color of the wall reflects the light in a way that is frankly not pleasing to the eyes. Notice the difference in the decor and overall aesthetics when a soothing blue color is used.
Photo Credit: HGTV
If the bathroom below is any indication, painting your walls a garish shade of lime green in a room of muted and calm colors is a huge no-no. The fabulous makeover can be attributed to the alternating bands of colors suitable to the room's tonal scheme.
Photo Credit: HGTV
4. How about a whole new world of your creation?
Your bathroom has the potential of being much more than just a place for personal hygiene. It can be your secret hideaway, a personal retreat for relaxation and escape from the daily grind of life.
Take the bathroom below for instance. It's got the functional features and nothing else. Boring! But….add some flowers, candles, stylish curtains, soothing photographs, and even a chandelier, and it's beginning to look like my idea of a romantic retreat.
Photo Credit: HGTV
Before the makeover, this bathroom was just that: a bathroom. A few color changes, a whole new vanity, a redesigned tub, some potted vases, and what do we have? A tranquil place for meditation. It's like a Zen bathroom!
Photo Credit: HGTV
5. Sometimes, a major revamp is the only way
Most of the bathroom makeovers we've looked at didn't require any serious plumbing work, just a bit of color adjustment, storage creation, and a new vanity and/or mirror. But there are times, you've got to do a major overhaul of the bathroom and either change or replace some key plumbing fixtures.
For this bathroom, that old dated tub had to go, and in its place, you've got a more modern tub and a shower stand. To complete the new look, we have a shelf for storage, tiles for both the walls and floors, an enviable color scheme, improved lighting, and is that a new vanity?
Photo Credit: HGTV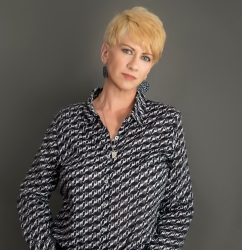 Latest posts by Deborah T
(see all)